Owners asking for liquor license due to unique location; despite 'political bickering' bill passes through legislature
Article and photos by TESHA M. CHRISTENSEN
Cap's Grille owner Brett Mattson (photo right) recognizes that his business is situated at the doorway to Minneapolis.
It's one of the first places people see when they enter the city from the airport, and one thousands of visitors pass by on their way to enjoy Minnehaha Park.
"We want to do something special in the neighborhood," Mattson remarked.
He and his father, Don, are planning to add a brewpub and second story while holding onto the award-winning barbecue that's kept customers coming back for 23 years.
But before he can expand, the Mattsons have a few hurdles to jump over.
In order to brew beer, Cap's Grille (5000 Hiawatha Ave.) needs a liquor license. To get a liquor license in Minneapolis, the city charter requires a business to be part of seven contiguous acres of commercial or industrial zoning. Cap's is in a unique geographic position, bumped up against the light rail, the highway and Minnehaha Park, with their back to a multi-unit building. They're on an island of zoning.
The city's requirement keeps hard liquor bars out of the middle of residential neighborhoods and instead forces them into commercial areas. However, there are exceptional circumstances that have required the city to go to the legislature and ask for a special exemption for dozens of locations, and that's the route Cap's Grille is pursuing.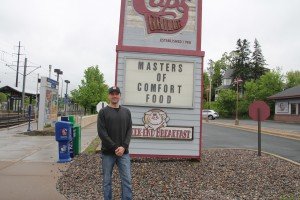 Photo left: Brett Mattson (shown) and his father, Don, are planning to add a brewpub and second story while holding onto the award-winning barbecue that's kept customers coming back to Cap's Grille for 23 years. But to do that, they need a law passed taking into account the unique geographic position they're in, bumped up against the light rail, the highway and Minnehaha Park, with their back to a multi-unit building.
To help Mattson proceed, Ward 12 Council Member Andrew Johnson and his staff drafted bill language, and subsequently worked with Representative Jean Wagenius and Senator Patricia Torres Ray, to get it on a legislative bill. Also on the bill is the special liquor license for the proposed Major League Soccer stadium in St. Paul.
There it hit a snag. It was part of the larger liquor omnibus bill, and some were trying to also make Sunday liquor sales legal.
"Unfortunately, this is being held up by political bickering," said Mattson. "We're not asking for any financial help. We just want to move forward on this project."
However, on May 12, the Sunday off-sale amendment was removed, and the bill passed through the House. On the final day of the legislative session the bill passed and was sent on to Governor Dayton for signature.
Positives for the neighborhood
"It's not fun to be a small business owner and go through this," admitted Mattson.
The issues he is facing just to begin construction are frustrating, in part, because Mattson knows the plans for a brewpub will meet everything politicians champion. It will include renewable energy strategies while creating jobs in the neighborhood that pay above minimum wage.
At Cap's Grille, they've been paying employees livable wages for over a decade. It shows. Eighty percent of the employees have been there more than 12 years, and 60% have been there for 18 or more. There's one woman who has been there since the restaurant opened, and a man who worked his way up from dishwasher at 15 to manager.
Longfellow resident Mary Thomas is one of many who waited for months for a position to open up on the staff because she knew it was a good place to work. She's been there 13 years.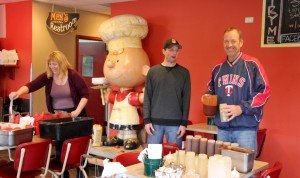 Photo right: Mary Thomas, Brett Mattson and Wes Sweigard ready the restaurant for a new day of serving customers. All are looking forward to the day when Cap's Grille rebuilds and expands. At 13 years, Thomas is one of the newer employees at Cap's while Sweigard has been there for 20 years.
"The family is really good to work for," said Thomas. "No one quits."
She thinks the proposed brewpub will be great for the neighborhood and also bring people into the area. "It's a beautiful site," Thomas observed.
Just one law stood in the way
"There's no one standing in the way of this project. There's just that one law," pointed out Mattson.
Customers and neighbors have been excited to hear about the project. "The neighborhood is 100% supportive," said Mattson.
On Dec. 12, Council Member Johnson and NENA co-hosted a Community Input Session for the neighborhood to learn more about the initial project plans from Cap's Grille.
"From public comments at the December session and on Facebook, most comments were in favor of the initial project concepts," observed NENA Executive Director Becky Timm. "NENA conducted a general community survey in September, and residents indicated strong support for our local businesses and restaurants. Some specifically indicated interest in brewpubs in our neighborhood."
"We first engaged neighbors to find out what they thought of Cap's plans, and overall the response was quite positive," stated council member Johnson.
"Like many projects along the LRT line, the top concern was lack of on-street parking due to commuters who leave their cars during the workday (along with travelers going to the airport)," he added. "This lack of parking also affects Cap's, and I am happy to work with interested neighbors to explore signage that can improve the situation."
Johnson testified at the Capitol and lobbied to get the bill passed.
"It's wonderful that this staple of Nokomis East wants to double-down on their investment in our community, create dozens of jobs, and build an iconic space that will serve residents for a generation to come," stated Johnson.
Want to stay in Nokomis
Mattson was born and bred in the Nokomis neighborhood and is now raising his children in the house across the street.
Cap's Grille originally started in Hudson, Wis. in 1988. They had a small place in town and served food off a houseboat on the weekends. Hudson was pretty small back then, and they decided to shut down in 1992, and instead focus on a place closer to home.
"It was a good idea, but bad timing," pointed out Mattson, who had graduated from Minnehaha Academy in 1988.
In 1993, they bought a rundown gas station at the corner of 50th and Hiawatha. Mattson, along with two pals, constructed the building.
Despite that, Mattson said he's ready to tear it down and build new. "It's like living in the same house," he explained. "I can't wait for the upgrade."
Hiawatha Ave. originally ran through what is now part of their parking lot. The lot used to have space for just seven cars, but they gained space when the highway was expanded.
They nearly went out of business when the light rail line was built, but hung on.
With the new project, they envision something that the neighborhood will be proud of.
A prior board member of the Minnesota Renewable Energy Society, Mattson plans to implement renewable energy in the new building. Mattson is excited to see all the ideas he's had come to fruition in this project.
At this point, the project has been three years in the making, and Mattson doesn't know when ground will break. He's waiting to release more details—such as building sketches—until he receives state permission on the liquor license.
He plans to wait things out and doesn't intend to leave the area.
"This is plan A-Z for us," said Mattson.