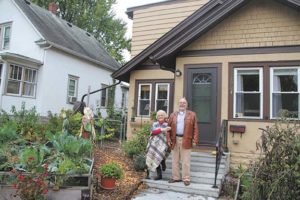 Nora and Ken Krahn leased their home to Committee Films of Eden Prairie last year for the filming of a documentary that recently aired. "Serial Killer: Devil Unchained" tells the story of convicted murder and rapist Todd Kohlhepp. With the help of former FBI profiler John Douglas and Kohlhepp's own biographer, Gary Garrett, journalist Maria Awes goes down a twisted path, talking to Kohlhepp's family, as well as his victims and their families, uncovering early warning signs that might have helped stop a killer in his tracks. (Photo right by Tesha M. Christensen)[/caption]
Ken and Nora Krahn's home used to film scenes from Arizona
By TESHA M. CHRISTENSEN
A Longfellow house along 37th Ave. S. served as a filming location for the documentary, "Serial Killer: Devil Unchained" that aired this summer on Investigation Discovery.
Despite the chilling topic, homeowners Ken and Nora Krahn were reassured that no graphic scenes would be filmed in their house.
Filmed by Eden Prairie's wife-husband duo Maria and Andy Awes of Committee Films, the documentary unravels the mind of rapist and murderer Todd Kohlhepp in three two-hour-long sessions. The first aired on July 22, 2019, and the last three weeks later on Aug. 5. Each episode was followed by a digital companion series "Kohlhepp Uncut: The Devil Speaks" with Kohlhepp himself providing chilling details about crimes spanning 30 years.
The Krahn house was used to film an abduction that happened in Arizona. To make it look more like the southwestern state (and avoid the green hues of a Minnesota September), the filming was done at night, Nora pointed out.
They filmed a scene in the alleyway, one in the upstairs bedroom, one in the downstairs bedroom, one by the front door, and another by the back door.
Interesting to see what goes into a production
The Krahn's had received a letter last fall from Committee Films that stated the company was looking for a location to shoot a documentary. "We responded," recalled Nora. "My daughter is in production, and I immediately thought she'd love this."
Previously, when her daughter had explained her work, Nora couldn't visualize it. Now she can.
Ken admits he was cautious about signing on, but they researched the film company ahead of time before agreeing to anything. "We were impressed by their resume and the bulk of work they had done," he noted.
That includes America Unearthed on the Travel Channel now in its fourth season, as well as 20/20: In An Instant, Top of the World, Bigfoot Captured, Who Really Discovered America, Secrets of Einstein's Brain, Templars' deadliest Secret, Aloha Life, Myth of Monster, Mystery of Easter Island, and more.
Nora said the company's location manager was really easy to work with. "I liked the fact that they kept us in the loop," she said.
"It's just so interesting to see how much goes into a production. It's really huge."
Signs were put up the day before to make sure no one parked on their street, and the neighborhood was leafleted so that everyone knew what was going on when the trucks arrived with gear and crew members. On the day of, the alley was closed. A few people arrived at their house at about 3 p.m.on Tuesday, Oct. 2, 2018 to begin setting up.
By 4 p.m., a whole crew was bustling around, setting up equipment, putting up lights, serving food and putting screens up around the windows, Nora recalled.
"They were extremely well organized and obviously they had the production down very well," said Ken. "Everybody knew what their job was."
Staff placed rugs on the floor, plastic on the stairs and cardboard on the walls to protect them. They moved some things around, took down photos, and put up other pictures. The couple had already tucked some items away, based on the recommendation of the film company. In all, there were about 40 people associated with the film, and three trucks.
"They told us we could stay if we wanted to, but it was kind of overwhelming," said Nora. The couple walked by a few times to check up on what was going on and Ken ducked inside the house for a bit, and then they headed off to their complimentary hotel room.
By 3:30 a.m., the crew was gone.
Nora wasn't sure what to expect when they returned, and was delighted to see that they'd put everything back the way it was.
"It was cleaner when we came back than when we left it," said Ken.
Afterwards, when they talked to their neighbors they heard that the production crew was nice and friendly, Ken observed. "They were not at all off-put by little kids coming and asking questions," he said.
"I would have no hesitation to invite them back. For us, this was a positive and entertaining experience."
~ Contact editor at tesha@longfellownokomismessenger.com.