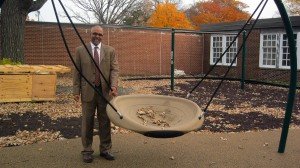 By JAN WILLMS
Photo right: Dowling Elementary Prinicpal Joe Rossow (pictured) explained how phase 2 of their accessible playground development focused on the big play area—tunnel, water wall were created, and a spongy surface laid down that is easy for wheelchairs to go across. (Photo by Jan Willms)
There are other special needs playgrounds at other schools and parks in the area, but it is unlikely any has as much space as the Dowling Elementary, a K-5 urban environmental magnet school located at 3900 W. River Pkwy.
"We have almost one acre of special needs accessibility," said school principal Joe Rossow as he conducted a tour of the renovated playground. The school was built in 1924, and the original special needs playground in 1977. The playground is now redesigned for the 21st century.
"Many years of planning have gone into the playground update," Rossow explained. "We made sure to design this where wheelchair kids who have trouble moving around can access and play with their peers."
He said the playground features parallel play as well as areas where children of different physical abilities can intermingle. For example, there are two zip lines where kids can get in a seat and zip down from one spot to another. "There's one for kids who need a special chair, and they can swing next to their buddy going down together on two separate zip lines," Rossow said.
Dowling has a special needs population of 15 percent, according to Rossow, with a wide range of disabilities, including developmental and physical.
The school has partnered with Flagship Recreation, a Minnesota-based company that strives to design, construct, and maintain spaces and structures that are available for all to use and enjoy.
"Charley, the designer, is really good at designing playgrounds for special needs kids," Rossow claimed.
The actual work on the playground was divided into three phases. Phase 1 is complete. It included Harmony Park, where outdoor instruments are available for the kids to perform on. It also provided swings and rear course pavement.
"The triple swing, which seats three kids at a time, is very popular," Rossow said.
Phase 2 focused on the big play area. A tunnel and a water wall were created, and a spongy surface laid down that is easy for wheelchairs to go across. A special product is mixed and laid out, left to sit and harden and then is colored on top. If children fall on this surface, they are not going to get hurt as they would on a concrete base.
During phase 2, interactive panels were also built. These feature information on the Monarch butterfly and show how rainbows are made and explore climate control. "With the water wall, the kids can change the pattern of the water," Rossow noted. Phase 2 was completed in late October.
Phase 3, the final phase of the project, is scheduled to be finished in the summer of 2016. "This phase will finish up the asphalt, get the new railings painted, finish the stage and regrading of the grassy area, and complete the new door," Rossow said.
Rossow explained that the project has been a result of private donations and community support. The school district has funded the maintenance.
"The playground is custom made and pretty ambitious," he said. "It's not something you can purchase out of a book. The community has really brought this project to life, and it is designed as a peaceful area for the children."
"We had to work in phases with the playground," Rossow said, "using the money as it became available. It should be ready for use this month."
The playground is designed for use year-round, with different parts of it being used with the different seasons. Rossow said that Dowling offers archery, biking, and a snowshoe and ski course. In warmer weather, a lot of the kids can be spread out, with soccer being played in one area and tag games in another. The kids can explore the tunnels, sit on the grass and read a book, play music or swing.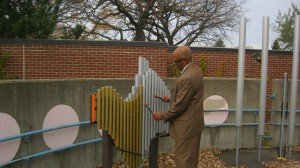 Photo left: The new accessible playground at Dowling Elementary also has a musical component. (Photo by Jan Willms)
"The parents have also put together recess kits, with certain games designed for each grade level," Rossow said.
The playground will have power outside and access to bathrooms so that it can be used for community events and by other schools.
"We have other schools come here for field trips and experience the zip lines, amphitheater and snowshoeing," Rossow added.
Designed for children of all ability levels to play, explore, learn and socialize, the special needs playground at Dowling reflects the input of children, parents, and school staff.
"It will be exciting to see how the kids interact with it once we have it fully open," Dowling said.