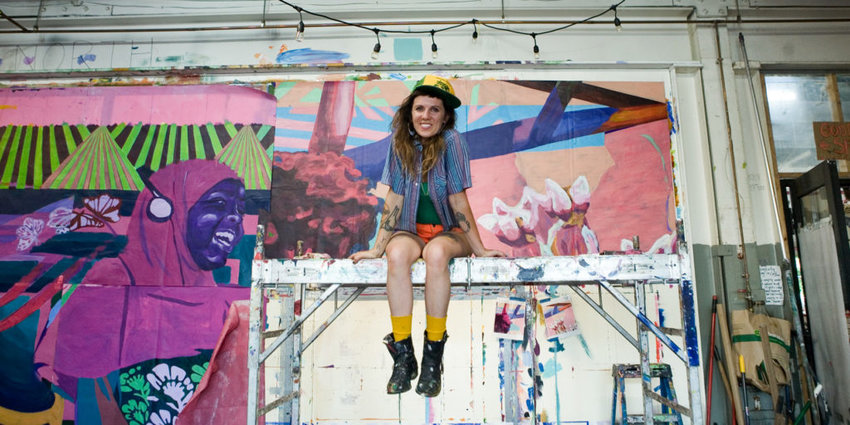 Above: Greta McLain, co-owner of GoodSpace Murals, said, "I feel so lucky to have been raised in South Minneapolis, and to have been part of so many positive changes here. I learned to make mosaic in Argentina; I went to school in California; I worked for a time in Philadelphia; but for me, this is home." (Photo by Margie O'Loughlin)
By MARGIE O'LOUGHLIN
GoodSpace Murals, a local arts initiative, held a community workshop at the Hi-Lake Transit Plaza on July 11, just below the busy light rail station. GoodSpace co-owners Greta McLain, Candida Gonzales, and staff talked with people passing by about their plans to improve the blighted intersection. They also gathered stories about cultural identity from people in the neighborhood, and plan to incorporate what they gathered into their finished art pieces.
What will emerge in the fall is a series of large-scale monarch butterflies on both sides of the sidewalk on E. Lake St. at the Hi-Lake intersection. A combination of steel sculpture and mosaic, the installations will add an organic, artistic texture to the industrial-feeling walkway underneath the Metro Transit Bridge.
McLain explained, "We envision the butterflies at Hi-Lake as a gateway to the many public art projects being created along Lake St. this summer. Funding from the Lake Street Council and Metro Transit has made our project possible."
"We'll be collaborating with metalworker Paul Tinetti on the sculptures," McLain said. "His business, Tinetti Custom Steel and Woodworks, is located in the Ivy Building, like ours. The project design hasn't been finalized, but we envision large, suspended, steel-cut monarch clusters on both sides of the underpass, and two flying butterflies with their wings outstretched. There will be mirror pieces inlaid in the monarch wings, and cascading off the butterflies onto the underside of the bridge. The monarchs will also have traditional textural patterns from different cultures in our neighborhood inlaid in their wings."
The butterfly sculptures are part of a two-part project honoring the immigrant history of Lake St. "At the July 11 community workshop," McLain explained, "people were asked to lay colorful mosaic pieces in support of immigrants in our community. They collaborated with one another to make 2'x 3' mosaic tile butterflies. The butterflies symbolize our natural migrations. We all came from somewhere! Once completed, the butterflies will be installed up and down E. Lake St."
McLain was born and raised in the Powderhorn neighborhood of South Minneapolis. She's a proud graduate of South High School, where two of her murals hang.
"I've been a community muralist for 15 years," she said. "I always knew I could do good work on the artistic end, but I needed someone who could manage all the other stuff.
My strength is in being 'on the wall'; which means painting. I met Candida Gonzales four years ago through a project. She was working as a coordinator for Community Ed through Minneapolis Public Schools and was known for being good at nurturing community relationships and administration. Two years ago, we formed GoodSpace, and we currently have a staff of 16 independent artist contractors."
"Why the name GoodSpace? When we first moved into our studio warehouse at 2637 27th Ave. S., people kept coming in and saying, 'Wow, this is a really good space!' It just kind of stuck. In the last two years, we've completed 30 projects—mostly locally. This is exactly what I want to be doing. My art practice is? This is it."
For more information on the installation of the butterflies in the Hi-Lake underpass this October, check the Lake Street Council's Face Book page (Make on Lake Projects). For more information on the work of GoodSpace Murals, visit www.goodspacemurals.com.