By MARGIE O'LOUGHLIN
The Minneapolis Art Lending Library (MALL) is one of only five organizations of its kind across the country. Their mission is to support artists and to share the joy of art with all members of the Twin Cities community through the lending of artwork.
MALL will be celebrating its fifth anniversary this summer; 88 artists have contributed pieces of art for lending to date. Volunteer and outreach coordinator Amelia Foster, said, "Ours is a small but mighty organization. Our lending collection features over 100 contemporary artworks, with a focus on Twin Cities artists including paintings, drawings, prints, photographs, ceramics, and sculptures. In addition, we've acquired a permanent collection of 25 pieces through donation and purchase."
What started as a small, home-based lending library in South Minneapolis has grown into a mobile program with lending events held all around town. MALL's spring lending event will take place on Fri., Apr. 27 from 5-8pm at the North Commons Rec Center in North Minneapolis (1801 N. James Ave.). At every lending event approximately 100 pieces of art are available to check out for a three month period. MALL asks a $5 donation for each piece that is borrowed; a borrower may only check out one piece of art at a time.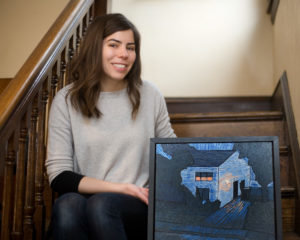 Photo right: Longfellow resident Amelia Foster, volunteer and outreach coordinator, with the oil painting she has on loan for three months from the Minneapolis Art Lending Library. (Photo by Margie O'Loughlin)
Foster is a Longfellow resident with a keen artistic eye. "At MALL," she said, "we want people to have the opportunity to live with art in their homes, and a lot of people assume they can't afford to do that." This quarter, she has enjoyed living with a 20 x 16 Robert Nicholl oil painting, as well as a work by Magnum photographer Alec Soth that her partner chose.
"The third and fourth quarterly events this year will see MALL going in new directions," Foster continued. "Our summer lending event will take place at the Minneapolis Central Library, in coordination with the Northern Spark Festival in early June. On either side of that event, we'll have an exhibit mounted at the library—and that's a first for us. Our fall lending event will be at the Rondo Library, our first venture into St. Paul."
Details on both of these events can be found in the months ahead at MALL's newly designed website www.artlending.org. First-time borrowers must bring proof of address and sign a borrower's agreement. Lending events are free and open to all.
MALL issues a call for new works twice each year; the next call will be in fall 2018. Their curatorial committee chooses which submissions are best suited for the lending library: size and weight are factors, and two-dimensional work must be framed and ready to hang.
Foster explained, "Now that we're in our fifth year, one of our goals is to expand the way we support artists. Because of funding we've received through the Metropolitan Regional Arts Council and an increase in individual giving, we're now able to offer participating artists a $50 stipend for each work of art we accept. We feel that the exposure we give artists to new audiences, especially emerging artists, is also very valuable."
There are currently two neighborhood artists on the MALL roster: Longfellow resident and photographic collage artist Nicole Hoekstra, and ceramic artist Heather Rae Tietz of East Nokomis.
Foster concluded, "Sometimes people who aren't familiar with the concept of an art lending library say, 'Would artists really loan art to total strangers?' Our answer is simply, yes! They may be strangers, but they share the artist's interest in contemporary art and grassroots community building. This is a trust-based project. One of the cornerstones of our organization is community building, and communities are built on trust.'"