By JILL BOOGREN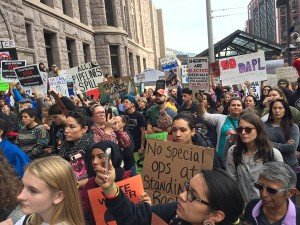 The crowd (photo right) stood hushed as a young Native American child sang out a prayer on the steps of Minneapolis City Hall. As it drew to a close, the several hundred people gathered here erupted in cheers. They were assembled for a rally in late October to demand that Hennepin County Sheriff Rich Stanek bring home the deputies he had deployed to Standing Rock, ND, where thousands of tribal members of many nations have joined in opposition to the Dakota Access Pipeline.
Carrying signs reading Water is Life - Mni Wiconi, NO DAPL, No Special Ops At Standing Rock, tribal members, students, families and elected officials delivered a strong message: Bring the officers home.
Among tribal elders and other speakers, local Rep. Karen Clark (MN House Dist. 62A) shared a letter to the sheriff from state representatives, signed by herself, Rep. Jim Davnie (Dist. 63A), Rep. Jean Wagenius (Dist. 63B), Sen. Patricia Torres Ray (MN Senate Dist. 63) and 20 others, calling it "grossly inappropriate" to send our officers to North Dakota.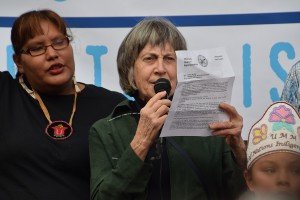 Photo left: Rep. Karen Clark (Dist. 62A) reads from the letter being delivered by state representatives to Hennepin County Sheriff Rich Stanek calling his deployment of county personnel and resources "grossly inappropriate." (Photo by Jill Boogren)
An excerpt reads: "The insertion of local law enforcement in a North Dakota issue involving protection of the Standing Rock Reservation Lakota people's sovereign rights... sends the wrong message to our Indigenous constituents and to others who have deep felt concerns about these issues."
Sheriff Stanek created a social media firestorm when he first announced his action and people flooded his Facebook page demanding they return immediately. When Hennepin County Commissioner Peter McLaughlin and Ward 12 Council Member Andrew Johnson posted their disappointment in the sheriff's decision on their respective pages, they drew as many "thank you's" for standing in solidarity.
Sheriff Stanek brought personnel and equipment home after meeting with representatives but issued a statement defending his action, which was in response to the State of North Dakota's "urgent" request for 50 sworn peace officers under an Emergency Management Assistance Compact between our two states.
"Law enforcement is not taking sides on this issue," Stanek said in his statement. "Our decision to help Morton County was operational, not political. We were there to assist maintaining public safety, preserving the peace and protecting the constitutional rights of all parties involved."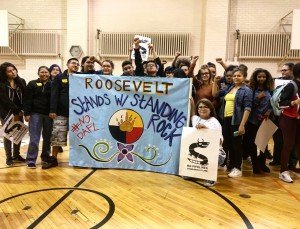 Photo left: Students stand with Standing Rock, Native American Involvement Day, Nov. 15, at Roosevelt High School. (Photo by Candida Gonzalez.)
Davnie, who was at the rally with his two teenage kids and spoke later by phone, said it's good that municipalities have mutual aid agreements so that when they need help, they can get it. When the 35W bridge collapsed, for example, first responders mobilized from around the metro and beyond to help.
"It's good that Minnesota has an agreement with other states. But it was intended for disaster," said Davnie. "It wasn't intended for political problems. And North Dakota and the Dakota Access Pipeline have decided to push forward this project without an environmental impact statement and without fully engaging the Standing Rock Tribe as a sovereign nation. I don't think Hennepin County has to get in the middle of that."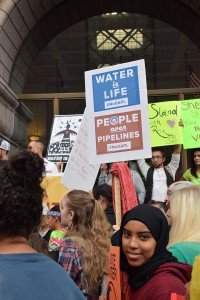 Photo right: People make their voices heard at a rally at Minneapolis City Hall. (Photo by Jill Boogren)
Davnie also said Hennepin County was under no obligation to participate and that Stanek was "solely responsible" for sending staff and equipment. In fact, sheriffs in other jurisdictions had declined.
Both Davnie and Johnson felt strongly that if the sheriff has extra resources, we could use them in Minneapolis.
"We could have them patrolling alleys and looking for burglars, there's plenty of need here," said Johnson. "If he has those spare resources, please put them to work right here."
Many dispute Stanek's assertion that Hennepin County deputies were preserving the peace and protecting constitutional rights. Videos from Standing Rock show officers using mace, rubber bullets, and batons against demonstrators. The letter Minnesota representatives sent to Stanek explicitly mentions concerns "about media reports which surfaced on Oct. 27 indicating that Hennepin County personnel were involved in the arrest of an Indigenous elder... used force on a member of the media."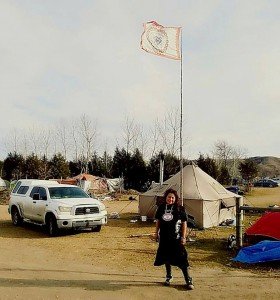 Arlana Omaha (photo left, photo courtesy of Arlana Omaha), member of the Rosebud Sioux Tribe Leech Lake Ojibwe who describes herself as a "1st generation urban Indian born and raised in South Minneapolis," spoke from Standing Rock via short video clips during an early November trip there. Asked specifically about arrests made and use of mace, she said that's nothing new.
"We've been dealing with that for decades, so it's not foreign. But unfortunately having [to be] vigilant, from trauma, and... always being scared of cops, and worried about cops shaking us down and all that, that's continuous," she said. "I wish there was a way to have a positive impact to change that relationship, but what they're doing now, they're just damaging it and tainting and making it worse."
Omaha welcomed the outcome of deputies leaving but said it's unfortunate that it took pressure from the inside.
"If it was just our voice it would be very challenging, and take a long time. It may never happen," she said. She said it's important for nonnatives to support and stand with them and be there. "It's power of strength in numbers, and it shows that human beings are all the same and that we need the same resources, and we need to stand up for the same causes and support each other. It's powerful. It's moving. It's inspirational. We need our allies, and we couldn't do a lot of stuff that we do for our people without our allies and our supporters."
Solidarity
Support is being felt in schools, coffee shops and neighborhood organizations throughout the community and includes elected officials representing all levels of government for our area. In addition to those named previously, 5th District Congressman Keith Ellison, Ward 2 Council Member Cam Gordon, and Ward 9 Council Member Alondra Cano are actively engaged.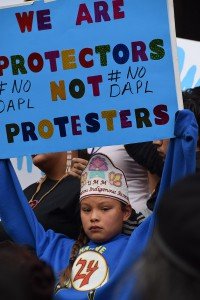 Photo right: Youth were among those making their voices heard at a rally at Minneapolis City Hall. (Photo by Jill Boogren)
The rally at City Hall was just one moment, but there have been countless actions and events that still continue. The City passed a resolution in September "Expressing solidarity with Indigenous resistance to the Dakota Access Pipeline" and another declaring Oct. 10th—Indigenous People's Day—"Coldwater Springs Protection and Preservation Day" in Minneapolis.
Friends of Lake Hiawatha publicly stated they stand with the "water protectors" at Standing Rock. In November there was A Tipi Signing and The Ave Stands event along the Indian Cultural Corridor on Franklin Ave., as well as a youth rally at U.S. Bank Stadium involving students from around the metro area.
And when a day was announced to hold an international prayer vigil, including one at Wabun picnic area, supporters of Standing Rock numbered in the thousands and posted pictures of their vigils from as far away as Hawaii, Scotland, and New Zealand.
There are reasons this issue is connecting people across all nations and geographic boundaries.
For Omaha, it runs very deep. "I guess it's almost like a life or death situation because without our water we all know what happens to us. So we need to share our teachings with others," she said.
It also cuts across some issues Longfellow and Nokomis residents and neighborhood organizations pour their hearts into daily: promoting clean energy, stopping environmental degradation, and justice for all people. The Dakota Access Pipeline would carry as many as 570,000 barrels of fracked crude oil per day for more than 1,100 miles from North Dakota to Illinois, going across or under more than 200 rivers, creeks, and tributaries, including the Missouri River, a critical source of drinking water.
Ultimately, Standing Rock is about people. As Johnson pointed out, we have a large population of Indigenous people in Ward 12, and we're the center of the American Indian Movement.
"We have a responsibility to stand up for... climate justice and environmental justice and Native rights and also to stand up in solidarity with our residents whose very families and their land are affected by this," he said. And youth, well represented at many events, have been passionately engaged.
"The youth are the ones who inspired this movement, have been the backbone of it since day one," said Omaha. "So the youth in Minneapolis, standing up and standing strong for Standing Rock? Yeah, powerful."
It's also brought people together on a very spiritual level. When 500 Clergy members arrive at a camp in a North Dakota prairie, something very powerful is happening.
Soon after arriving in Standing Rock, Omaha shared this: "All the Lakota and all nations from all over the United States and all races are here speaking up and speaking out for the water." Asked how that felt, she said, "It's very inspiring, it's priceless. There's a word on my shirt, WAKAN; it means sacred. So that's how it feels."
Tribal members and supporters at the camp are preparing for winter. For more info see www.ocetisakowincamp.org.