Minnesota has a newly designated state bee, the Rusty Patched Bumblebee – and there have been confirmed sightings in Longfellow. Most of the sightings have been in the Cooper and Howe neighborhoods, but who knows? These handsome pollinators could be buzzing around just about anywhere.
Dan Schultz, local coordinator of the national Garden for Wildlife program, said, "I decided to have a Bumblebee ID contest earlier this summer, to give residents some incentive to go looking for our new state bee. It worked! I've had a lot of people tell me they started paying more attention to bees and insects in their gardens. In some ways, it was perfect timing. What else are you going to do during a pandemic?"
Schultz hasn't spotted a Rusty Patched Bumblebee yet himself, but Emma Smurr of the Cooper neighborhood has. She generously donated the $50 prize money she won for the first sighting by an adult to the Grand Prize purse. Now up to $100, that money will be awarded to the person who documents seeing the most Rusty Patched Bumblebees seen up until the first hard frost.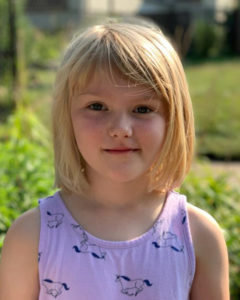 Freya Verhage was the winner in the kid's category. She learned interesting things about Rusty Patched Bumblebees along the way. (Photo submitted)[/caption]
Smurr is an enthusiastic participant in the Gardening for Wildlife program Schultz coordinates, both as a mentee and – now that she has acquired some serious gardening skills, as a mentor for other new gardeners.
She and her partner bought their Longfellow home in 2017. Their yard was completely shaded by two towering maples, both of which had issues. As soon as they came down, the conversion to a residential wildlife habitat began.
Smurr had planted several types of native plants to attract bees, insects, birds, and animals. While working in her home office one morning in July, something landed in her blooming bee balm. Could it be a Rusty Patched Bumblebee filling up on nectar? She ran out the back door to confirm and document her first official sighting.
There was also a winner in Bumblebee ID contest for kids. Freya Verhage is a second grader at Dowling Elementary School. She wasn't particularly interested in bees until she heard about the contest. In fact, bees and other buzzing insects made her nervous. The contest got her out in her family's garden and the larger neighborhood, in search of this elusive bumblebee. She was the first kid to see and photograph one.
Freya conquered her fears, won the $50 prize money, and learned some interesting things about Rusty Patched Bumblebees along the way.
There are 48 species of bumblebees in the U.S., of which the Rusty Patched is just one. August and September are the best months to find them, because their numbers are at their peak.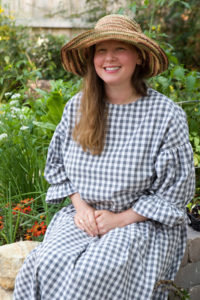 Emma Smurr was the first adult to spot and document the Minnesota state bee, in a stand of native bee balm just behind where she is seated.(Photo by Margie O'Loughlin)[/caption]
Like all bees, their work life is complicated.
At this time of year, the female worker bees are still collecting nectar and pollen for the queen bee and the rest of the colony.
The queen bee is busy producing males and gynes (females who will become queen bees next spring). These princes and princesses have to mate, and the females have to find an overwintering spot. The males kill time with the female worker bees and the queen, waiting around until the first hard frost hits.
According to Schultz, "No one knows very much about how these mated females overwinter. It is one of the least studied aspects of the bumblebee life cycle, and one which could hold clues to the survival of the species. Consider letting your lawn rest this year without aggressive raking, and ignore at least some of the leaves in flower beds to promote overwintering sites."
Pregnant female Rusty Patched Bumblebees don't wait until late fall to start looking for a place to spend the winter. This process begins right after mating. Schultz said, "If you see a bumblebee with six stripes on its body, a rusty patch, and pollen sacs on its hind legs, you have likely spotted a pregnant female Rusty Patched Bumblebee. Let it be and, while you're at it, leave perennial plant stalks about 6" tall for other types of bees and insects to take refuge in over winter."
For more information on the Bumblebee ID contest, contact Dan Schultz at dschultz6@comcast.net.
A TRANSFORMATION
Emma Smurr has only been gardening for three years. In that short time, she has transformed her yard and, in many ways, she has transformed her life. As someone with a history of running from winter, Smurr spent years living and working in warm places around the world.
She said, "Now that we've settled in Minnesota, the ultimate yield I hope for from our garden is my own best mental health. I no longer dread winter. We bought a heated bird bath and a squirrel-proof feeder. My attitude toward winter has changed. We have birds come to our yard even on the coldest days, maybe especially on the coldest days – because drinking water is hard to find. I also designed our backyard for winter interest. I let the perennials stand and they give us texture, form, and even a little color all winter long. The Gardening for Wildlife program has been a wonderful way to connect with neighbors in a meaningful way."
For more on Emma Smurr's gardening for wildlife, health and joy go to @emma.allseasons on Instagram.