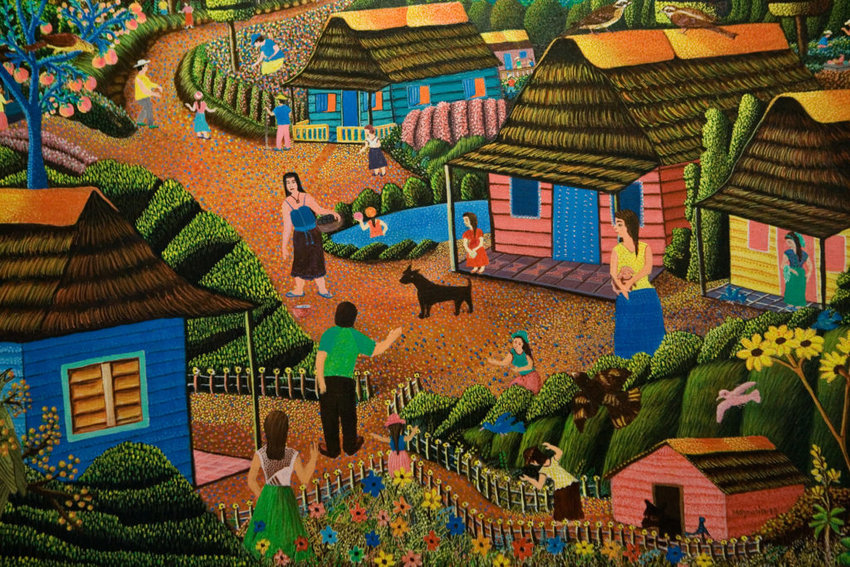 This painting by Isabelle de las Mercedes is an example of one of Cuba's self-taught artists who developed her art to a high level. Her work is shown at the Havana Museum of Fine Arts alongside other self-taught artists like Noel Guzman Bofill, and both are recognized internationally. (Photo by Margie O'Loughlin)
Exhibit at Squirrel Haus Arts takes counter approach to Cuban exhibit on display at the Walker Art Gallery
By MARGIE O'LOUGHLIN
A mixed media exhibit called "Made in Cuba/Hecho en Cuba: Recycling Memory and Culture Part II" is showing at Squirrel Haus Arts in the Longfellow neighborhood. The exhibit opened in November and will stay up through Jan. 14. The work of 70 artists is featured, exploring a wide range of themes and disciplines, including posters, photography, folk art, ceramics, and wearable art.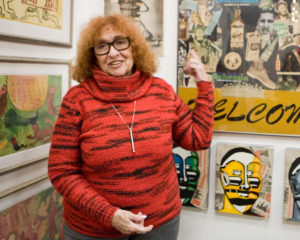 Photo right: Minnesota native/exhibit curator Sandra Levinson has been traveling to Cuba as an independent traveler and as a tour guide since 1969. When asked how many trips she has taken, Levinson said, "I stopped counting once I got to 300." (Photo by Margie O'Loughlin)
Sandra Levinson, executive director of New York's Center for Cuban Studies, curated the exhibit and was in town for several related events in early December. "What we really wanted to do was bring vibrant, accessible Cuban art to the Twin Cities," she said. "There is a show about Cuban art running concurrently at the Walker Art Center called 'Adios Utopia.' We have some of the same artists on view, but also many others. We also have original works of art for purchase, not digital prints of original work."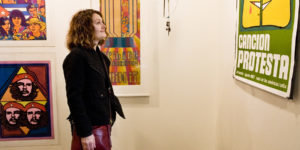 Photo left: Viewer Cristina Lopez said, "I appreciate the grounding in Cuban cultural context that this show provides." (Photo by Margie O'Loughlin)
According to Levinson, the exhibit at the Walker makes a point of showing Cuban-born artists who mostly opposed the Cuban Revolution and immigrated to the US. The show she brought from the collection of the Center for Cuban Studies makes a counter-point. Levinson said, "I'm critical of the show at the Walker. We felt it was important to provide a simultaneous exhibit with a broader view of contemporary Cuban artists who still live in Cuba, like Alberto Lescay and Jacqueline Brito. Our show doesn't have a political agenda."
Another strong feature of the exhibit is that it shows the work of self-taught artists. "We have collected so many pieces over the years by artists who taught themselves how to be expressive," Levinson said. "Their work is very authentically Cuban, and speaks to the rhythm of daily life on the island."
One of the most recognizable elements of Cuban art is political posters. Volunteer Kate Bix explained the popularity of posters in Cuban culture, both as a form of expression and as a form of art. She said, "The Cuban people have always celebrated with posters. One of the most popular artists to document the Cuban Revolution was Raul Martinez, and we have some of his pieces in the show. You can see how he told the story of the 1959 Cuban Revolution to the people of the island, who were largely illiterate before the Revolution took place. He used vibrant colors and almost comic book-like themes to communicate what was happening."
Squirrel Haus has been an arts incubator and community gathering space in Longfellow since 2015. Owned and operated by Michael and Donna Meyer, it continues to evolve into a gallery, rehearsal space, set design location, event center, and meeting/workshop venue. It is also the permanent studio home of artists Donna Meyer and Maris Gilbert. Gallery hours for this exhibit are Fridays, Saturdays, and Sundays from 12-5pm. Squirrel Haus is located at 3450 Snelling Ave. in Minneapolis.
(Editor's Note: the Squirrel Haus gallery does not have regular hours unless there is a show going on, and the hours vary as to who is exhibiting.)