Owners want a comfortable place where people will visit regularly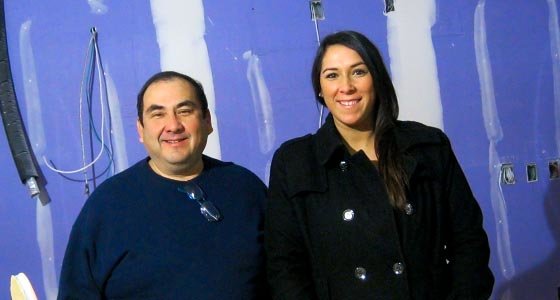 By JAN WILLMS
What could be better than taking the passions in your life and turning them into a career?
This is what Steve Frias has done, as he combines his love of food and sports to opening Peppers and Fries Burger and Burrito Grill at 3900 E. Lake St.
The grill will be opening the second or third week in January, as Steve is joined by his daughter Marie, who shares his love of sports and a good burger.
Both Steve and Marie have the restaurant business in their roots. Steve's parents, Guillermo and Gloria Frias, opened Boca Chica Restaurante in St. Paul 50 years ago. Steve, and later Marie, learned their craft in the family restaurant.
"My mom is still the CEO there," Steve said. "She is the face of Boca Chica." He said his siblings currently operate the restaurant, but his mom is there on a daily basis.
Steve left Boca Chica after getting lots of experience there and opened a restaurant in Burnsville.
"It was too slow," he noted, and he then worked a route at Fed Ex Ground.
It was on this job he developed an affection for the COLT burger, a burger with cheese, onion, lettuce and tomato on it. "I needed a burger that I could eat on the run without having to put ketchup or mustard on it, and risk spilling on my shirt," Steve explained.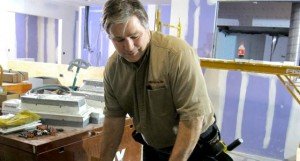 When the Messenger visited the site of Peppers and Fries in December, Jim Culpepper was one of the craftsmen working to redo the entire interior before the mid-January opening. (Photo by Jan Willms)
[/caption]
This burger and Marie's favorite, a peanut butter burger, will be on the menu at Peppers and Fries, along with onion rings and fries made from scratch. Also available will be burritos, tacos and nachos. Customers will have an opportunity to order a craft beer or cocktail with their meal.
Steve's love of the restaurant business drew him back, and he purchased the location on Lake St. last August.
"We kept looking for the right place," he said. "Some places were too big; others were gone by the time we looked at them. My wife and I drove around one Saturday for seven hours looking, and then we found this location."
He said they did some research and found that the Longfellow area was a great neighborhood. The building was a 7-11 and more recently, a Super America.
Although the interior has been entirely redone, the Frias are keeping the big garage doors, which will look out on a large patio.
"The restaurant will have room to seat 80 people, and there is seating for 20 more on the patio," Steve said.
He encouraged his daughter to join him in operating the restaurant. "Besides Boca Chica, she has worked at Burger Moes and lots of other restaurants," Steve said. "I always told her she was a service type of person."
Marie said she had started school for interior design, but she soon discovered that was not the field for her. So she joined her dad in his enterprise.
"The planning process for a restaurant is overwhelming," Steve admitted. "There is one change after another, and so many agencies and the bank are involved. But they all came through for us. The Longfellow Business Association and the City of Minneapolis really helped us."
He said that things are coming together quickly now, with tile needing to be put down, the floors done and everything painted. Then the Health Department and inspectors need to check everything out. "That process takes about a month," Steve said.
He is excited that he will soon get to serve customers, flip burgers, pour beer and watch sports. "And that's my job!" he exclaimed.
Plans are for 25-30 employees to be hired, a process that is currently going on.
"The most challenging part of running a restaurant is keeping the support of your customers," Steve said. "You want to sell a good product at a good price, and you constantly want to please people."
He said that he feels like the neighborhood he has selected for his business is like a small town in a big city. His roots are deep on the West Side of Saint Paul, but he feels good about the Longfellow area.
"We want to become friends with everybody," he noted. "We want our customers to like our restaurant and come back with their friends."
He said his goal is to make Peppers and Fries the kind of place that people come to on a regular basis, whether they are families or college kids.
"We want it to be that place that you come to often, not just once a year or for a special occasion," he noted.