Minnesota Historical Society convenes listening sessions across the state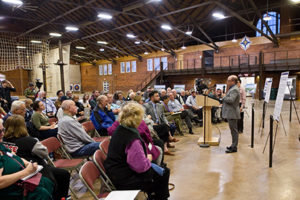 The Minnesota Historical Society held its fifth public listening session about the possible renaming of Historic Fort Snelling earlier this month. Audience members responded to questions like, "What should the MNHS consider in a name for this site?" (Photo by Margie O'Loughlin)[/caption]
By MARGIE O'LOUGHLIN
Does the name Historic Fort Snelling accurately reflect the multiple histories of this place?
That was the question asked by the Minnesota Historical Society (MNHS) when it convened the fifth in a series of six listening sessions across the state on Monday, Oct. 15.
The public meeting was held at Northern Star Scouting Base Camp, 6201 Bloomington Rd. and the purpose of the listening session was to hear public comment about the possible renaming of Historic Fort Snelling.
MNHS deputy director of learning initiatives Kevin Maijala, said, "We want to be clear that the fort itself will not be renamed. However, the fort is just one piece of the 23-acre parcel owned by the historical society."
The larger Unorganized Territory of Fort Snelling is owned by several different entities including the Minnesota DNR, the Minneapolis Parks and Recreation Board, the Veteran's Administration, Minnesota Department of Transportation, the U.S. Navy, and the Boy Scouts of America.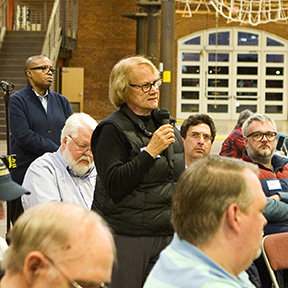 Fort Snelling sits directly above the confluence of the Minnesota and Mississippi rivers. Archaeological evidence demonstrates that the area has been inhabited by humans for more than 10,000 years.
The reason for considering a new name is that this confluence of rivers is also a confluence of stories, and many believe only one story is being told by the current name.
MNHS is in the process of a major revitalization project at the site, with a $34.5 million budget (a combination of state of Minnesota appropriations and private donations.) Included in the revitalization is the creation of a new visitor center with 4,000 square feet of exhibition space.
Maijala said, "We've been trying to tell a more expanded story at this site since 2006. Many voices make up our history here, and it is our job at the Historical Society to make sure those diverse stories are heard."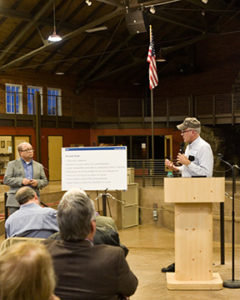 Another Minneapolis resident spoke about why the site is important to him, and why, in his opinion, the name should not be changed. (Photo by Margie O'Loughlin)[/caption]
Historic Fort Snelling has been the site of many divergent experiences: some well-known and some not. Soldiers, veterans and their families, enslaved and free African Americans, Japanese Americans, and Native Americans have all lived (and sometimes died) at the fort.
Audience members at the listening session spoke across a broad spectrum of opinion.
Pam Costain, a former Minneapolis School Board member, said, "I walk in Fort Snelling State Park regularly. The confluence of these rivers means a lot to me, both historically and spiritually. This is the place where many Dakota women and children died in the winter of 1862-63. We weren't told this story in Minnesota for a long time, and now is the time to start. I'm in favor of choosing a name that reflects this story, and also reflects the beauty of the confluence (Bdote in Dakota) because names matter."
Dr. Curtis Dahlin is a historian with a deep interest in the U.S.-Dakota War of 1862. He said, "I see Fort Snelling as a military site; that's what is important to me. I think the MNHS wants to turn it into a Dakota site, and I don't want to see that happen."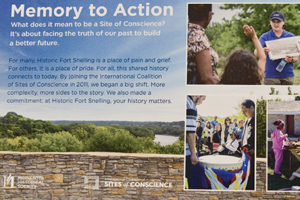 Participants attending the listening session viewed information panels about Historic Fort Snelling, including its 2006 designation as a "Site of Conscience." (Photo by Margie O'Loughlin)[/caption]
To ensure a positive listening process, a neutral facilitator set ground rules for respectful communication including refraining from interruption and argument, taking turns, and asking questions for clarity and better understanding.
So far, MNHS has received more than 5,000 responses on a web-based survey about the proposed name change for Historic Fort Snelling. Go to www.mnhs.or/fortsnelling/naming to complete a survey before Nov. 15.