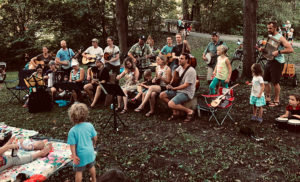 "Keep that Hope Machine running strong," urge The Okee Dokee Brothers in the first track on their latest album, "Songs for Singin,'" released during the Minnesota Stay at Home order.
The songs were born out of neighborhood sing-a-longs at Minnehaha Creek in Ericsson, down the street from where guitarist Joe Mailander has lived for three years.
The two-disc album has 27 singable songs and includes a songbook with lyrics and chords.
In their search for singable songs, the children's music duo of Mailander and Justin Lansing learned it can be easier to write more complicated ones. They also learned these simple songs hide in little everyday moments.
Their goal with this album is to help people stay hopeful and connected.
The first track on the new album, "Hope Machine," was released on April 7, a few weeks into the nationwide coronavirus quarantine. Inspired by a Woody Guthrie journal entry, people resonated with the hopeful song.
"It was a really powerful moment," remarked Mailander.
Real music with real people
As their popularity has grown, the Okee Dokee Brothers has moved from small concerts to larger venues. Yet, Mailander believes that music doesn't have to be played only by professionals at large arenas, so he started a neighborhood band, playing in back yards of neighbors and in local parks with friends.
"It was a way to make real music with real people," explained Mailander.
Fans are familiar with Mailander and Lansing's adventure-style albums. Their 2012 release, "Can You Canoe" was created during a paddle down the Mississippi River, and "Through the Woods" in 2014 was inspired by a trek along the Appalachian Trail. "Saddle Up" in 2016 followed a month-long horsebacking trip along the Continental Divide. "Winterland" in 2018 explores the wonders and beauty of winter they saw during a dogsledding excursion in northern Minnesota.
"Songs for Singin'" is a departure from that and focuses on simple songs people can sing together at home.
It's a fitting message for these times.
And it is why the childhood friends decided to release their album several months earlier than planned.
Inspired by his own
neighborhood band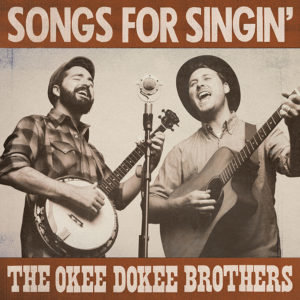 Childhood friends Mailander and Lansing grew up together in Denver, Colo. Mailander went to college at Saint John's University in Minnesota while Lansing was in Chicago. For a time they both lived in Minneapolis' Uptown neighborhood. Then Lansing headed out to New York before returning to Denver. Yet, they're still a 50/50 songwriting team. One starts a song and then sends it to the other. They go back and forth with edits and suggestions until the song is done.
"His songs are my songs and my songs are his songs," said Mailander.
The green space along Minnehaha Creek drew the Mailander family to the Ericsson neighborhood. "After a long day at work, I need to go outside and refocus," said Mailander.
He, his wife Alison and 3-year-old son Hap value the connections they've made in Ericsson since moving from the Northrop neighborhood.
He appreciates how his neighbors share tools and resources.
"We've been surprised by how well we've been connecting with families that value the same authentic relationships and music," observed Mailander. "They take time out of their busy schedules to do simple things like stand around and catch up on each other's happenings. We get together to process what's going on."
'We can all be musicians'
It was a natural transition to come together to play music and sing.
"I've been really interested in community singing and the power of folk songs to bring people together," said Mailander. "I've also been really interested in making music that isn't professional and perfect. It's casual music making."
Kids have the expectation that only the Justin Biebers of the world who make a lot of money can be singers, Mailander observed. "We can all be musicians," he said.
The neighbor kids. Their parents. His son. "The music we make can be really beautiful even if it isn't rehearsed," said Mailander.
"We've been doing it forever as a species. Don't over complicate it."
In some ways, singing has been taken away from many people, except for church songs. It used to be something the community gathered around. After World War II, there were competitions between neighborhood bands, Mailander pointed out.
When he tells people to join in, he often hears, "I can't carry a tune. I can't sing so well."
"If we all show up with a positive attitude and do our best and no one judges another, we sound pretty good," said Mailander.
Mailander hopes people in the neighborhood are inspired to start their own bands.
Their neighborhood band sings favorites, such as "You Are My Sunshine," "Down by the River," "Jamboree," "Peace Like a River," "Take Me Home, Country Roads," and "This Land is Your Land."
"We don't play long songs that no one knows the words to," explained Mailander. "We make it easy and accessible."
They invite all ages, the grandparents and the kids, and the folks without kids. He put out a little chair and ukulele for his toddler. The shakers and tambourines can get a little wild, but they roll with it.
Local musicians who drop in for the neighborhood band nights include folks from The High 48s and No Man String Band.
'These are all times for singing'
Inspired by folk singers such as Woody Guthrie and Pete Seeger, Mailander and Lansing explore the rhythms of everyday routines in their new album. Song titles point to those daily cycles: Afternoon Walk, Language of the Flowers, Let's Throw a Party, Singin' for Me Supper, and Hushabye. The Day disc has 15 songs and Night has 12.
As the duo point out in the first pages of their songbook, these songs build off "rhythmic steps on a morning stroll; syncopated raindrops in the afternoon; clanging in the kitchen; the rocking chair's lullaby. These are all times for singing, and each song is a reminder to be present through the different seasons in a day."
'We're all family'
The nationwide shutdown has affected the Okee Dokee Brothers too, as they earn 60% of their revenue through concerts, not to mention the merchandise sales. The shows also perpetuate interest in the band. If the closure of concert venues continues into the fall, "it'll be pretty devastating," admitted Mailander.
Those who are buying their physical album help keep them going. Locally, copies are available at Homespun (2709 E 38th St.) and Red Balloon (891 Grand Ave. in St. Paul). They're also sold at their online merchandise store (www.okeedokee.org).
As they encourage in the songbook: "So sing to the sunrise and sing to the moon. Sing with your kids and sing with your neighbors. Sometimes it just takes singing a song with one another to remind us that we're all family."
Neighborhood Band
It's okay if you don't know the song
It's okay just follow along
It's okay if you get the words wrong in the Neighborhood Band.
It's okay if we make a little noise
It's okay if you wanna rejoice
It's okay if you've got a bad voice in the Neighborhood Band
Little Pete plays his horn in the street
Old Man Stan plays his pots and his pans
Sally from the alley plays the big finale with the Neighborhood Band
It's okay without a saxophone
It's okay without a slide trombone
It's okay without a microphone in the Neighborhood Band
So join the chorus, lend a hand
We're not great, we're not grand
Nothin's proper and nothin's planned
In the Neighborhood Band
It's okay (wooo!), It's okay (wooo!), It's okay!
It's okay if we never get found
It's okay if we're the worst in town
It's okay if no one's stickin' around to watch the Neighborhood Band
It's okay if we don't agree
It's okay in a different key
It's okay as long as we
Can find some harmonyyyyyy