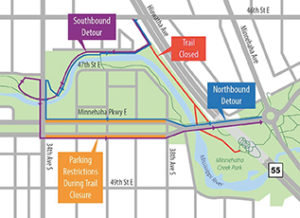 Beginning the week of Sept. 23, 2019, crews will be working in the Minnehaha Park area to prepare the site for construction and construction staging. Work will include:
• Tree protection and tree removal. MCES has worked closely with the Minneapolis Park and Recreation Board (MPRB) regarding tree removal and tree protection. MPRB has been compensated for tree removals and tree replanting is at their discretion.
• Security fencing
• Erosion control installation
• Preparing for the aboveground temporary wastewater conveyance system pipes and pumps.
Temporary conveyance pipes and pumps were installed starting in October. Residents, businesses and park-users can anticipate the following:
• A section of the Hiawatha Bicycle Trail between the Minnehaha Creek Trail and Minnehaha Parkway will be closed until fall 2021. Bicycle detour signage will be posted along the trail (see trail detour map above). Parking will not be permitted on E. Minnehaha Parkway during this time.
There will be approximately 2-3 day closures on Minnehaha Ave. just north of the traffic circle and on 50th St. near Hiawatha Ave. when crews bury temporary conveyance pipes beneath the roadway. Traffic warning signs will be posted prior to these closures with as much advance notice as possible.
The National Park Service will monitor water flows to Coldwater Spring Monday-Friday during construction even though no dewatering is expected. The National Park Service will regularly post the results of their monitoring on their website. More at https://metrocouncil.org/sewerconstruction/minnehaha.