By TESHA M. CHRISTENSEN
Bergan's update
Bergan's Supervalu at Cedar and Minnehaha Parkway has been family owned and operated for 30 years, but it will be torn down and replaced with a new multi-use building that houses a Lunds and Byerlys. The longtime grocery store closed its doors for the last time the week before Christmas 2019.
The new Lunds & Byerlys at 4715 Cedar Ave. will be about 23,500 square feet. Above it will be four stories with 125 apartments. Units will include studio, alcove, one and two-bedrooms.
Under one section of the building will be 30 covered parking stalls, with access to a 35-stall lot in the northeast corner that accesses Longfellow Ave. Another lot off Cedar will have 44 stalls.
A second-level parking garage with 125 stalls will serve the residential units.
In addition to the unit terraces the exterior facades will feature projecting and recessed balconies on upper floors that will allow residents to take advantage of private outdoor space. On the fifth floor and top floor, the building includes an indoor gathering room and outdoor deck for residents to enjoy amenities and views of the parks and lakes adjacent to the site.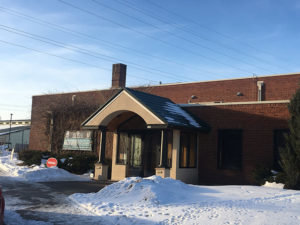 Friendship Academy expands
Friendship Academy of the Arts plans to create an upper campus in the existing building at 3320 41st St. E., about three blocks southwest of the 38th St. lightrail station.
The 1.53-acre lot currently has a 28,000-square-foot building that will be rehabilitated to accommodate office and classroom spaces, gymnasium, and cafeteria spaces, and a 2,400-square-foot vestibule will be added. The current one-story millwork building was constructed in 1945.
The existing loading docks adjacent to Dight Ave. will be demolished. A new 24-stall paved parking area and playground will be built north of the building, and a wraparound driveway added along the property's north and west sides. The project will also include a new sidewalk along Dight Ave. in an area without a current sidewalk on either side of the street.
Once complete, the new campus will serve 350 students in grades second to eighth grade, beginning in the 2020-2021 school year.
The proposed redevelopment will include predominantly interior renovations with a small addition to accommodate classroom space. The redevelopment will also include 24-vehicle parking stalls, 46-bicycle parking, increased green space, internal circulation for drop off areas to accommodate traffic flow, and landscaping to screen the proposed parking lot and beautify the parcel.
Friendship Academy of the Arts is a National Blue Ribbon, tuition-free, public charter school located (2600 E. 38th St.) just a few blocks away from the proposed development. The proposed second school location will serve the upper grades of Friendship Academy of the Arts. Founded in 2001 and authorized by Pillsbury United Communities, Friendship Academy of the Arts has a strong track record of addressing the dire opportunity gap for African-American students in Minnesota through its high-quality education and arts program, according to Executive Director Dr. B. Charvez Russell.
Due to family and community demand, FAA is planning to expand from a K-7 program with one section per grade to a PK-8 program with two sections per grade, and is need of additional school facility space. It currently has about 170 students in grades K-7. Students wear uniforms to fosters an equitable and respectful school climate.
Transportation is provided within Minneapolis, Brooklyn Center, Brooklyn Park and certain communities on the borderline of these communities. The school expects about 85% of students to come via bus and 10% via car.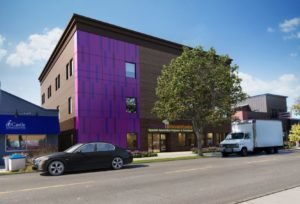 Tierra Encantada under
construction on Minnehaha
A new building with the popular incandescent panels found on the University of Minnesota Children's hospital is under construction along Minnehaha Ave.
The new Tierra Encantada Spanish Immersion Daycare and Preschool (4012 and 4016 Minnehaha Ave.) will open in spring 2020, and is the first site built specifically for the company.
One single-family home was demolished to make room for this new 12,000-square-foot, three-story building. The Hiawatha location will be licensed for approximately 260 children with four infant classrooms, four toddler classrooms, three young preschool classrooms, three inter preschool classrooms, and three pre-k classrooms
A 3,300-square-foot, fenced playground will be constructed in the backyard on a poured rubber surfacing material, and there will be two large indoor gyms.
There will be just four parking spots off the rear of the building. Drop-off for children will occur along Minnehaha Ave.
When full, the center will employ approximately 50 full-time staff, who will all receive medical and dental insurance, paid time off, paid holidays, paid training, and discounted child care.
28th bridge, street won't
reopen until June
Bogged down by record rainfall, an unexpected watermain break, extra coordination with utilities and the early onset of freezing weather, the 28th bridge project over Minnehaha Creek is behind schedule.
It was supposed to be done in 2019, but residents can expect 28th St. to remain closed through June 2020.
The bridge foundations and outside framework have been completed. However, the site has been shut down now through spring when temperatures are warm enough to ensure the concrete decking sets at the appropriate strength to safely support vehicle traffic.
Over winter, crews will install a temporary sidewalk over the creek and will ensure that pedestrian and bike access are maintained across 28th Ave. Additionally, temporary lights, winter maintenance activities and traffic control will be in place during the winter season.
"This delay means a significant impact to nearby residents and continued inconvenience for the whole community," observed Ward 12 Council Member Andrew Johnson. "I also believe that if Public Works could do anything more to speed up the timeline or restore greater access through the winter, they would. They are doing what they can to make the best of a bad situation. Thank you for understanding and for your continued patience."