By JAN WILLMS
On the outside of the oldest part of the church building erected in 1929 at 3805 E. 40th St., there is a phrase painted on the wall that reads "God is still speaking." And according to parishioner Greg Owen, the congregation is still listening.
The building, which added a new addition in 1954, was the home of Minnehaha Congregational Church, which was organized in 1903. When the United Church of Christ (UCC) denomination was founded in 1957, the church became a part of the UCC. Four years ago, Minnehaha UCC merged with Spirit of the Lakes, the first mainline, primarily LGBTQ church in the United States. Spirit of the Lakes had also joined the UCC denomination.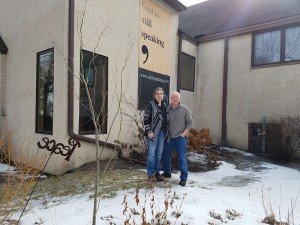 Today, the merged churches have formed the Living Table UCC congregation, housed at the location on 40th St.
Photo right: Pastor Rachael Keefe (left) and parishioner Greg Owen stand outside of Living Table United Church of Christ. (Photo by Jan Willms)
"The name change was a very interesting process," recalled Owen, who had been a long-time member of the Minnehaha church. "There were people who thought we should not change the name; there were those who thought we should merge the names together, so we had Spirit Minnehaha and all other kinds of suggestions. But after discussion, we decided on a new name and came up with Living Table UCC."
Rachael Keefe is beginning her third year as pastor at Living Table. She had previously been a clinical chaplain for the state hospital in New Hampshire and before that a therapist and associate pastor. "It's been a varied journey," she said.
"UCC was the first Christian denomination to embrace LGBTQ," she added. It is the first historically white denomination to ordain an African-American, the first to ordain a woman, the first to ordain an openly gay man, and the first Christian church to affirm the right of same-gender couples to marry.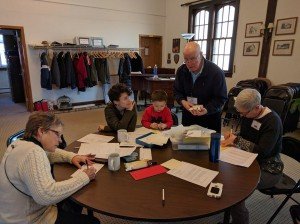 Photo right: Letter writing. (Photo submitted)
Keefe said that at present, about two-thirds of its members identify as LGBTQ. "The newer folks coming in are more allies," she stated. Living Table has approximately 130 active members, and a lot of other people who are around and participate in different things.
"We're in the process of working on a mission of change," Owen noted. "We are getting to know each other and working on the machinations of the merger. We did not really lay out a mission four years ago, but right now we are engaged in a strategic plan with a mission statement that we will probably vote on in March."
Owen said that when he uses the word vote, he means more that the congregation will come to a consensus. "That is another unique aspect of this church community," he explained. "There probably isn't any other in Minnesota that operates by consensus." He said the process is more complex, and not everyone will agree or not agree, but consensus is how the congregation makes its decisions. "Ultimately we will have a lot of focus on a social direction," he said.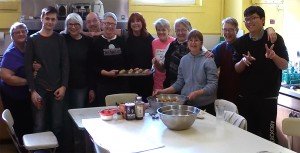 Photo right: A group gathers to make cookies at Living Table United Church of Christ. (Photo submitted)
Keefe said the church's commitment to social action has been a longstanding process with both Minnehaha and Spirit of the Lakes before they merged. More recently the church has taken up the causes of Black Lives Matter and welcoming Muslim immigrants and Muslims in general.
"We spent the season of Epiphany specifically looking at racial justice," Keefe continued. She said the church is in the middle of planning for a speakers' series in late spring that will be titled Loving Our Neighbors. "We are inviting people of other cultures and faith traditions to come and share how faith and justice inform cultures in their communities."
She said church members have been very active with environmental justice, working on organic gardening and composting, as well.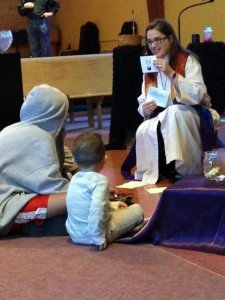 Photo left: (Photo submitted)
"Historically, the Minn­ehaha side hosted a number of families from countries that had refugees," Owen said. "We had Vietnamese, Bosnian and Sierra Leone families. That element is longstanding."
He also said that when Spirit of the Lakes stood up as an LGBTQ community when they did, it was a very remarkable thing. People were hesitant to have their names listed in directories back in the 80s when the church first did this.
"Now the communities have matured," he explained. "As the church community has come together now, there is not any less need for LGBTQ concerns, but there is a focus on other social justice issues as well."
He said the Living Table has had people participate in the Women's March and the Love Caravan March that advocated for Muslims. "Perhaps at this time when people feel immigrants are under threat, there is an important sense that we need to stay in solidarity," he noted.
Keefe said the church is building a relationship with the Syrian-American community in the Twin Cities and has hosted potluck suppers with immigrants. Although the church is not officially a sanctuary church, she said it is in conversation to become a sanctuary-supportive church. "We don't have the facilities to be a sanctuary," she explained. "We don't have showers, for example. But we can support that movement. If immigrants are housed in another sanctuary church, we can send people to be in the building with them or provide supplies."
Living Table also houses offices in its basement for La Asamblea, a grass-roots Latino civil rights group, and it partners with some mental health and social justice groups.
"We became involved with Sheridan Story, a nonprofit that helps the church provide meals for children who need food on weekends," Keefe said. "We currently sponsor 22 kids."
"That mission began when people at the Sheridan School saw kids grabbing food in the lunch line for weekends," Owen added. He said there is a whole range of risk tolerance in how much a church member might be willing to stand up.
"We have people who are ready to be arrested in defense of refugees," he said. "And we have people who bring food to a child's locker at school as a way they feel they can be invested in social justice."
There are a lot more challenges for progressive Christian churches today, according to Keefe. "We have spoken a lot of words in recent years, but now we really are being called to live our faith out loud, and to go to support marches or protests or rallies, to more publicly embrace what we internally believe."
She cited challenges that Living Table, like other social justice churches, faces. Need for money to be able to do things is one challenge, to keep the building in repair and the bills paid. And she described the risks for people having to stand up for what they believe. "To live that out publicly can be unnerving for lots of folks who aren't used to it," she said.
Owen said, however, that the welcoming aspect of Living Table brings the church to a very exciting point of discernment. "We have never been stronger in terms of having an understanding theologically of what our faith can mean, and so we are hopeful that as people come through our doors and hear the kinds of things we are engaged in, they will also want to be engaged."
He compared the feeling to one that was a part of the TV show, Cheers.
"It's like when Norm comes in and someone says 'Hi, Norm.' Living Table is a place where everyone knows your name. "
"God is still speaking, as the sign says," Owen continued. "And we are still listening. We are trying to figure out what we are being called to do."