By MARGIE O'LOUGHLIN
Longfellow resident and long-time teacher Kristi Papenfuss looked for a Montessori preschool with a language immersion program when her daughter was little. There wasn't one in the metro area—so, along with fellow teachers Veronica Vital and Li Sun, she started one.
Acorn Montessori will be Minneapolis' first trilingual Montessori preschool and kindergarten when it opens this fall at the Sabathani Community Center in South Minneapolis. Operating under a public charter, the school will serve children ages 3-6 from across the city. Tuition and transportation will be free for all kindergarteners. Parents of preschoolers will pay tuition and provide transportation unless their children qualify for the free and reduced lunch income guidelines. In that case, there is no cost to attend (but transportation must still be provided).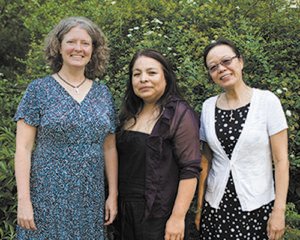 Photo right: Longfellow resident Kristi Papenfuss (l to r), with Acorn Montessori co-teachers Veronica Vital and Li Sun. They believe that their new Montessori-based, trilingual preschool will impact the community in a peaceful, respectful way. (Photo by Margie O'Loughlin)
Acorn Montessori will be part of a national network called the Wildflower Schools. The classroom model is to have three teacher leaders in a mixed age classroom. There are openings for 30 students, and school starts Sept. 4.
"We chose to locate our school at Sabathani because it's accessible from many different neighborhoods," Papenfuss said. "We want our school to be available to all families interested in Montessori and language immersion for their children. Acorn Montessori provides an option for kindergarteners on the waitlist at other schools, and a preschool program to give children early language exposure in Chinese and Spanish. Even if a child only went through our school for preschool and kindergarten, the benefits of being in a Montessori and language immersion environment are enormous."
The three teacher leaders have more than 40 years of teaching experience between them.
Sun has been teaching Mandarin Chinese for 18 years. "Our curriculum helps students develop skills to become global citizens," Sun said. "English, Chinese, and Spanish all belong to different language groups. Exposure to several languages at a young age has been proven to be beneficial for brain development. The Montessori method emphasizes grace and courtesy in social interactions. As teacher leaders, we will model good conversation and listening skills."
Vital was born in Mexico and has been a Montessori and Spanish teacher for 22 years. She said, "My three boys went to Montessori schools from infancy until third grade, and I wish they could have continued in that method through high school. It is a 'whole child' education system. They learned to be peaceful members of their communities, and they felt respected for who they were. With Acorn Montessori, it's important to us that the school is open to all. We have no geographic preference, and the income guidelines make it possible for any child to attend."
Acorn Montessori is operating under the auspices of Wildflower Schools. Wildflower is a network of learning environments that share the following learning principles:
• A peaceful, mixed-age, child-directed environment.
• Small, teacher-led schools.
• Schools that are nested in communities where students feel anchored and involved.
• A strong commitment to on-going scientific study, and the exploration of new ideas.
• Home, school, and community life are seen as seamless, interconnected experiences.
• A commitment to making diverse, inclusive learning environments that are models for justice and peace.
• Cultivation and appreciation of the deep beauty of all things.
• Cultivation of each child's relationship with the natural world.
• Cross-pollination across Wildflower's ecosystem of independent schools for the benefit of all children.
Acorn Montessori will be housed in the Sabathani Community Center at 310 E. 38th St. A community Open House is scheduled for Wed., July 11, 6-8pm at the Seward Community Coop Friendship Store (right across the street from Sabathani at 317 E. 38th St.).
For more information, call 612.444.2236 or visit the following sites: www.acornmontessori.org, www.facebook.com/acornmontessorimpls, or www.wildflowerschools.org or email info@acornmontessori.org.