Photos and article by MARGIE O'LOUGHLIN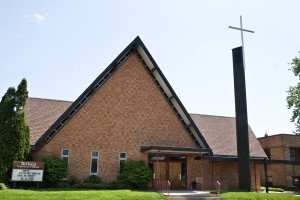 The congregation of Bethany Lutheran Church (photo right) will have its final service on Sun., June 18 at 10:30am. At this service, the altar Bible, processional cross, altar candle, chalice, and other sacred elements of worship will be decommissioned. Located at 3901 36th Ave. S., the church has been in the Longfellow neighborhood for 109 years.
In January of this year, members of the congregation voted to enter into a process called Holy Closure. Interim Pastor Susan Masters said, "The decision to close the church was not made quickly; it was made prayerfully and thoughtfully. In the ECLA (Evangelical Church in America), this not something a bishop decides—but the outcome of deep congregational prayer and discernment."
Paula Conrad, President of the Church Board, explained, "We believe that the closing of our church is a holy act. There certainly are mundane tasks to be performed, but the process is a holy one because we are resurrection people. Death may break our hearts, but it doesn't frighten us. We believe that the spirit of Bethany will live on long after June 18."
"We also want to assure our neighbors that we aren't nailing the doors shut, and running away," Conrad said. "The parsonage will be sold as a single family home, and the church building will be cared for in its transition period. The congregation voted to transfer the church building to our Minneapolis Area Synod, which will be responsible for its maintenance, upkeep, and eventual sale."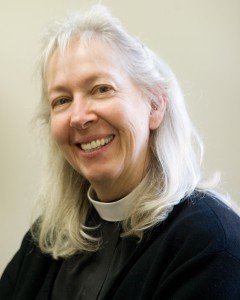 Photo left: Interim Pastor Susan Masters said, "Having served here for the last year, it's clear to me that the congregation cares deeply about the surrounding neighborhood—that has been an important part of their identity." (Photo by Margie O'Loughlin)
Masters explained that "the Bethany congregation will decide how to disburse profits from the sale of the church building. Called the Legacy Fund, this money will be used to further other ministries that have been important to our church over the years. We see that as a continuing act of resurrection. In our way of thinking, no matter who lands here, whether it's another Lutheran church, a completely different place of worship, or a non-profit agency—Bethany has planted the seeds for good work on this corner, and that good work will continue."
Congregational Secretary Karen Boberg added, "We have a very rich tradition of raising people up here who've stayed true to their faith roots. Because of the nurture of this congregation, so many members have gone on to become ordained ministers or active in the mission fields."
Boberg described how she was strong-armed into attending Bethany for the first time in 1965. A high school student at the time, she was effectively dragged in by the superintendent of the Sunday School. She left the church when she went off to college, but eventually returned—drawn back by the community, the familiarity, and the recognition that she was, "a traditional Lutheran."
The history of the Lutheran church is essentially an ethnic history. Lutheran churches were built by Germans, Norwegians, Danes, Swedes, and Finns, who were, by and large, church-going people.
"The elders among us remember what they call 'The Glory Days' of a generation or two ago," Boberg said. "That was back when we had two morning services and not enough room for all the Sunday School classes we needed. This is certainly not the reality for most churches anymore. If the median age of your congregation keeps getting older, you just can't keep it going. You need the younger generation to do the heavy lifting, and the church is not at the center of most young families' lives anymore. We are far from the only church that has experienced this."
Masters concluded, "Social scientists say that young people are less interested in going to church for a one hour Sunday morning worship. What they seem to want is to be involved in community service in direct ways. Congregational loyalty is very different in this generation. Maybe that's what's changing—that the building is no longer the main focus."