By JILL BOOGREN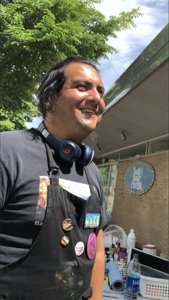 Ricardo Perez talks about his art and his process in making a mural. "Sometimes there's destruction. And there's life that comes after that. Rather than focus on destruction, it was more about life." (Photo by Jill Boogren)[/caption]
After boarding up the windows at her firm on East Lake St., Abigail Wahl, owner of Puerta Grande Law Firm, decided to ask an artist from the community to use the space to express whatever they wanted regarding George Floyd. Artists Ricardo Perez and Sebastian Rivera, community organizers with The Alliance and West Side Community Organization, respectively, answered the call. Together with volunteers, they spent five days creating a mural on the boards.
On June 4, as they were applying the finishing touches, Perez described the mural and the process, which he said changed organically as it unfolded.
"We wanted to be very intentional about it being about Black and Brown relationships. A lot of people are curious about the cactus. It kind of throws them off, like 'Why are cactus on it? That's not from here.' But you know, George Floyd wasn't from here. He was from Texas, and… Texas is the cactus. There's also a Mexican flag… Lake St. There's so many intersections of our identities."
Mentioning the cityscape, Perez pointed to a detail in the upper left window of where people were being evicted. Above it, a banner reads: FREE the Oppressed. At the top of another high rise a banner reads: #BlackLivesMatter.
"Sometimes there's destruction. And there's life that comes after that. Rather than focus on destruction, it was more about life. That's why we have so many plants and the city and the mountains," Perez continued. "This is the craziest thing… these boards were put up to protect from destruction, but they became art. It became a healing element for the community."
By email, Wahl offered her take of the mural: "To me, Ricardo Perez's creation speaks to the solidarity between the different communities in Minneapolis and Minnesota, and the love we are feeling for George Floyd."
After the art comes down, Wahl said the artist will decide on its final home. Perez hopes for a permanent space to share the piece. "Not only the painting but the energy that was captured in this moment."
Puerta Grande Law Firm (4403 E. Lake St), which offers legal representation in immigration matters, remained open throughout the uprising.