The non-competitive studio focuses on professional instruction in a nurturing environment
By TESHA M. CHRISTENSEN
Ballare Teatro has been developing great dancers for 20 years.
Located at 4259 Minnehaha Ave. S., Ballare opened in 1998 under the direction of Ann Williams with 75 students and two instructors. Today, there are 16 instructors and 300 students taking classes each week.
"My commitment to our families is to provide professional instruction," remarked Williams. "All of my instructors have degrees in dance, professional experience, or both. This is their passion; it isn't a hobby. Because of this, our instructors love what they do and want to share and grow that passion in the students they teach."
Birth of a dancer
Williams began dancing when she was five, but then tried other things after a year. When she was 10, she asked her parents if she could return to dance, and she began taking jazz and tap at a studio in Lincoln, NE. She added ballet at age 15 and was teaching at the studio when she was 16. Knowing she wanted a career in dance, Williams enrolled at the University of Minnesota to earn a bachelor's degree in dance and mass communications.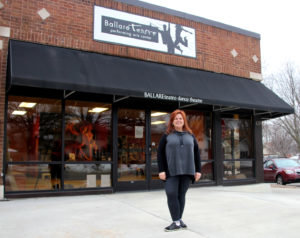 Photo right: "I love how dancing makes me feel. It is so many things," said Ann Williams, owner of Ballare Teatro. "It can be your own unique expression, or it can be a specific technical style. I love watching the little ones find their own way, seeing the joy on their faces, and I love watching our more advanced dancers grow technically and personally. I love seeing the adults at the studio connect with dance, and I love the community at Ballare." (Photo by Tesha M. Christensen)
"When I first auditioned for the dance program, I got placed in the fundamental level—that is the same level that dancers who have never danced get placed!" recalled Williams. "It made me wonder what I had been doing? What kind of training had I gotten?"
Looking back, she sees how good that ended up being for her. "The instructors at the U taught me how to dance stronger, more technically," said Williams.
That experience also fueled her passion for how she wanted to run a studio.
She doesn't want anyone to leave Ballare and feel that they've wasted their time.
After teaching for several years in Lakeville, Williams felt ready to open a studio of her own and pulled in a partner for the first year. She took a class at St. Thomas, developed a business plan, and decided to locate her dance studio within her Longfellow neighborhood—despite recommendations from fellow students that there was more money in the suburbs.
She had nearly given up on finding a space when City View Community Church moved, and the church building came up for sale. Williams' husband spent nights remodeling the space, and less than two months after purchasing the building, Ballare held its first open house.
Professional instruction, a nurturing environment
Known for professional dance instruction in a nurturing environment, Ballare offers a variety of classes, including Music and Movement for toddlers, creative dance for 3-4 year olds, Fundamental ballet/tap A and B for 5-6 year olds, ballet/tap IA and B for 7-9 year olds, ballet/tap level II, jazz II, ballet/tap III, jazz III, modern III, ballet/tap IV, jazz IV, modern IV, mixed level technique (for levels IV and V), ballet/tap V, jazz V, modern V, pointe prep, pointe, and an extra technique class for boys in level IV/V. Adults can pick from beginning ballet, beginning tap, advanced beginning tap, intermediate tap, fast intermediate tap, advanced tap, hip-hop and cardio funk.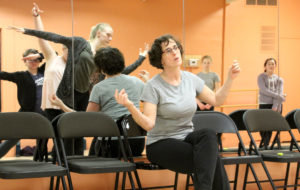 Photo left: Company B co-director Sarah Hauss instructs members (left to right) Zoie Hetletvedt, Emily Williams, Greta Harrington, Joy Meyers and Solveig Fellows during rehearsal on Mar. 18. Company B offers students the opportunity to perform in a variety of places. (Photo by Tesha M. Christensen)
"At Ballare, we build on the commitment dancers have to dance in a way that is developmentally appropriate, increasing the time in class, and the expectations to how committed the student is to their dance education as they go up through our levels," said Williams.
Preschoolers spend 45 minutes dancing once a week. As they move up through the levels, more time is added: 5-6-year-olds dance one hour a week, 7-9-year-olds 1.5 hours a week. Once they get advanced to level II, they are dancing 2.25-3.5 hours total, coming either once or twice a week. Dancers in level V are dancing 7.75 hours/week over four days.
"I believe that you can get great things from students through encouragement and positive feedback," stated Williams.
Dancers at Ballare take ballet and tap all the way through their training. "Ballet gives them the technique to move their bodies, stay lifted and graceful," explained Williams. "Tap provides dancers with groundedness and rhythm. I feel that having these two techniques will help them branch off into jazz and modern, and other techniques."
Ballare produces four shows, including a spring concert the second weekend in June for dancers in the fundamental level through level V and the adults; and special, low-key show for the creative dancers that is free for families.
Two original productions usually happen in alternate years in March. "Isabella Saves the World," written by dancers 17 years ago, is Ballare's answer to the "Nutcracker." "The Excellent Adventure" showcases rhythmic dance.
Company B performs in the community
Last year, Ballare launched Company B, a performing group co-directed by Ballare instructors Sarah Hauss and Timothy Herian. Dancers in their second year of level III through level V may audition for the company during placement auditions each August. If they make it into the company, they have rehearsal on Sunday evenings for 1.5 hours.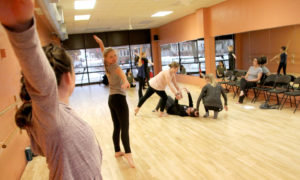 Photo left: Joy Meyers (front) and Solveig Fellows try out choreography during a Company B rehearsal at Ballare Teatro. (Photo by Tesha M. Christensen)
Company B members learn repertory and new works from outside choreographers. Last year, they learned a hip-hop piece from B-Boy J-Sun Noer and a modern piece from Herian. Hauss worked with them to create their own trios. This year Ballare brought in Judith James Ries (formerly of Jazzdance by Danny Buracezski) and Brian J. Evans (Stuart Pimsler Dance & Theater).
Company B performs at different venues around town, including the Winter Carnival, The Modern Dance Project, East Lake Library Cultural Dance Series, and Chaotic Playground at Perpich Center for Arts Education. This year, they also produced their show at the Off-Leash Art Box and performed to two sold-out houses.
Ballare has developed partnerships with the University of Minnesota and Gustavus Adolphus dance programs. Their dance majors complete their teaching practicum at Ballare—so they are learning to teach from Ballare teachers. Williams also speaks to U of M majors about teaching and studio ownership.
'Like family'
A senior at the St. Paul Conservatory for Performing Artists, William's son Brigham has been dancing at Ballare since he was three. He loves how dance allows him to express himself, and he always feels better after being at Ballare.
He intends to go into the performing arts after graduation and appreciates the training he's received at Ballare. "I've always felt this is a place where dancing doesn't have to be the only thing you do," Brigham pointed out. "It allows for versatile performing." He appreciates how Ballare allows a student to tailor classes, and come out with the experience they want.
"It teaches you what the real world is like while providing a safe environment," stated Brigham.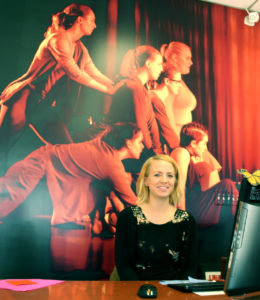 Photo right: Mia Gray-Decker started dancing at Ballare when she was seven and came back after college to work as a studio assistant. She loves the family-like atmosphere at the studio. Founded in 1998, Ballare Teatro means "Dance Theater" in Italian. (Photo by Tesha M. Christensen)
Mia Gray-Decker started dancing at Ballare when she was seven. She remained a student until she graduated from high school. The atmosphere at Ballare and the sense of community are what she valued most when she was a student.
"It felt like a family," she recalled.
Today, Grey-Decker is studio assistant at Ballare. It's that connection between instructors, students, and families that she continues to value.
"My goal has always been to prepare dancers for an audition for a college dance program," stated Williams. "Now, I know that a small percentage of our dancers are actually going to go on and study dance in college or dance professionally. But I want to provide them with the best instruction and technical training so, no matter what they choose to do with their dance education, they have the skill and tools to get them there."
A special event celebrating Ballare's 20th anniversary is in the works. Stay tuned.