By MARGIE O'LOUGHLIN
There has been a steady hum of construction on the southwest corner of 42nd Ave. and 34th St. for several months now. The bright blue concrete block building, an automobile garage since 1955, has been completely repurposed. Local sign painter Forrest Wozniak recently painted the new business name on the exterior: Belle's Tool Box, but passers-by might still be wondering what it means?
Belle's Tool Box co-owner Lucy Elliot said. "I've dreamed of creating a 'children's project space' for young children and their grown-ups for decades. I recently retired from my job as a history educator, and I'm aware that time is ticking. This play, build, and fix-it enterprise is a nod to my Mom and other fine women; my Mom's name was Bonnie, but her nickname was Bonnie Belle."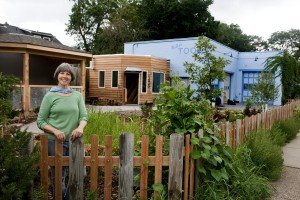 Photo left: Lucy Elliot, co-owner of Belle's Tool Box, on the southwest corner of 42nd Ave. and 34th St. Elliot is stepping into a phase of her life that she dreamed of for decades: opening a creative play, build and fix-it space for young children and their grown-ups. (Photo by Margie O'Loughlin)
Elliot said that Belle's Tool Box will be opening in mid-September. "We hope to grow organically and, as of now, we don't have a website. If you want to find out the exact days and times that we'll be here, just give a holler over the fence. We plan to have staggered hours like a library. Parents can choose a time that's convenient, and drop in for an hour or so to play with their child or children. The 25' x 25' interior space is too small to stay much longer than that."
"We want to start small," Elliot added, "and just see how things develop. We'll be asking for a donation of $3-5 per visit. We're not a non-profit, and we're not trying to get rich either. Our hope is that the donations will cover utilities and taxes. Everyone is welcome—just not all at the same time. We have seven coat hooks for children in the entry way, and five for adults. If a family comes for a visit and the main area is too busy, the gazebo and the learning gardens will be fun to play in too."
Elliot and her husband Mark lived in Elgin, Illinois for more than thirty years. They moved to Longfellow 3-½ years ago to be close to their daughter, son-in-law, and two grandchildren. Daughter Jenni Cantine is Elliot's partner in creating and operating Belle's Tool Box.
"Our relocation made starting a new business more challenging," Elliot said. If we'd still been in Elgin, we would have been able to draw on the interests and experience of our longtime friends and neighbors. But here, we were starting from scratch. I read the neighborhood newspapers, and I chose contractors who advertised in them. I ended up having great experiences with all of the people I hired, in particular builder David Graffunder, who was able to translate my ideas into reality."
Elliot said, "I pretty much designed everything on site. Much of the wood that's visible has been reclaimed. I see planned obsolescence as something we really need to get away from. There's so much joy in giving new life to used products. The accent tiles in the bathroom came from Junket; the sink and other mechanicals came from the Habitat for Humanity ReStore and Better Futures. The plantings mostly came from Mother Earth Gardens and Minnehaha Nursery, who provided valuable advice."
With a lifetime of experience in the fields of early childhood education, teen parent education, and regional history, Elliot dreamed of finding a way to pull all of her interests together. "In each of those capacities," Elliot said, "I found myself always lugging boxes of stuff around. I love process-oriented stuff, 3-D stuff, re-purposed stuff. Part of my dream was to have a space where all of this learning stuff could stay put and be used."
It appears that Elliot's dream has come true.
"We have this wonderful spot on the corner, a tiny square of the universe where we can do so much good," she said. "People in the neighborhood have really been supportive, dropping off peony plants, and building materials for the kids; a woman handed a box of quilting and sewing materials over the fence the other day. Our neighbors, and the neighborhood businesses too, have been patient during our long construction. This has been a labor of love for us, and we will continue to welcome help and ideas along the way."