Broadway School is the first in Longfellow/Nokomis

to receive weekend food supplies through The Sheridan Story
Story and photos by MARGIE O'LOUGHLIN
A local nonprofit, The Sheridan Story, provides weekend meals to students ages 5-18, by delivering non-perishable food items to their schools each Friday afternoon during the school year.
More than 100,000 school-aged children in the greater metro area struggle with food insecurity – not knowing with certainty where their next meal is going to come from. The Sheridan Story builds partnerships between schools and community organizations and provides the logistical and organizational support needed to put food in the backpacks of more than 2,200 students currently in the program.
The Sheridan Story originated as a partnership between Mill City Church and Sheridan Elementary School in NE Minneapolis. School staff noticed that kids were sneaking food from the cafeteria on Fridays to get them through the weekend. This is known as the weekend food gap: where kids who depend on the free breakfast and lunch programs available through the Minneapolis Public Schools, know there won't be enough food at home to last until Monday morning.
The Sheridan Elementary principal approached leaders of NE Minneapolis' Mill City Church in 2010 to ask if they could help. The solution seemed simple – find a way to get their kids some healthy, good-tasting food so they wouldn't be hungry.
In the first month of operation, volunteers with Mill City Church provided a bag of non-perishable food each weekend to 27 students. Two years later, the program expanded to include all students at Sheridan School - at the time, more than 300 children.
Food insecurity is a problem throughout the state of Minnesota. The mission of this organization is to fight child hunger by developing more community/school partnerships. From their first partnership, named for Sheridan Elementary, the program has grown to include 38 schools in just five years, reaching across the metro area from Minneapolis and St. Paul to Delano.
The Broadway School is the first in Longfellow/Nokomis to receive weekend food supplies through The Sheridan Story. Located in the former Longfellow Elementary School, it's a district-wide, alternative learning program operated by the Minneapolis Public Schools for pregnant and parenting teens.
Broadway is a community of students, staff, families and organizations (such as nearby Trinity Church) working together to promote self-sufficiency among the young women. The goal of everyone involved is to support the students in improving their attendance and academic performance, while they adjust to the demands of their changing lives.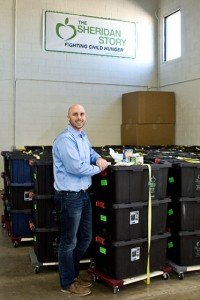 According to Rob Williams, executive director of The Sheridan Story, 92% of the students at The Broadway School are eligible for free lunch through the district, and it is the first site in Longfellow where The Sheridan Story is helping close the weekend food gap.
Williams hopes many other schools will follow.
Praynicia is a 19 year old student at Broadway with a son and a daughter, one and two years old. She lives independently with her children, and appreciates the boost of extra weekend food. The program is brand new at this site, but her children already recognize the bag that holds the fruits, vegetables and other staples every Friday afternoon. Her son, who struggles with food allergies, especially appreciates the applesauce that's always included in the 4-5 pound bag of healthy selections.
Every school receiving food through The Sheridan Story has a funding community partner - except Broadway. Williams and his staff are actively looking to find one, but in the meantime everyone agreed it was time to get things rolling there.
"Any organization can become a community partner, though it seems churches, synagogues and other households of faith are especially well-positioned to do so," said Williams.
A community partner agrees to make a one year commitment to the program, to cover 2/3 of the cost of the food, and to make sure the food is ready and waiting in the kids' lockers before they go home on Fridays. Thanks to Nutrition Services, the same department that delivers meals to Minneapolis Public Schools, bins containing prepackaged bags of food are delivered to school sites each week from the Sheridan Story's NE Minneapolis warehouse.
Think we don't have a need for filling the weekend food gap here in Longfellow and Nokomis? Local neighborhood schools with the highest numbers of students receiving free lunch are Howe at 47.4%, Dowling at 49.8% and Keewaydin at 57.4%. To be eligible for free lunch, a family can't have income that exceeds 185% of the poverty level, relative to its size. Eligibility for the free lunch program is a yardstick for measuring family income, and may be an indicator of insufficient food levels within the home.
"There are so many reasons why families experience poverty," Williams said. "The Sheridan Story isn't going to solve poverty in Minnesota, but we can make it less likely that kids will go hungry over the weekend when they're away from school. If kids aren't hungry, they'll learn better - that's a proven fact."
With an impressive list of corporate and community sponsors, including Hunger-Free Minnesota, Second Harvest Heartland, Allina Health, General Mills and many more, this organization is poised to continue closing the weekend food gap.
For more information about The Sheridan Story or to learn how your organization can get involved as a community partner, contact Rob Williams at 612-237-7605 or rob@thesheridanstory.com.