Community members shared their thoughts about the Hiawatha Golf Course during informal focus sessions in November.
The Minneapolis Park and Recreation Board (MPRB) held two of five focus session meetings on Nov. 8 at the Nokomis Recreation Center.
"The sessions are a tool for park board staff and the design team to listen to the community's conversations surrounding specific themes," explained MPRB Design Project Manager Tyler Pederson.
"Nov. 8 night's focus on 'environment' and 'neighbors' was very successful. The team heard many great comments from the community and comments from folks we had not yet heard from."
There were four tables of between six to eight community members. Each table was asked to record their comments and conversations on sheets of paper and on large maps.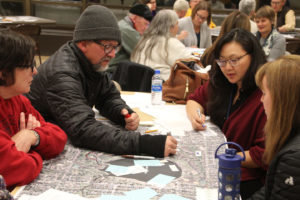 Photo right: Community Advisory Committee member Sean Connaughty (second from left) chats with community members during informal focus sessions on neighborhood and environment at the Nokomis Recreation Center on Nov. 8. (Photo by Tesha M. Christensen)
Some comments revolved around watershed issues.
"The city, park board, and Minnehaha Creek Watershed want residents to see the problems as individual areas; however, we do not and cannot understand how they can be separated when the whole watershed drains into Lake Hiawatha (all 180 square miles)," stated Joan Soholt in an email following the focus session. She is a CAC member who is also part of the Nokomis/Hiawatha Water Sustainability group. Fellow group member Monica McNaughton also pushed for a comprehensive study that incorporates the changing climate and a bigger area than just the golf course.
Safety, art, changing the fence, creating a trail around the entire lake, and wetland restoration were also among the topics discussed.
More focus sessions planned
Two more sessions were held on Nov. 13 at Hiawatha Golf Course that focused on "golf" and "African American history" at Minneapolis golf courses.
The fifth session on Indigenous history is being planned with help from those communities.
As the Hiawatha Golf Course Community Advisory Committee (CAC) moves through its planning process, committee meetings will be interspersed with community focus sessions.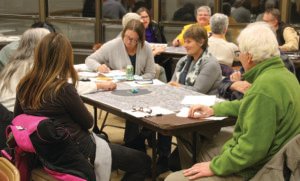 Photo left: The environment and neighborhood were topics during informal focus sessions on neighborhood and environment at the Nokomis Recreation Center on Nov. 8. (Photo by Tesha M. Christensen)
Another series of focus sessions is expected in late January/early February 2019, and a third set in late February/early March.
By the CAC's seventh meeting in April, it is expected to have a draft master plan and final CAC recommendations that will go out to the community for a 45-day review period. The planning committee will then hold a public hearing on the plan, and the board of commissioners will vote on the issue in July 2019.
Visioning
At the same time, the community advisory committee is working to create a vision to guide their work at Hiawatha Golf Course.
At the October 2018 meeting, CAC members reviewed the vision statement developed in 2015 for the larger Nokomis-Hiawatha Master Plan. (The golf course wasn't included in the master planning process for the regional park at the time.)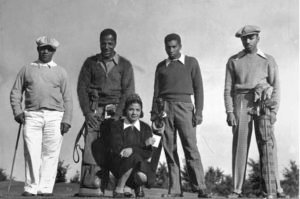 Photo right: A focus session about the history of African American golfers at Hiawatha Golf Course was held on Nov. 13. (Photo courtesy of the Minneapolis Parks and Recreation Board)
The vision of the Nokomis-Hiawatha Regional Park Master Plan is to maintain Nokomis-Hiawatha's status as a premier regional park by enhancing the existing well-loved amenities and adding select new features. The park will continue to offer a range of recreation activities located primarily within three identified focus areas, rather than scattering active uses throughout the park. The remaining parkland will be used for more natural amenities, passive recreation, and trail use.
Guy Michaelson of Berger Partnership pointed out that the landscape is steeped in legacy, it's cherished and historic, it's a treasured destination, and it's gathering place.
In addition to enhancing the human experience, there's also the opportunity to strengthen ecology, and the two can thrive together, encouraged Michaelson. He believes there are innovative ways to solve the stormwater problem while creating a cool park experience and building "in-fun-structure."
Michaelson suggested that CAC members welcome absurdity because along the way those are the ideas that are memorable and create special places.
Ultimately, he stated that the lens to look through for this project is the Grand Rounds legacy of ecology, equity, recreation, and experience.
Community members may contribute to the visioning process at https://form.jotform.com/composidore/lake-hiawatha-visioning.