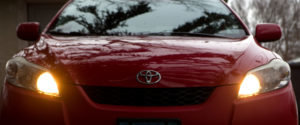 Keep those car lights in working order! Previously, a broken head light, tail light, or brake light could spark a downward economic spiral that, for some, brought on multiple tickets, confrontations with law enforcement, and even vehicle impoundment. Lights On has the potential to disrupt that downward spiral, and transform hostility into helpfulness. To date, almost 2,000 Lights On vouchers have been issued in Minnesota. (Photo by Margie O'Loughlin)[/caption]
It's been nearly four years since African American motorist Philando Castile was shot and killed by a St. Anthony police officer. In the 14 years since he started driving, Castile was pulled over by law enforcement 46 times for alleged violations. On the night of his death, Castile was stopped because he resembled a suspect in an armed robbery that had taken place four days earlier, and because he had a broken tail light.
On the day Castile's shooter was acquitted of all charges, Don Samuels was in a board meeting. Samuels is the CEO of a South Minneapolis-based nonprofit called MicroGrants. Since 2006, MicroGrants has partnered with local organizations to promote self-sufficiency for lower income people.
According to Samuels, "As a board, our plate was already completely full – but we felt we had to do something extra. We reached out to our more than 50 partner agencies and said, 'If any of your clients has a head light, tail light, or brake light that needs fixing, we'll help them get it fixed.' Someone suggested the idea of police officers handing out repair vouchers instead of tickets."
MicroGrants has a long-standing relationship with Bobby and Steve's Auto World, who operate eight auto shops across the metro area. They agreed to do the car repairs at cost, with reimbursement provided by MicroGrants.
Samuels said, "Bobby and Steve's Columbia Heights location was the first to participate. I did the math and figured we could cover the whole metro area for $100,000. This program is funded by donations, not tax dollars."
He added, "I called 20 police precincts in our metro area, and 19 of them said, 'Yes.' We printed out our own vouchers, two vouchers side by side on a sheet of regular computer paper."
The program grew over time, but it was clear that a funding boost was needed to move it beyond what MicroGrants could support. In 2018, the Chicago-based Joyce Foundation donated $100,000 to fully implement the program and hire a Lights On staff person. Between March-December 2019, the program went from operating in 20 Minnesota cities/counties to 65.
Fast forward to February of this year. Samuels said, "We're currently working with police departments in 93 cities/counties, and also expanding into tribal lands/reservations. We ask out-state participating police precincts to find service providers because they know their own communities. Service providers are required to sign an agreement that they won't up-sell parts and labor."
"Having dependable
transportation is essential
to moving people out
of poverty."
~ Don Samuels
Giving help, not lectures
Lights On takes a pro-active approach to getting minor car repairs done. Previously, if a car light was out and the owner couldn't afford to fix it (or didn't know it was broken), a cycle of fines and penalties had the potential to upend a life – all starting with a broken $5 bulb.
Now if a motorist is pulled over for a non-functioning car light, they will be issued a repair voucher for up to $250 to cover a new bulb, mounting, and wiring. Repairs above $250 are the car owner's responsibility – but the average repair cost, according to Samuels, is about $50.
The police officer will advise the driver where to go for the repair. Vouchers are issued to all drivers, regardless of race or income. Exceptions to a voucher being issued are when equipment violations result in a crash, or when a driver had an outstanding warrant.
Samuels said, "The money is very helpful, but it's the interaction with the officer that is healing. We want this to be a gift. This effort is aimed at improving police-community relations, and making streets safer for everybody by having more cars in good repair. Officers are being instructed to give a voucher, not a lecture."
Steven Anderson is a senior commander with the St. Paul Police Department. He said, "I haven't heard any negative feedback with regard to this program. By most accounts, drivers receiving vouchers are getting the necessary repairs done."
"Obviously, with the current Covid-19 national response, traffic-related contacts are greatly diminished. When we were operating normally, the program was a great tool. It allowed our officers to build bridges within the communities we serve."
Samuels concluded, "I feel really proud that Lights On came out of Minneapolis and St. Paul, and will likely become a national program in a couple of years. It makes Philando Castille's death not be entirely in vain. With our partners, we've been able to take a situation where there has been a lot of mutual discomfort, even tragedy, and turn it into something positive."
For more information, go to wwwlightsonus.org or call 612-220-8174.