Standish resident Joel Bodkin has loved fish since he was three and won a goldfish at the state fair.
That combined with a love of making things and a passion for board games has led him to a June 2, 2020 Kickstarter launch for his very own board game.
Open Ocean is a reef building card game for 1-5 players that combines the fast-paced dynamics of card drafting with the strategy of tile placement in your reef.
"If you love family games, like Sushi Go!, Kingdomino, Azul or Splendor, (which are all awesome!) this will be right up your alley," stated Bodkin. "It's easy to learn, easy to teach, great with players of all ages, and takes 20-30 minutes because being able to fit a game in between dinner and bedtime is important in our family."
Most drafting games are very much like playing multiplayer solitaire and after returning from a convention where he was testing his first game, the idea kind took off, Bodkin explained. "My kids got involved, and it snowballed from there."
Kid tested
Bodkin and his wife, Allison, have lived in Standish for 12 years. During the day, he's a product designer for Target. Games are his personal creative outlet. "They take all the things I love about design – story, illustration, craftsmanship – and combine them into one box," he observed. "All that you have to add is the most important element of any design: people! Each player brings their own stories, experience, and passions to the table, and gets to create memorable moments that live on well after the board is cleaned up."
He started making games with his two kids, Walt and Lily, when they were really little, trying to teach them more complex mechanics in easily understandable ways. Soon, Bodkin was running mini neighborhood playtests in his living room with their friends.
"My kids had so many fun ideas and so did their friends. The hardest part was cutting cards that didn't work for this game, but it means we have plenty of cards for the team game sequel," he said.
For Bodkin, games are a way for him to share and teach his kids the things he loves most in life: making things with his hands, creativity, problem-solving, strategy and storytelling.
His earlier memory is playing Husker Du with his dad and brothers in front of their wood-burning stove before bed. "Dad graduated us to Miles Borne when my brother Jeff was four by making a card holder for him by cutting slots in a 2×4 because his hands were too small to hold the cards," recalled Bodkin. "The list got longer as I got older. Endless games of 'War' and 'Go Fish' with my Aunt Jo. Zilch at my grandparents kitchen table. Euchre with my papaw over donuts on Sundays, and at every family get together on my dad's side.
"It gave our free time together purpose, which made space for conversations, and gave us all a chance to teach and to learn."
Bringing it to life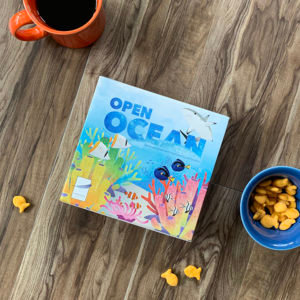 Bodkin has been making things since he could first hold a crayon. It is how he's wired. In the past few years, Bodkin said he has discovered what he was meant to do with that creative energy: create games.
He's got another game ready to go if Open Ocean is a success, and has 10-15 ideas for games scribbled in various notebooks and stages in Tupperware containers around his house.
"I love the Kickstarter community because it is full of creators pursuing their dreams, and incredible people investing in ideas they believe in and helping bring them to life," said Bodkin. "As a game creator it's hard to describe the feeling you get when you hold something in your hands that you've worked on for so long. I want everyone who backs Open Ocean to feel that too, and that's why I'm taking it to Kickstarter."
His goal is to produce Open Oceans as quickly as possible, and has about 95% of it done already with sample copies made. He'd love to get it out before Christmas, but given the current state of the world and fluctuating timelines for manufacturing and shipping, it will likely be released in January 2021.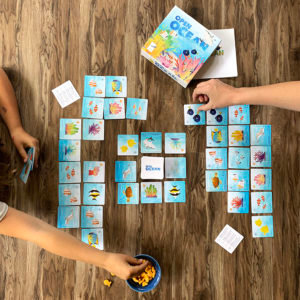 "People are home, they have time, and board games are a wonderful way to connect with family and friends," stated Bodkin. "It's an entry-price-point game, with a lot of replayability, and is actually really great for players of all ages. We play it with my 74-year-old inlaws and my 7-year-old daughter."
It is currently available on Tabletop Simulator and will soon be on Tabletopia, two online platforms for playing board games online. An older version of the game is available to play as a print-and-play version on his website.
"I hope people enjoy the time they spend playing it together and create great memories, and dive into the wonderful world of hobby board games," stated Bodkin.
Subscribe to Bodkin's email list at featherstonegames.com for more information, updates, and invitations to game night at Dreamer's Vault.
** Note - Open Ocean was fully funded within 24 hours, and stretch goals have been unlocked.