Corazon owner Susan Zdon stands outside her shop on 4646 E. Lake St. Corazon's name originates from the Spanish word for "heart." (Photo by Roy Aker)
[/caption]
By HAILEY COLWELL
In 2005, Susan Zdon and her husband opened a tiny shop and gallery in an abandoned building kitty corner from Sex World in Minneapolis' North Loop neighborhood. The shop's name was Corazon. Tucked among tarnished brick warehouses at its first location, the shop offered an eclectic mix of handmade and locally crafted gifts, from toddler toys to grilling guides. The couple's tagline for it was "in a sexy neighborhood, a little heart." Now located on East Lake Street, you will find measuring cups in rainbow colors at Corazon, feet away from wind-up ducks that walk along your hand, patterned dresses made for strolls down West River Pkwy., homey bath salts, and stacked mugs boasting their love for Minnesota. You will also find Zdon, dressed to echo the mood of the trinkets around her, each one betraying a touch of the heart that went into its selection. Through economic recession and family crisis, Zdon managed to keep Corazon beating with the help of her faithful employees, the community that supports them, and her incessant drive to own her own business. Now, like other small businesses in the wake of the recession, the store is ready to grow.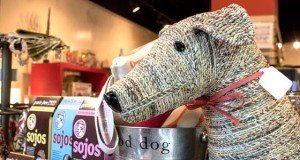 The dog-friendly store allows people to shop with their pets and has a small pet section full of quirky dog treats and toys. (Photo by Roy Aker)
[/caption] After years of fighting to stay afloat, small business owners can expect increased profits this year and their fastest growth pace since 2007, according to a report by Kiplinger, a business forecast publisher based in Washington, D.C. This fall, Zdon will open a long-awaited second Corazon in St. Paul, realizing her goal to nourish two stores at once and bringing nearly a decade of her passion for art and gifts across the Mississippi River to a new space.
'The tipping point'
Zdon had wanted a store for as long as she can remember. Growing up in St. Paul's St. Anthony Park neighborhood, she recalled urging her friends to play "store" with her until they refused to play anymore. She brought this interest to the University of Minnesota, where she studied retail merchandising in textiles and clothing. She lived in Argentina as an exchange student for three months, which contributed to Corazon's name, the Spanish word for "heart." After college, she worked as a manager and buyer for a blend of stores, from the cozy Bibelot gift shop in St. Anthony Park to a gentleman's sporting goods store in Sacramento, California. Bibelot founder and owner Roxy Freese was a friend of Zdon's mother. She watched as Zdon spent time at the Como Ave. shop as a girl and worked with her early in her career. She said Zdon's creativity and ability to communicate were apparent even then. "She's got merchandising in her blood," Freese said. After starting a family with her husband, Gary, Zdon did not return to retail until years later. She began working for Square One, a local group that sells manufacturers' products to companies like Creative KidStuff and the Walker Art Center.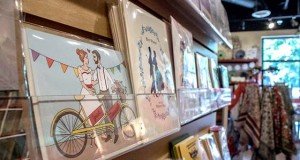 Handmade artwork and cards created by Minnesota artists are among the carefully selected gifts you will find at Corazon, all of which betray the touch of heart that went into the inventory's selection. (Photo by Roy Aker)
[/caption] Square One owner Jan Borene said Zdon was candid from the beginning about wanting to run her own store. Her sense of humor came out in her first interview, Borene said, and their professional relationship grew into a lasting friendship. When Zdon's name comes up professionally or personally, many say she is one of their favorite people, Borene said. "There are hardly enough superlatives for Susan," she said. After five years at Square One, Zdon and Gary found a space in the abandoned building near Sex World and signed a three-year lease. She was approaching age 50 and decided she was more afraid not to do it than to open the store. "I think that's the tipping point," Zdon said. "You just have to be brave enough to try it and realize that if it fails, it's outside of you."
From space to space
Corazon has existed in three places since its launch. To try running two stores, Zdon and her husband opened a second shop in 2007 at 4646 E. Lake St., which remains its home today. When their first store's lease ended in 2008, they relocated it from its "sexy" spot eight blocks down Washington Ave. as the recession began. The eight blocks made a big difference, Zdon said. The neighborhood's residents did not respond to the store with the support it had at its first location, and she negotiated out of the lease, closing the Washington Ave. store and consolidating Corazon to Lake St. At the same time, she and Gary found out he had stage four cancer. Gary's sickness uprooted Zdon's life in and out of the store. In the time leading up to his death two years ago, she and her family spent as much time at home together as possible, and she entrusted much of the store to her employees. "I feel like we're all slowly coming into the real world again, and it has taken way longer than I ever imagined," she said. "If I hadn't had my staff, I don't know what I would have done." The close-knit group of Corazon employees is like a small village, store manager and buyer Cathy Johansson said, and Zdon lets employees take ownership of their positions. "Susan is the owner, but you never feel that hierarchy," she said. Zdon said she and her employees help each other through rough times, but also tease and make fun of each other. There is rarely turnover in the store, and she tries to empower and teach everyone working there. "I feel like I've supported them," she said, "but I also feel like they've been so completely wonderful to work with, and if I had not done this, I never would have met all these wonderful characters." Zdon's daughter, Sophia, attends New York's School of Visual Arts and creates some of the artwork in the store. She works at Corazon in the summer while home from school. Zdon's son, Max, graduated in 2013 with a degree in anthropology from the U of M. He works in the store during the week and is in the process of installing its first point of sales system. Max said he enjoys the store's easygoing environment, which attracts neighborhood regulars who come just to say hello and grab a handful of Swedish Fish or a dog treat, gifts that are free and plentiful at Corazon. Some people are alarmed when the Swedish Fish bowl is empty, he said.
'It can only be good'
After fighting to sustain one Corazon store through the recession, Zdon started looking for a place to open an additional shop this year, reviving her hope of running two stores at once. She knew this time that Corazon needed a community that could support her and her employees. She spread word of her search among people she knew. Local musician Chan Poling, a family friend, approached her last winter with news of a space in the 526 Building on Selby Ave. across from Cheeky Monkey in St. Paul's Cathedral Hill neighborhood. Zdon immediately drove through a snowstorm to get there. She recalled seeing people walking in the snow outside the building in conditions that would leave the Lake St. store deserted. "If they're out on a snowy night, on a great night it can only be good," she said. Zdon signed a lease for the Selby Ave. space in April and moved materials she used in the closed Washington Ave. store into the new space, reinventing them for the new beginning. She hopes to open it by mid-September. Her employees are ready for the challenge of running two stores, and so is she. "I feel like I licked my wounds long enough," she said, "so I need to push myself a little bit and get back into it." She wants to retire by age 63 and has an exit strategy. She plans to turn the store over to her employees and children, and live six months of the year in Spain, another country echoing the language of corazon. Just as she has with her store and career, Zdon plans to do what she wants. "I just encourage people to do their own thing if at all possible," she said. "The recipe is not in failure; the disaster is not going forward with your dream."
Susan Zdon Owner, Corazon Hometown: St. Paul, Minnesota Education: Bachelor of Science, retail merchandising, University of Minnesota Family: Two adult children who help her out in the store. Tidbits: Enjoys art, food, and the 1960s TV show "The Girl from U.N.C.L.E." She is a "beauty school dropout." After attending the Aveda Institute for 900 hours, she walked out in the middle of a haircut and never went back.