River Gorge Stewards wrap up another successful season of 24 volunteer and educational events in 2018
By ELLIE ROGERS
In our local river bluff woods, trails and prairies, it's easy to lose yourself listening to birds or enjoying blooming wildflowers. It's also easy to forget that this natural area would not be what it is today without hands-on help from hundreds of River Gorge Stewards volunteers and strong community partnerships.
Tim Turner lives just a short walk to the Mississippi River Gorge. On a hike last fall, he ventured into the beautiful oak savanna just off the trail at E. 36th St. and W. River Pkwy. where he ran into a small group pulling up seedlings.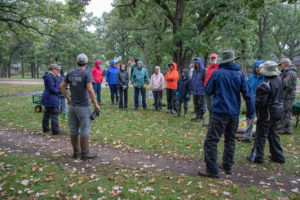 Photo right: Undaunted by the rain, Gorge Stewards circle up as Alex Roth, FMR ecologist, lays out the plan for planting natives at the oak savanna this fall. (Photo submitted)
Naturalist and volunteer-lead Kate Clayton of Friends of the Mississippi River (FMR) explained that they were removing volunteer trees to make way for bur oaks as part of the long-term restoration of this special place. She also noted that before volunteers and community groups decided to form the River Gorge Stewards to take care of it, this rare savanna—home to over a hundred bird species and a favorite respite for many locals—was an impenetrable thicket of spiky buckthorn bushes.
Turner decided to join the effort. "As a frequent hiker," he says, "I thought it would be a perfect way to 'pay for' the privilege."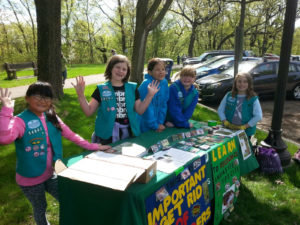 Since then, he's had plenty of company. In 2018, FMR held 24 volunteer and educational events in the Minneapolis River Gorge with over 400 attendees.
Photo left: At the River Gorge Stewards Earth Day cleanup, a local Girl Scouts troop taught volunteers and passersby on W. River Pkwy. about invasive species in our local River Gorge park. (Photo submitted)
The annual oak savanna Earth Day cleanup was the biggest, with 58 volunteers of all ages picking up litter and trash, despite the event being postponed due to the late snow and late spring.
Next came a series of public volunteer outings focused on the continued restoration of the oak savanna as well as the riverfront sand flats near Lake St. Together, individuals, families and small groups pulled invasive species like garlic mustard and buckthorn and then returned to plant native shrubs and wildflowers in their place.
Local groups like Anderson United's 5th graders and girl scout troops help maintain our local riverfront as well. Combining education and action, eight groups learned about the river gorge and how invasive plants affect the river before heading out for a day of stewardship service.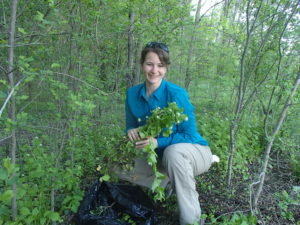 Photo right: A volunteer pulls garlic mustard before it can take over the woodland near the sand flats. Invasive plants like garlic mustard can overrun or push out native plants that birds, butterflies and other pollinators rely on for habitat in our local Mississippi River flyway. (Photo submitted)
As for Turner, after participating at several public events, he became the newest member of the River Gorge Leadership Team, a group of 15 dedicated volunteers, mostly from surrounding communities.
Team members are trained in species identification, tool use and more to support and continue the river gorge restoration work beyond the scheduled volunteer events. They put in extra hours pulling invasives and prepping a planting site or checking on newly planted shrubs and natives, making sure they have enough water between rains.
Turner says highlights of his first year with the team include "finally learning the names of plants that I have passed many times and working on projects with folks who care about the environment."
Adam Flett, Stewardship and Education Program Director at FMR, says they can't thank their volunteers, partners, and funders enough. "This is a favorite spot for many people, and we're lucky we've got so many dedicated supporters," says Flett.
He also pointed out that the Longfellow Community Council was one of the founders of the program, and remains a particularly important partner and funder in 2018.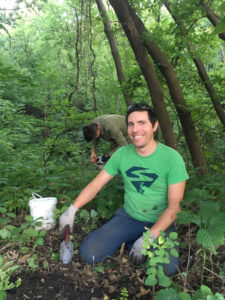 Photo left: FMR SuperVolunteer Fred Tyler is ready to plant natives in the understory of the oak savanna. (Photo submitted)
Additional funders and partners for FMR's youth programs, volunteer events and habitat restoration activities in the Minneapolis River Gorge during 2018 included: Minneapolis Park and Recreation Board, Longfellow Community Council, Xcel Energy, National Fish and Wildlife Foundation and the US Forest Service, Minnesota Natural Resources and Environmental Trust Fund, Andeavor Foundation, RBC Wealth Management, Seagate, HB Fuller Company, 3M Foundation, Hardenburgh Foundation, Langwater Foundation and Great Lakes Brewing Company.