By MARGIE O'LOUGHLIN
The storefront at 3260 Minnehaha Ave. has been home to artist Ricardo Levins Morales and his four-person staff since January. Sandwiched neatly between Peace Coffee and Two Betty's Cleaning Service, the art studio and shop welcomes visitors to the neighborhood.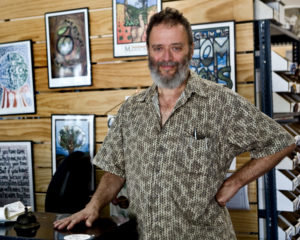 Photo right: Artist Ricardo Levins Morales said, "I was born into a farming family on a mountain in Puerto Rico. Nothing in my life blinked, beeped, or had a pause button. From that, I learned a certain kind of patience—and to speak of the world through a narrative of abundance. When people are behaving in ways that are harmful to others, it almost always comes down to a perception of scarcity." (Photo by Margie O'Loughlin)
Levins Morales said, "Somebody stopping in for the first time might be surprised to see posters, cards, buttons, bumper stickers, and calendars for sale that address a lot of different political issues. I've been asked, 'How can I delve into so many issues in my art?' I say, 'For me, there is only one issue that runs through everything I do: building resilience in the face of oppression.'"
The artist experienced oppression first-hand in Puerto Rico, the country of his birth. He lived there with his activist parents until he was 11. When they left the island in 1967, the anti-colonial movement was very strong. His parents chose to re-settle in Chicago. Their family life was tough though, and Levins Morales ended up living on his own from the age of 15. He didn't finish high school and began immersing himself in the mass political movements of the time.
"The movements I got drawn into were about restoring power to people whose power had been taken away," Levins Morales reflected. "My first published piece of art was a flyer I drew for the Chicago Black Panthers when I was just a teenager. I have always made art about what's important to me. When I was five, I drew chickens. When I was eight, it was pirates. For all the years that have followed, it's been about art as a process of truth-telling. It only becomes political when you're in an environment that's full of lies."
While Levins Morales never got a traditional art education, he said, "Growing up in Chicago, I was surrounded by art in the form of posters, murals, and newspaper cartoons. When I saw a style that I loved, I would try to figure out how to do it, and to absorb the artist's techniques."
He started out working in linoleum and woodblock printing, eventually teaching himself silk screen printing and, about 25 years ago, got interested in a medium called scratchboard. To make his images, Morales scratches through an ink coated surface to reveal a contrasting layer of white clay underneath. To complete the colorful, vibrant process that is his signature style, Levins Morales colorizes the scratchboard with watercolor, and can digitize his images for in-studio printing.
In much the same way, Levins Morales helps communities to scratch through the surfaces of a struggle—and get to what can heal them. "The art I make is meant to stimulate people's emotional immune systems, to help them deal with the toxicity of our culture," he said. "The process of working with groups doesn't vary all that much. People come into the studio; they talk, and I listen. Together we try to find what's encouraging in a difficult situation, what's hopeful. A lot of what I do with my art is to re-frame narratives for communities that have been traumatized. It doesn't mean that the art itself is telling horrific stories. Even in times of struggle, people need to laugh, and to look at beautiful things."
The new space on Minnehaha Ave. has room for art making, sales, and community gatherings. "We feel more visible here," Levins Morales said. "We're easier to find, and it's a good place for us to disseminate the art. We've had several high school and college art classes come to visit, youth groups, seminary students, students of Latin American history and culture, and student organizations. This shop is intended to be a reservoir of resilience in times of trouble. Everyone is welcome."