By JAN WILLMS
When the white supremacist rally took place in Charlottesville, Va., in 2017, and a woman was killed, many people were upset. It was a frightening reminder of how hateful symbols and actions were surfacing within this country.
Billy Joe White, owner of the Red Rose Tattoo shop in Zanesville, Ohio, watched the news coverage along with everyone else. But he decided to do something.
He offered his services pro bono to anyone who might want to come in and get a racist tattoo covered up.
His story has now been documented in an Emmy-nominated short film, "Beneath the Ink," shot and directed by Cy Dodson, a filmmaker who lives in the Longfellow neighborhood.
Redemptive stories
Although the tattoo parlor was in Dodson's home town in Ohio, he did not know anything about it. "I just saw an article going around on social media about Billy and how he was covering up tattoos. A fellow had driven three and a half hours from Cleveland to get a large head of Hitler on his calf covered up. I found it interesting and redemptive. People had opened up about their past lives."
So while he was back in his hometown working on another project, Dodson connected with White and talked a bit. He said he had a couple people coming in that weekend. One of them was John, who had a KKK tattoo on his back. He had adopted an African American kid and wanted to cover up the tattoo.
Dodson spent the weekend in the tattoo shop and the next day talked with John at his house. John was willing to cooperate and talk about his past, what led him to get the tattoo, and what had changed in his life.
"I went back to Minnesota, edited the film and realized I needed a few more shots. So a couple months later I returned to Ohio and shot a few more things," Dodson said.
"It all happened at once," Dodson said, regarding the strong response to "Beneath the Ink." It premiered in Cleveland, and then it showed here at the Minneapolis-St. Paul International Film Festival (MSPIFF). It just started going around the country, and it's done pretty well.
The film has won a dozen awards on the film festival circuit. "The festival route has been successful," Dodson said. He did not submit it for an Emmy nomination, but the film went online and GQ picked it up for its website. "They thought it was a good fit for the Emmys, and wanted me to release it to them," Dodson said. "They knew it had the opportunity to be at least nominated." The film has also qualified for the Academy Awards.
Learning how to tell a perfect story
Dodson began his career in Ohio after graduating from college in 1996.
"I took a job working in news in my hometown," he recalled. "I jumped around for a while and ended up at KSTP in the Twin Cities. I have been freelancing since 2006."
Dodson said he does a lot of work for corporate and nonprofit organizations, but he likes finding human interest stories in his films. He said he thinks this latest documentary about white supremacy and its rise is about a broad range of people and a current issue.
Dodson has made three documentaries in the past four years, but he said none have resonated like "Beneath the Ink."
"My other films took a lot longer than this one, weeks and weeks of shooting for a result about the same time," Dodson said. "For 'Beneath the Ink,' I didn't shoot as much footage and the editing was not as time-consuming. With this film, I wanted to be focused on the story and not try to do a lot of other things and waste my time and everyone else's."
His background in working for news stations helped develop his filmmaking process, according to Dodson. "It kind of forces you to do it all in a short amount of time," he explained. "You do it quickly and efficiently and in a short amount of time. You know how to tell a story, and you keep doing that over and over. You learn how to tell a perfect story."
His experience led him to want to tell longer stories rather than the two-minute news items. This led him to his documentary work.
Norwegian project next
His next project has already taken him to Norway. He is documenting the story of the Letnes family from northern Norway. Stephen Letnes, a member of the family and a composer for "Beneath the Ink," joined Dodson on his trip to Norway.
Dotson said that typically, the oldest son in Norwegian families inherits the family farm, and the second son survives on his own. Three of the Letnes sons moved to the Fargo-Moorhead area and started potato farms. The film will be about a family lineage story and Norwegian immigration to northern Minnesota.
A new bar for himself
"Beneath the Ink" has set a bar for his filmmaking, according to Dodson. "When you have something successful, how do you build on that?" He said he shot and edited the film himself, then brought on producers. He said he met his co-producers at a film festival. He brought on Melody Gilbert, a local film producer, to help with international distribution.
"You just build as you go," Dodson said. He claimed the learning process of making films is what he likes best. But he admitted that the success of this film has brought on a new series of challenges.
"You meet with lawyers, you're on the phones, you're in meetings, there's distribution. I've never sold a film before, and it's trial by fire."
Dodson, who considers himself an introvert, said he thinks shooting "Beneath the Ink" in his home town was helpful.
"The people opened up to me, and it was a different pace. There were never any questions asked, and everybody trusted each other," he remarked.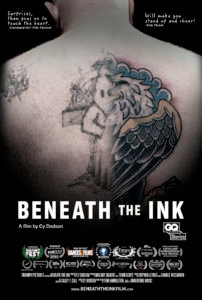 But he said taking his film to festivals across the country has helped him be more assertive and feel more comfortable interviewing people. "It forces you to give your spiel and talk with people," he stated.
When he attended the Emmy celebration in New York, he connected with people in the industry. He said that while LA is considered the mecca for narrative fiction, New York is the stronghold for documentaries.
He said he would like to extend "Beneath the Ink" from a short 12-minute documentary into a documentary feature.
"There are still a lot more people coming in from across the country wanting cover-ups. I am looking at teaming up with producers and doing a longer story," Dodson said.
"I think I have aligned myself with good people to take this to the next level."