By SHARON PARKER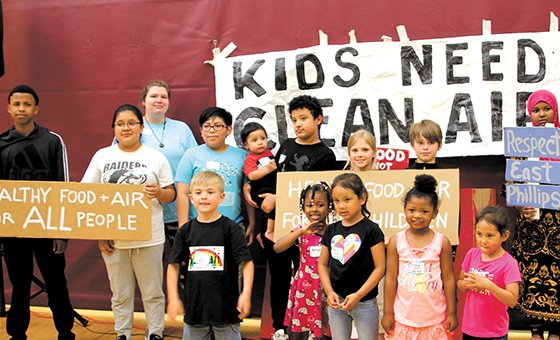 The League of Longfellow Artists (LoLa), best known for their annual art crawl in the Longfellow neighborhood, Sept. 21–22 this year, is heading across the river to also participate in the Highland Fest art fair, July 20–21. That is, a dozen LoLa artists will be sharing a tent during the annual summer event. In addition to some of their own art for sale, these Longfellow artists will have "save the date" postcard reminders for visitors, and will answer questions about LoLa for the curious.
Fest organizers had contacted Megan Moore, painter and LoLa volunteer, and she recruited fellow LoLa artists and the art crawl steering committee to share the cost as an opportunity to promote LoLa to a wider audience, and to support neighbors in Highland by renting space in their event. "I am excited to see LoLa artists collaborating together for an event hosted outside our organization," says Moore.
The shared tent at Highland Fest is one of several recent changes for LoLa, now in its 11th year.
Administration of the artist-led organization passed from co-founders Bob Schmitt and Anita White, through a transitional year in 2014, to 2015, when Dave Holliday, spouse of artist and educator Meg Erke, stepped in to keep the crawl going.
During Holliday's leadership, LoLa became a nonprofit, eliminating the need for a fiscal agent, a service that had been provided by the Longfellow Community Council. Additional changes during that time include a new format for the crawl's printed materials, from a large folded map to a half-letter-size brochure, an updated website by David Skarjune, and the Winter Fine Art Exhibition launched by Moore in 2018.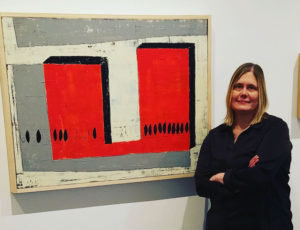 LoLa co-chair Lisa Anderson said, "I get excited for LoLa every year because it's fun to see what new and returning artists are up to. I am very excited that we are really promoting how easy it is to bike around the crawl." (Photo submitted)[/caption]
"I was happy to step into the LoLa leadership team in 2015 when it looked like the Crawl wasn't going to happen that year," recalls Holliday, crediting other volunteers who helped make the crawl happen. "Dan Goddard, Megan Moore, Sally Lieberman, Lisa Anderson, Steve Clark, and Shirley Neilsen joined me. We made a few changes that year including tightening the LoLa boundaries (but grandfathering in LoLa artists outside those boundaries), and moving the crawl from August to the third weekend of September. Our team also ramped up fundraising efforts and rewarded our sponsors with a beautiful ad in the newly created LoLa Art Crawl brochure designed by Megan Moore." The brochure and other materials are now created by graphic designer Ann Wempner.
With a solid team of volunteers in place, Holliday decided it was time to pass the baton. "With some new professional obligations and a very active young family, I have decided to step off of the LoLa leadership team in 2019," he says.
The new co-chairs are painter Lisa Anderson, who is also treasurer, and neighborhood arts enthusiast Steve Clark, who will coordinate several facets of organizing the crawl with the many artist volunteers.
"I walked parts of the Crawl in 2014 and fell in love with our neighbors' creative abundance," says Clark. "In 2015, I began to volunteer behind the scenes and have not stopped. Meeting artists has fostered a deep sense of gratitude for the riches they give to their community," he says.
Anderson and Clark are also enthusiastic bicyclists; in fact, Anderson's "day job" is in the bicycle industry. Their ideas for promoting this year's crawl include touting the bicycle friendliness of the Longfellow Neighborhood, as well as the multimodal ways the crawl can be enjoyed, including the ease of finding free on-street parking near clusters of sites on the crawl, then strolling from site to site.
"I get excited for LoLa every year because it's fun to see what new and returning artists are up to. I am very excited that we are really promoting how easy it is to bike around the crawl. Our neighborhood is a very bike-friendly neighborhood – we need to shout that from our roof tops," says Anderson.
Clark is planning to show visitors ways to experience the crawl this September in bite-size segments according to their particular interests and transportation modes.
"The 2019 Crawl promises to reveal many of the paths and routes visiting crawlers take," he says. "You don't have to travel more than a few blocks before our signature yellow signs dot lawns and curbs, inviting you in to explore. Key to helping new and returning crawlers reach artists' doors, yards, studios, and hosting businesses, is showing them how easy it can be to bicycle, skip, skateboard, stroll, walk and drive to new and familiar sites. We look forward to making these options more clear and exciting than ever before."
The LoLa steering committee also includes photographer Sue Romain, secretary and member liaison; glass mosaic artist Chris Miller, sponsor recruitment and marketing; and this writer, working with Miller on marketing.