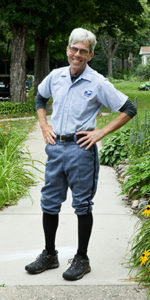 Jay Morgen hung up his mail bag at the Minnehaha Station for the last time on Friday, Aug. 31. After nearly 20 years with the US Postal Service, the veteran mail carrier retired.
During summers spent in South Dakota, Morgan remembered bouncing along dusty back roads in his grandfather's old jeep. His grandfather was a rural mail carrier, and he liked to bring his grandkids along when he could.
Morgen said, "It seemed like magic that he could find all those big silver mailboxes, and he knew every farmer by name. The memory of those times played into my decision to become a mail carrier years later, but it wasn't my first career."
He had to suffer through 18 years at a West Lake Street car dealership first, doing financing and sales in a stuffy, crowded office. In Morgen's unedited words, "I hated it!"
When he was still at the car dealership, Morgen contacted the US Postal Service. An avid golfer and long distance runner (with several sub-three hours marathons to his credit), he thought a walking mail route would be a good fit for him. He longed for a job that required mental concentration, provided a lot of outdoor exercise, and gave him time alone to think.
Morgen took the US Postal Service battery exam, so named because it contains a battery of different tests used to determine if a candidate is best suited to be a letter carrier, a mail handler, or a clerk. The test was given to thousands of applicants in an auditorium at the U of M.
He was sent to Carrier Academy, assigned a blue uniform, and began working as a trainee in April of 2000.
Since then, the world of mail delivery has changed completely.
Morgen said, "When I first started, on a Monday there would be a dozen or more tubs of mail to deliver for each route. Now three tubs of mail are considered a lot. The volume of mail is about 15% of what it used to be, but the volume of packages has increased at least 10-fold."
People made route wonderful
Assigned to the Minnehaha Station for the last 16 years, Morgen averaged 12+ miles of walking per day – more when he worked overtime.
He said, "The people on my route made the job wonderful. I've written well over 100 thank you notes in the last few weeks. I never could have been a mail carrier in the suburbs, where you drive from mailbox to mailbox and never get to talk to anyone."
While he will miss his customers, there are a few things Morgen will not miss.
He said, "The last couple of winters have been really hard because of all the ice events. In the course of my career, I've fallen dozens of times. As a carrier, you learn to pull your arms in when you fall – to aim for the snow when you're going down. Of all the surfaces, painted wooden steps are the worst."
And in every season, of course, there are dogs. Morgen said, "I had 34 incidents where I was bitten, some nips and some multiple bites. I think I'll always be a little leery of dogs, but I also understand why mail carriers frustrate them. Every day we come onto their property; they bark, and we leave. But then we come back the next day, and the whole thing happens all over again. Who wouldn't be frustrated by that?"
What's next: tiny home and golf
For his next chapter of life, Morgen is setting out on an adventure.
He purchased a tiny home from Escape Traveler in Rice Lake, Wis., and is moving to Austin, Texas.
He said, "I don't know the city at all, but their weather is good. I'm going to treat myself to a lot of golf for the next few years. My first order of business will be to meet a bunch of people, because you need people."
Things he's learned as a mail carrier
Morgen's 20 years of pounding the ground as a mail career have taught him all kinds of valuable things: to dress in layers, to be kind, to bring extra socks and gloves, to carry a first-aid kit complete wet wipes, to write thank you notes, to stick to a schedule, and to know his route backwards and forwards.