Lights, Camera... Oh My Stars!
By JILL BOOGREN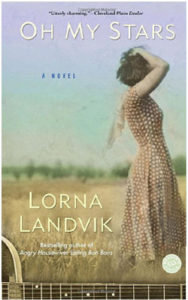 It was all action on a Nokomis block as novelist Lorna Landvik's home was transformed to a movie set for one evening in June. Her front porch was used for a scene in a short film being created from her novel, "Oh My Stars." (Image right submitted)
Neighbors gathered as equipment was hauled out of a large truck and erected on Landvik's lawn and across the street. Young Ellie Hugener said she was excited to see "all the cool stuff to set up." For Linda Skoglund, it was "a little touch of Hollywood in South Minneapolis."
It's something Landvik remembers from her days living in Los Angeles: big trucks pulling up to film locations.
Giving her characters life on the big screen is a dream coming true for Landvik. A couple of her novels (she has written 11) were once optioned—"Patty Jane's House of Curl" and "Your Oasis on Flame Lake"—but neither went anywhere. At book readings, people would ask
"When's it gonna be a movie"? to which Landvik would jokingly reply, "Surely someone has a cinema connection"?
And one day someone did.
That connection was Director/Producer Cynthia Uhrich, who soon met with Landvik and the idea for "Oh My Stars" the movie was hatched. It would be a short film, a "proof of concept" that would sing the possibilities of a full-length feature but also stand on its own as a 10-minute movie.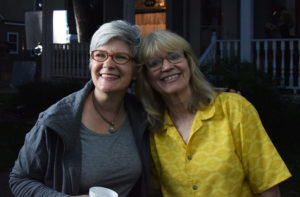 Photo left: Director/Producer Cynthia Uhrich (left) and Author Lorna Landvik on set for "Oh My Stars." (Photo by Jill Boogren)
The story, which takes place during the Great Depression, is of young Violet Mathers, whose arm is amputated after an accident. Facing bullying by her peers and mistreatment at home, Violet decides to travel to California and take her own life by jumping off the Golden Gate Bridge. She is waylaid, however, and meets musicians Kjel and Austin, who restore her spirit and sense of belonging through music and friendship.
"It's about people who don't think they have people in their corner. Then they find them," said Landvik. The characters transform, defeating huge obstacles—adjusting after having an arm amputated, trying to live as a black man in America (Austin is black), letting go of bitterness, finding comfort and forging on. A perfect movie, Landvik thinks, for these divisive times.
"It's about finding ways to get along," she said. "Who doesn't benefit when we all get along?"
It's also a type of movie that Landvik says just isn't being made right now, but one that she as an audience member wants to see. "I think the movie be many things, including a real palliative."
From page to screen
The film is being made possible by a kickstarter on GiveMN, with donations tax deductible through Uhrich's nonprofit production company In the Moment Films. Its mission statement, to provide employment opportunities for women both in front of and behind the camera, is appealing to both of the women at the helm of the film.
"Especially exciting for me, is that not only are we going to have a lot of women crew (we've hired I believe 13 women on this production)," says Uhrich in a promotional video that is posted on their GiveMN page. "Also... our leading lady, we see her as an elderly lady and a young girl, and she's a great protagonist."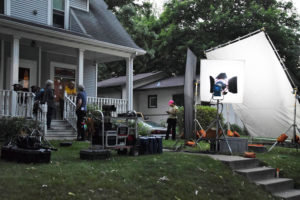 Photo left: Filmmakers converge as the crew prepares the set for a scene in the film of Lorna Landvik's celebrated novel "Oh My Stars" (Photo by Jill Boogren)
Producing any film presents challenges, but this is especially so when one is set in another time.
"It's expensive. It's not like we can just run outside and grab footage," Uhrich explains. "We have to be very, very particular with all of the details. The props have to be right. The wardrobe has to be right. The music has to be right." While on set, Landvik spoke of the details involved in scouting for a vintage truck and costumes from the period and finding a perfect Depression-era home.
And regardless of whether the film is a short or full-length feature, a wide range of equipment is required. For the porch scene, lights, gels, and filters of various sizes were placed just so to invoke the right mood and tone, which in this case was Kjel and Austin sitting on a front porch in the evening, making music by candlelight and shooting the breeze.
They also have to cover salaries and hauling equipment (and people) to various locations. Another couple of scenes were set right up the street at Roosevelt High School, where Landvik is an alumnus. (Another point of synergy: she discovered that the librarian's grandparents graduated from Roosevelt in 1937, the year the story takes place.)
Other film locations include a factory in northeast Minneapolis, a couple of private homes, the stage of the Black Dog music cafe in St. Paul, the countryside near New Prague, and a 1930s home in Arkansaw, WI.
Landvik, who wrote the screenplay for the film, has enjoyed being along for the ride. She's been on set and sat in on auditions. Though an actor herself, she's been out of that process for a while.
"I was pleasantly surprised," she said, adding that her three main principles—Violet, Kjel, and Austin—are emotionally spot on. "They're so fun to watch."
Full circle
To film a scene on her porch is to come full circle for Landvik; it was exactly here, while rocking in a chair, that her novel's characters first presented themselves.
Violet came first. Landvik knew she was from Kentucky, that there would be a terrible accident, and that the bulk of the story would take place during the Great Depression.
Kjel came next. "With this odd Nordic name, I knew he had the charisma and looks and musicality of pre-Elvis Elvis," said Landvik.
Then Austin came. An African American man in a story set in the 1930s… how was that going to be? "The fun of it is, I going to find out."
The title came later, which to Landvik reflects Kjel's exuberance and love of the world. "He loves being in this world."
"Oh my stars" is also an expression her mom, Ollie, used all the time. Breaking with her usual writing approach (she keeps her stories-in-progress close to the vest), Landvik talked with her mom "so much" with this book. Her parents had grown up in the Depression. Her mom had made all of Landvik's clothes, including her Barbie's clothes, which she hated as a kid. "I wanted store bought."
But when her mom, who Landvik said never needed a pattern and would have loved to have been a designer, made her a tulip dress that she loved and then made her friend the very same one, Landvik became a "real pill."
Sadly, her mom passed away before the novel was published. Some time afterward, Landvik learned from an aunt sharing old letters that in their childhood games they went by names they made up for themselves. Her mom's invented name? Violet.
Filming for the movie is now complete, and the team is moving into post-production (editing and sound) with hopes for a wrap by the end of summer. Completion will depend on the success of the kickstarter, which is about halfway toward its goal.
In the online video, Uhrich tells would-be contributors they'll be part of a project that's "pretty exciting."
"'s a Minnesota treasure," she said. "She's one of our local celebrities."
More information can be found on the "Oh My Stars Movie" Facebook page and GiveMN fundraising page.