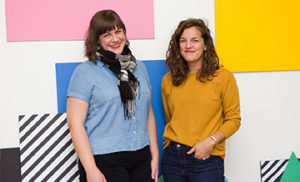 Artists Laura Brown (left) and Lauren Callis Erickson (right), co-founded the Neighborhood Bag Project to promote community art-making and fabric recycling. (Photo by Margie O'Loughlin)[/caption]
Laura Brown and Lauren Callis Erickson shared a stand at the Midtown Farmer's Market on several Saturday mornings last summer. They had a couple of sewing machines set up, and were surrounded by piles of fabric.
Callis Erickson said, "We taught market-goers to sew simple drawstring bags. The bags were made from salvaged, thrifted, or previously used fabric squares, ribbon, and cord. We sewed a lot of bags with children. Most of the bags weren't perfect, but they held produce anyhow."
Everybody has to bring a shopping bag to a farmer's market, so why not make your own?
Brown remembered that shoppers would often stop at their stand and say things like, "I have so much fabric at home; I just don't know what to do with it."
Brown explained, "We believe there is value in leading by example. It's easy to make something beautiful and useful from what you already have. Change it, use it, or pass it along. That's where the Neighborhood Bag Project is coming from."
The two Minneapolis-based artists travelled between five different farmer's markets last summer sewing drawstring bags.
Callis Erickson said, "We started the Neighborhood Bag Project to get outside our usual circles of connection. Many of the people we met at the Midtown Farmer's Market were already on-board with repurposing. One woman shopped with a bag she had made from an old tent. Another used a mylar balloon – apparently mylar is pretty durable."
Repurposing fabrics is an area of recycling that is getting a lot of attention lately, as people become aware that fabrics need to be dealt with responsibly, too. The fashion industry is believed to contribute 10% of the greenhouse gasses warming the earth.
If you can give fabrics a second, third or fourth life by repurposing, why not do it?
"Fiber has always been a community practice, whether based on the necessity of needing to make something or the simple need for fellowship. It's largely been assigned to women, though not entirely. If you can remove yourself from thinking that what you make has to be perfect, then being creative is
a great experience."
~ Lauren Callis Erickson
Callis Erickson is both an art therapist and an entrepreneur. She said, "I'm pleased to offer opportunities through the Curiosity Studio in the Northrup King Building in Northeast Minneapolis for adults to explore art as it relates to their whole selves. We offer regular courses and workshops for creative exploration using non-traditional materials."
Her other venture, called an Upcycled Closet, is in the same location. Callis Erickson provides secondhand items sourced to be functional, sustainable, and expressive. She said, "I'm a staunch believer in buying used, mending it, or making it yourself. I wrote my Master's thesis on working with used and recycled materials in the art practice. I feel that, as a culture, we have really learned to distance ourselves from our trash – and that has had very negative consequences."
Brown agreed, saying, "The more removed people are from their trash, the more they feel they can ignore it." Her areas of specialty are letterpress and silk screen printing, both of which she teaches at the Minnesota Center for Book Arts. Brown's studio, called CHEER!, is located in the Casket Arts Building in Northeast Minneapolis.
Also an avid sewer and quilter, Brown said, "I've been to so many estate sales where I've seen tons of fabric left behind by just one person. Even though I have a bad habit of collecting sewing machines, I don't ever want to be that person with rooms full of unused fabric."
Try it yourself
On Jan. 22, Callis Erickson will teach a Bag Making Class from 6:30-8:30 p.m. at the Seward Coop Franklin Store. All sewing skill levels welcome. On Jan. 25, she will teach a Visible Mending Class from 1-3 p.m. at Winsome Goods. This beginner course is for anyone interested in repairing their own clothes. Learn to use simple, visible stitches to rebuild clothes and make them last longer. Each participant will receive their own mending kit.
Brown concluded, saying, "We believe that the process of creating will bring anyone joy. People seem to have a huge appetite right now for getting out of the house, turning off their phones, and doing something creative. Remember that everything is an experiment, and nothing needs to be perfect." Her upcoming classes at CHEER! are Learn to Use Your Sewing Machine on Jan. 18, and Block Printing on Fabric on Feb. 1, with other dates coming soon.
For further information, contact Laura Brown at www.laurabrownart.com and Lauren Callis Erickson at www.anupcycledcloset.com and www.curiositystudio.com.