Article and photos by JILL BOOGREN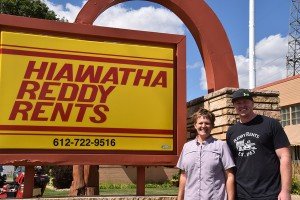 As an equipment rental business, Reddy Rents has had a hand in many a D.I.Y. project. Now Co-Manager Kevin Fitzgerald is eager to roll up his sleeves and get to work on a landscaping project of their own. Plans are underway to install rain gardens, dry wells, and a dry creek to manage stormwater runoff from the mostly-flat 5,000 square-foot roof of their south building at 45th St. and Hiawatha Ave. (which houses Big Print).
Photo above: Roxanne Stuhr, master water steward and owner/designer of True Nature Design, and Kevin Fitzgerald, co-manager of Reddy Rents, at the sign out front.
Led by Roxanne Stuhr, True Nature Design owner and landscape designer, the project is expected to reduce about three quarters of the water pouring out of downspouts when it rains—water that would otherwise carry debris and pollutants into our storm drains and ultimately the Mississippi River.
"The volume of water that comes off all these hard surfaces in the city is incredible," said Stuhr. "Rather than have that water leave the property where it could be beneficial, what we're doing instead is sending it down sidewalks, into the streets, into gutters. A lot of the water becomes dirty water because it's picking up trash and oils and goes directly into our waterways."
There was already talk at Reddy Rents of beautifying the front of their building, and when Stuhr, a customer of theirs, suggested doing something that would capture water, a new partnership was formed.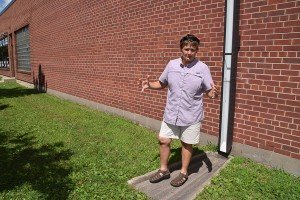 Photo left: Roxanne Stuhr, master water steward and owner/designer of True Nature Design, demonstrates where instead of splashing onto concrete, rain water will flow into a dry well then be released gradually into a creek bed and rain garden. (Photos by Jill Boogren)
From a business standpoint, the project made good sense. First, for the cost savings from lowering what Fitzgerald called an "extremely high" stormwater management fee. Next, for its potential to show their customers what's possible.
"We want to make it as attractive as possible, so our customers are like, 'Hey, that's really nice. Who did that for you? How can we learn how to do that'?" said Fitzgerald. They'll have a living example of what's needed for similar landscaping projects—and the rental equipment to get the job done. People can also see that rain gardens look great, and they don't have to worry about mowing once a week. "You just have to weed a little bit here and there," said Fitzgerald.
For Stuhr, who is a certified master water steward, goals for showcasing the project are threefold—to show the function of capturing water, while creating habitat for wildlife and ultimately beautifying a space.
"They don't have to operate independently from one another," said Stuhr. "When function meets aesthetics, you have good design."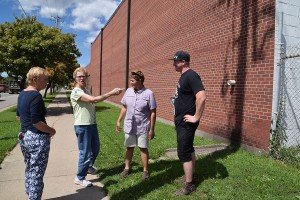 How it will work
Water from downspouts will pour into dry wells, which are like rain barrels in the ground that can dissipate water. Any overflow will move through the creek bed to the rain garden, where water will soak into the ground. The project is designed to handle 1600 gallons (more than 30 rain barrels worth) of water in a 24-hour period—about 1.5 inches rainfall.
Photo above: (l to r) Ruth Romano of the Longfellow Business Association, Sue Filbin of Smiling Dog Design, Roxanne Stuhr, and Kevin Fitzgerald discuss details of the water and rain garden project to be installed along Hiawatha Ave.
The garden itself will include native perennials (essential for pollinators), a few cultivated plants, and a handful of shrubs. It will be mulched, and the creek bed, when dry, will serve as a walking path for maintaining the garden. A future phase of the project includes adding permeable pavement, more rain gardens, and a cistern to capture and reuse water at Reddy Rents' north building.
The project was made possible by a grant from the Mississippi Watershed Management Organization, administered by the Longfellow Business Association (LBA).
"I'm especially thrilled to partner with businesses," said LBA Staff Member Ruth Romano. While Longfellow residents are "all over" stormwater management, she said, "this is a great example of what businesses can do."
Stuhr is grateful for Reddy Rents' foresight and willingness to take these steps. "I think they're business leaders in the community," she said.
Like Lake Nokomis Blooming Alleys, the project was initiated by and will be completed with a community effort. As Stuhr notes, the Longfellow, Nokomis, and Standish-Ericsson neighborhoods all converge right at this point along Hiawatha, so this presents a great opportunity for neighbors to get involved.
"It's business, community, and gardeners coming together," said Sue Filbin, writer, graphic designer, and owner of Smiling Dog Design, who helped prepare the grant. "People will see it happening and wonder about it and learn about it."
Reddy Rents will offer discounts on equipment rental to volunteers who help install or maintain the rain garden. They expect to break ground in September. Look for notices on the True Nature Design Facebook page to see when work will begin: www.facebook.com/TrueNatureDesignLLC.