By MARGIE O'LOUGHLIN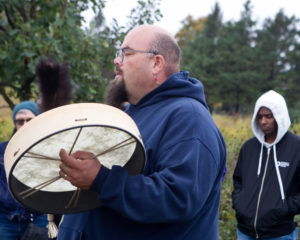 Reverend Jim Bear Jacobs ended a Sacred Sites Tour with a song atop the indigenous burial ground at Pilot Knob Hill. He said, "These tours are meant to raise the level of collective conscience. We owe it to the people of Bdote to understand their story." >> SEE RELATED STORY ON FORT SNELLING NAME. (Photo by Margie O'Loughlin)[/caption]
Bdote is the Dakota word for "meeting place of rivers." It refers to the junction of the Minnesota and Mississippi Rivers: a confluence that many Dakota people consider their site of creation. The junction of these two mighty rivers is just below Fort Snelling, and directly across from St. Peter's Catholic Church in Mendota.
Reverend Jim Bear Jacobs (Mohican) is a local theologian, historian, and story teller. He created Healing Minnesota Stories in 2011 to foster understanding and healing between Native and non-Native people, particularly those in various faith communities.
He said, "Native people have suffered deep trauma, losing their land, language, and culture over time. While countless people and institutions contributed to this trauma, it happened with the full participation of Christian churches. We all need healing. Healing is doable, and churches have a role to play in that healing."
About 40 Sacred Sites Tours are offered annually through Healing Minnesota Stories; each tour visits three sacred sites in the Bdote area. Jacobs thought interest in the tours might continue through the 150th commemoration of the 1862 US-Dakota War in 2012 and then wane -- but interest kept growing. More than 7,000 people have participated in his tours to date. Only 4-5 are open to the public each year; the rest are for church groups, colleges, and universities.
Along with his friend and co-presenter Bob Klanderud (Dakota), Jacobs uses the power of storytelling to heal because, "stories make invisible pain visible."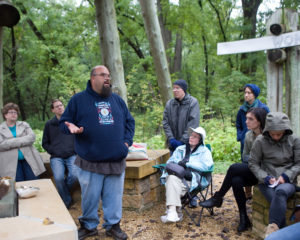 Sacred Sites Tour participants gathered at the Fort Snelling memorial site. More than 1,700 Dakota people were interned here during the bitter winter of 1863, before being deported from their Minnesota homeland. (Photo by Margie O'Loughlin)[/caption]
Sacred Sites Tours start on the lawn of St. Peter's Catholic Church at 1405 Sibley Memorial Highway, the oldest Catholic church in Minnesota.
Jacobs explained, "The first treaty between the U.S. Government and the Dakota people was signed in 1805, and the first piece of stolen land is right here. The treaty stated that cooperative use of the land beneath our feet would be protected in perpetuity. The Dakota people were assured the right to move across this land nine miles in any direction: to make their home here, to fish, hunt, and gather, to live out their lives in peace.
"This nine-mile radius of stolen land includes all of downtown Minneapolis, most of downtown St. Paul, and everything in-between, even the Mall of America," said Jacobs.
He continued, "Like Fort Snelling, we believe St. Peter's Catholic Church was erected as a sign of supremacy and domination over the Dakota people in their most sacred place. We hold no ill will toward St. Peter's at this time, but we cannot ignore their presence here either. To address some of the pain we feel, the church has taken several steps to address healing. One step is that every year on the second Saturday in September, they offer their grounds to the Mendota Mdewakanton Dakota for their annual Pow Wow. This September marked the 20th year."
The second stop on the tour is in Fort Snelling State Park, the most visited state park in Minnesota. In 1987, the Dakota community erected a monument near the Visitor Center: a circular enclosure made of logs that fan open to the sky. The monument bears the Dakota words, "Wokiksuye K'a Woyuonihan," and the English words, "Remembering and Honoring."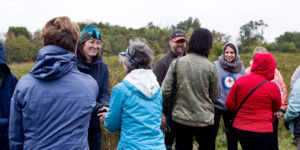 As tour participants parted, Reverend Jim Bear Jacobs said, "We believe that every human being is called upon to be an agent of justice – in a world that desperately needs us." (Photo by Margie O'Loughlin)[/caption]
Jacobs said, "This valley is a place of birth, life, creation, and genesis. We tell stories of how full-term pregnant women used to walk for days to deliver their babies here. But this valley is also a place of pain, anguish, death, and genocide. This was the internment site for more than 1,700 Dakota (primarily women, elders, and children) when the 1862 U.S.-Dakota war ended. They were forced to march 150 miles from the Lower Sioux Agency in western Minnesota. They overwintered here through brutal conditions until they were deported the next spring.
"To this day, there are far more Dakota people living outside of Minnesota than there are living within. This was a diaspora."
A meaningful part of the tour experience was being given time for quiet reflection throughout the afternoon. At the Fort Snelling memorial site, each participant received a pinch of tobacco to leave as an offering for those who died.
Jacobs said, "Walk among the trees and as you do, listen into the ears of your spirit and your heart. Hold the tobacco close, to solidify your prayer in this place."
The final tour stop was Pilot Knob Hill, a 112-acre parcel of public/private land in Mendota that is a sacred indigenous burial ground and meeting place for Dakota people. A big circle was marked on the ground, divided into quarters and filled with four different colors of gravel (signifying the different colors of humanity).
Standing in the circle with tour participants, Jacobs said, "The earth cries out for help; her people need direction. For the protection of the earth, and for those who make their home here, we must all come together in solidarity."
Reverend Jim Bear Jacobs is director of racial justice for the Minnesota Council of Churches. When he accepted that position last year, he brought Healing Minnesota Stories with him. The Sacred Sites Tours are now operated under the auspices of MCC. Tours are appropriate for ages 18+ and are offered at no cost, though free will offerings are greatly appreciated.
For information about the 2020 schedule, contact jimbearjacobs@mcc.org.