Photos by MARGIE O'LOUGHLIN
This year's Share the Gorge began under parting storm clouds on July 25. The annual ice cream social and community gathering celebrates the Mississippi River Gorge, with its easy access to the urban wilderness in the heart of the city. Share the Gorge is hosted by the River Gorge Committee of the Longfellow Community Council.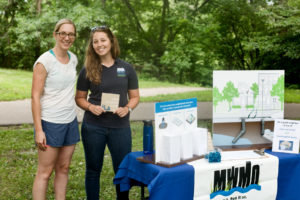 Photo right: Michaela Neu (right) is the Youth and Community Outreach Specialist for the Mississippi Watershed Management Organization. Among other resource materials, she passed out copies of the newly published "Good Neighbor Guide" which addresses responsible water stewardship practices for homeowners. At left is Marya Macintosh, River Gorge Committee member. The committee always welcomes new members and meets the first Wednesday of each month from 7:30-9pm at the Longfellow Recreation Center.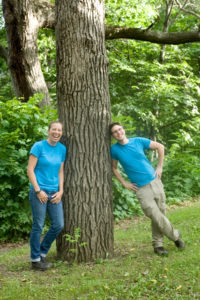 Photo left: Hennepin County Forestry staff Jen Kullgren (left) and Shane De Groy had three words of advice for homeowners, "Don't plant maples!" Kullgren said, "The Asian Longhorn Beetle isn't knocking on our door yet, but it's likely coming—and its preferred food source is maples. The best thing we can do for our urban forest is to diversify our tree planting choices."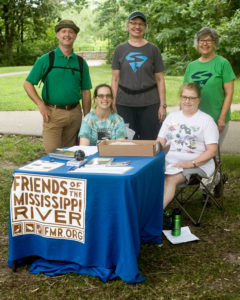 Photo right: Friends of the Mississippi River (FMR) was on hand with resource information. The organization is celebrating its 25th anniversary this year, and the 10th anniversary of its popular Gorge Stewards volunteer program. For more information about volunteering, contact Amy Kilgore at akilgore@fmr.org.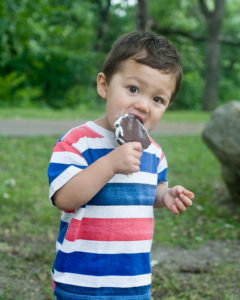 Photo left: Once again, the East Lake Dairy Queen donated boxes of Dilly Bars to the Share the Gorge event. Thanks to owner Jim Lee for his generosity.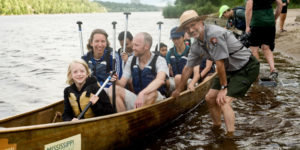 Photo right: Lyndon Torstenson of the National Park Service steadied a boat as it prepared to launch.

Photo left: Paddlers of all ages and experience levels were welcome to paddle the Voyageur canoes provided by Wilderness Inquiry.