Why are there higher levels of groundwater and standing water in previously dry areas of South Minneapolis, such as Solomon Park and Lake Nokomis Park?
The Nokomis Area Groundwater and Surface Water Evaluation team is studying that problem and held an open house on Oct. 24 at the Lynnhurst Recreation Center.
A primary goal of the network is to better understand water level trends and support water supply planning, according to members.
The team is working to answer these questions:
• Are surface water and groundwater levels near Lake Nokomis rising, particularly south and west of the lake?
• To what extent do groundwater levels interact with surface water levels in this area?
• What are potential impacts to public and private infrastructure from rising water levels?
• If groundwater and/or surface water levels are rising, why and what can be done about it?
As presented at the open house, the work of the technical team has included installing new shallow groundwater wells, reviewing groundwater elevation data from existing monitoring wells, understanding soil characteristics and geology underlying the area, summarizing precipitation data, modeling groundwater recharge rates, looking at the Lake Nokomis water levels, and reviewing the operation of the Nokomis weir.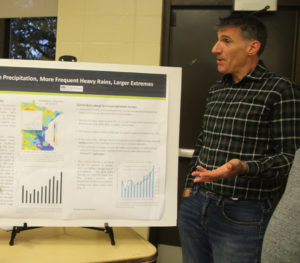 Photo right: Kenny Blumenfield with the Department of Natural Resources climatology office chats with attendees at an open house on Oct. 24 regarding the increase in precipitation the department has been tracking in Minnesota over the past few years. There have been more storms with higher rainfall levels, as well. (Photo by Tesha M. Christensen)
The team is first working to understand the problem and what solutions are. "Then we will prioritize which projects we will start with," remarked Minneapolis Surface Water and Sewers Katrina Kessler.
For the city of Minneapolis, this also means learning what other projects are being done in an area and working flood mitigation in too.
In south Minneapolis, this might mean enlarging the undersized system at Sibley Field or working more stormwater storage at the Hiawatha Golf Course.
"It's all about working with partners and taking advantage of opportunities," said Kessler.
Yes, the water is higher
A cluster of properties southwest of Lake Nokomis is dealing with basement flooding while another group near Solomon Park is faced with flooded backyards.
These homes have basements that are located 10-30 feet above the Lake Nokomis water level, which suggests that groundwater levels are likely the issue, rather than the Lake Nokomis water level, according to team members.
A weir that controls water entering Minnehaha Creek has existed at the outlet of Lake Nokomis since 1931. The weir is a dam-like structure that prevents polluted stormwater and zebra mussels from entering Lake Nokomis from Minnehaha Creek. The Minneapolis Park and Recreation Board operates the weir in coordination with the Minnehaha Creek Watershed District consistent with an approved operating plan.
The outlet elevation of the weir has always been set at 815.10', and cannot be changed. When Lake Nokomis' water level drops below 815.10', it is due to factors other than the operation of the weir.
Following a wet start to the year, August 2018 was very dry. Subsequently, the water level on Lake Nokomis dropped below the weir's outlet elevation sometime around Aug. 11, meaning water could no longer flow from Lake Nokomis to Minnehaha Creek. It remained below the outlet through mid-September. Before 2018, the last time the water level on Lake Nokomis dropped below the outlet elevation was on Nov. 28, 2017.
In 2018, due to dry weather, water flowed out of the lake via the weir for only 53 days. In comparison, from mid-March to the end of December 2017, the weir was open for 121 days and water flowed out of the lake until it dropped below the outlet elevation at the end of November.
Rainfall prompted the reopening of the Lake Nokomis weir on Sept. 25, when the lake level measured 815.98' and water once again flowed out of the lake.
Is there a bedrock dam?
One theory being evaluated by the team is the idea of a bedrock dam that might be causing a backup of groundwater.
There is a rise in bedrock east of Lakes Hiawatha and Nokomis, but before Minnehaha Falls, that could be acting like a dam to the groundwater and causing it to rise higher than it would otherwise.
Where the water table is only a few feet below the ground surface, small (but long-term) changes in the water-table elevation can have dramatic effects, according to Barr Engineering.
Record precipitation
Coupled with the possibility of a bedrock dam are a few years of record-breaking precipitation in the Twin Cities. Historically, water levels around Nokomis would spike during rainfall events and snowmelt but drop, during the winter. This has not been happening the past 4-5 years because of an increase in precipitation outside the growing season when the ground is not frozen. This has led to increasing groundwater recharge rates because plants are not growing and taking up water. This year marked the all-time snowiest start to a year (Jan. 1 - July 1, 2018).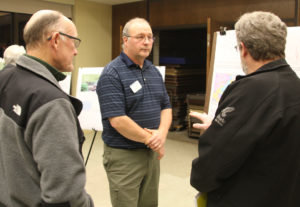 Photo left: Scott Pearson of the Department of Natural Resources Ecological and Water Resources Department talks with attendees at the open house on Oct. 24 regarding groundwater and surface water around Lake Nokomis. (Photo by Tesha M. Christensen)
Winter lake drops are likely very important in controlling groundwater elevations in the area, pointed out a Barr Engineering document. It's like a giant seasonal drawdown well to remove built-up storage.
The annual precipitation in 2013-2016 was above average, and 2014 had the wettest Jan. 1 to June 30 ever on record. June 2014 was the wettest month ever on record, and 2016 was the wettest year ever on record. Aug. 2016 to July 2017 was the wettest 12-month period ever on record.
With that, groundwater recharge rates have increased 3-4 inches per year in the past four years when compared to the last 25 years. Average recharge in 1988-2011 was 10.1 to 12.0 inches per year compared to the average recharge in 2012-2016 at 14.1 to 16.0 inches per year.
Wetter years may be the new normal. Right now, the problem may be more visible around Lake Nokomis because of the shallow water table. Team members are asking whether there are other parts of south Minneapolis where similar issues are occurring.
In 2014, the Minnehaha Creek Watershed District began partnering with the National Weather Service to anticipate rain events in order to more proactively manage the Gray's Bay Dam at the headwaters of Minnehaha Creek, pointed out MCWD employee Tiffany Schaufler. In 2016, the wettest year on record in the Minnehaha Creek watershed, this weather information allowed MCWD to operate the dam in a way that did not result in any flooding on Lake Minnetonka or Minnehaha Creek.
"It's been a really helpful tool," said Schaufler.
Wells will help gather data
The team is working to identify where data gaps exist, pointed out Schaufler.
This summer, two new observation wells were installed at Solomon Park and Lake Nokomis Park. These wells were installed at the base of the water table near the existing shallow water table wells.
Together, the new basal water table wells and existing shallow water table wells will provide information about the vertical flow of groundwater in the Nokomis area. In all, there are four observation wells near Solomon Park and Nokomis Park.
Two deeper bedrock aquifer wells will be installed soon. The six wells together will provide additional information about groundwater levels and movement in the area, including vertical movement of groundwater.
What's next?
The technical team will continue to map infrastructure impacts to determine if they are connected to potential water level changes. The team will also review water elevation information on existing sewer maps and measured water levels from the city of Minneapolis' water utility holes to gain a better understanding of groundwater levels.
Partners will explore whether additional wells are needed to determine if changes to existing infrastructure might alleviate problems and to estimate associated costs. Then they will develop a holistic plan that includes additional funding, if necessary, and work to keep residents and elected officials informed of progress.
The Nokomis Area Groundwater and Surface Water Evaluation team began meeting in January 2018.
Participating agencies include the Minnesota Department of Natural Resources, the city of Minneapolis, the Minneapolis Park and Recreation Board, the Minnehaha Creek Watershed District, and Hennepin County. Other agencies are coordinating with the team include the Minnesota Department of Transportation, the Metropolitan Airports Commission, the city of Richfield, and the U.S. Geological Survey.
To view technical data, technical team meeting notes, and presentations, visit www.ci.minneapolis.mn.us/publicworks/stormwater/nokomisgroundwater.