By JAN WILLMS
Chris Iverson, who said he has been anchored to the Longfellow area for many years, had become fascinated with the idea of scaled-down living. So when he learned the city had changed its rules to allow Accessory Dwelling Units (ADUs) on properties, he started making plans to downsize his lifestyle.
An ADU is defined as a room or set of rooms with its own cooking, sleeping and sanitation facilities which is located on the same lot as a single or two-family home. It must be smaller in area than the main dwelling to which it is accessory. ADUs can be detached, attached or internal. The property owner must reside either in the ADU or the principal dwelling unit.
"I loved the idea of increased density, not for the sake of density, but for the practical use of the space. So there was interest for me, and it gave me the opportunity to build something," Iverson said.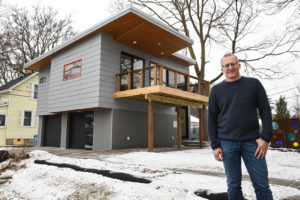 Photo right: Chris Iverson built his ADU above his garage in the back of his duplex. By law, the owner or a relative of the property owner must live in an ADU. (Photo courtesy of the Minneapolis-Saint Paul Home Tour)
He bought his first house in Longfellow in 1989 and left the area a couple of times but kept returning. "I definitely like the neighborhood, so deciding to invest here was pretty easy," Iverson related.
He owned a duplex in Longfellow but was residing in a 2700-square-foot home in St. Louis Park. In January he moved into his 640-square-foot ADU, choosing to live there himself and rent out his duplex.
Although ADUs had been approved by the City Council in December 2014, the actual building of them has been moderate.
According to Minneapolis Community Planning and Development, between December 2014 and February 2018, between 34-38 ADUs have received zoning approval each year. The department has received 121 zoning applications for ADUs, and of that total 109 have been approved by zoning. Ninety-four of the 109 applications have also received a building permit or have completed construction.
Compared to St. Paul, which has a limited ordinance that passed in late 2016 and has resulted in only one ADU receiving approval for construction by the end of 2017, Minneapolis ADU construction is forging ahead. But compared to Portland, OR, which on the average approves one ADU per day, the growth is small.
However, it is in line with what the Council was expecting. Andrew Johnson, Ward 12 council member, said he considered the number of ADUs in Minneapolis to be more than he was expecting. "The first year, when I talked to Lisa Bender about her expectations, she thought it would be under a dozen," Johnson said. Bender, a council member representing Ward 10, proposed the legislation leading to acceptance of ADUs in Minneapolis.
"You know, the reason why I don't think we see more is because of the cost," Johnson continued. "I mean, the cost of building new construction is not affordable. I look at some of the ADUs, and we're talking upwards of $150,000 to $200,000. That's pretty standard. You've got to be pretty motivated and have some good resources to make that decision work."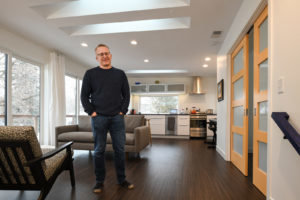 Photo left: Chris Iverson standing in his Accessory Dwelling Unit (ADU) in back of the duplex he owns in Longfellow. (Photo courtesy of the Minneapolis-Saint Paul Home Tour)
Iverson agreed that cost was a big factor. 'It was maybe a bit of an over-investment in the short term, but that probably goes more to what I built." Iverson said he went a bit overboard with his heating system because he wanted radiant heating for comfort and more efficiency. "I spent a little more, but I'm not worried about the long-term," he said. Renting out his duplex also helps him cover the cost.
Iverson said he had an initial hurdle because he had to change the zoning on his property to move his project forward. "Most of Longfellow had an R1A zoning, but since my property is a duplex, I had to get that fixed before I could move ahead."
Iverson said his architect, Christopher Strom, had been fairly involved in helping with guidelines for his ADU. "My instructions to him were to build completely within the zoning rules. I didn't want to have to go back to the city for additional changes," Iverson stated.
He said the process can take time. He first spoke to Strom about the project in the spring of 2016 and focused on getting all of the zoning requirements completed by the fall of that year. "In the fall of 2016 we started the design process and finally broke ground to start building in June 2017," Iverson said. "It was a whole year before we actually broke ground, and the project itself took several months to construct."
The neighbors have been very supportive, according to Iverson. "No one came forward and said they were uncomfortable with the zoning change. My next door neighbor had expressed some concerns about privacy and having this structure that would be looking into the back of her house, but we had conversations," Iverson recalled. "Longfellow, in general, has such varied land use."
He said council member Johnson was a big help to him in the process. "Andrew was great and super supportive as a resource. His office was really helpful. I also talked to folks at Longfellow Community Council, who were willing to leverage what they could."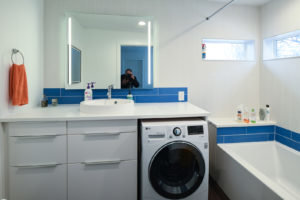 Photo right: Chris Iverson has all the amenities in his 640 square foot ADU. (Photo courtesy of the Minneapolis-Saint Paul Home Tour)
Iverson designed his ADU to be completely contemporary, much different from the style of his main house. He said there are all kinds of criteria for the square footage of the ADU, and it must be at least one square foot smaller than the main house. He was not prepared, however, for all the notice his ADU would receive.
"People who don't know me know my structure," he claimed. "I was in the Longfellow Market and checking out when the cashier asked if I was the guy building the ADU. I said I was, and he told me he had recognized my car in the parking lot from where he had seen it parked in front of my property. I have also had bikers passing by the property and giving me a thumbs up. And cars will drive by and take pictures. I even had someone come and knock on my door and ask me questions about the structure."
Iverson said all the comments have been positive, and he sometimes stands in his kitchen window and waves at the people who stop to look at his ADU.
It will be on display for the Minneapolis-Saint Paul Home Tour the weekend of Apr. 28.
Johnson said he has not received any complaints about ADUs. Before they were approved in Minneapolis, there had been concerns raised about traffic, parking concerns and structures not fitting in with the neighborhood, but none of those concerns have been raised. "I know we had one unique situation in my ward of variance based on a grandfathered-in nonconforming property. Otherwise, these go up pretty quietly; you just see a building come up."
Someone who has constructed a few of those structures is Joe Slavec, who operates Minneapolis Garage Construction.
"Mostly we build garages, but we build a few ADUs here and there," Slavec said. "They are kind of sparse because of the cost."
Slavec said part of the costs involve plumbing, and he thinks the plumbing union has been instrumental in not letting people move forward. "There is an easier way to make these units work," he said. "To reduce the costs, you should be able to use a system that has been used in Canada. It has a mulching unit on the back of the toilet, and it mulches waste so the toilet and water facility in the garage is supplied by a half inch PEX line and there's a ¾ inch PEX line that goes out and can hook up to the house rather than go out into the street. But I have yet to see plumbing inspectors approve the use of that system. That would dramatically reduce the cost."
Slavec said it is also important for property owners to realize they are basically building a small house when they build an ADU. "This is going to be a five to six-month process because you have to get all the inspections and same things that go into building a house," he noted.
He said that a decline in the labor market has made it even more difficult to get someone to come out for a small job.
"Fortunately, there is not a shortage of electricians or plumbers, but there is on carpenters," he said.
One of the ADUs Slavec has built is for himself, on his property in Independence, on the other side of Wayzata. "I live in the main house and have a detached ADU. My home is the old Shady Beach Resort," he said.
Despite the cost, Slavec said he is getting more and more requests for ADUs.
"I typically point people to one of my earlier experiences," he said. "We were building a garage and the lady next door was just starting her own ADU project. She had provided three contractors with the same set of plans and received quotes for $180,000, $250,000 and $320,000."
"She chose the $180,000 project. I circled through the following spring and checked in with her and asked how the project was going. 'Well, we're still working on it,' she said. 'It's up to $210,000 now.'"
Slavec said when he tells people that is around the standard cost, it scares some of them off.
Slavec said his parents are elderly and currently living in Iowa. At the point where they might need help, he will be able to offer them the ADU to live in. "Or I might live there," he reflected. 'but it will be nice that I can offer them the same care as the care that I received when I was growing up."
Another factor that Slavec encourages people to consider is the importance of getting a set of plans first before hiring a contractor. "Otherwise people go into the process with a great deal of confusion," Slavec said. "When they go in with a designer, at least someone is getting paid for that knowledge, and sharing it and helping that person move forward."
He said if he gets a request for an ADU, he passes it on to a designer, asking him or her to work with the customer.
"Once you are done with the designer, get it locked in," Slavec said. He encouraged the property owner to then take that plan to three different contractors and get an honest price. "I tell them to start with the designer; it cuts to the chase and helps people make a more informed decision," Slavec said.
He also warned people building ADUs to hold the designer accountable and be sure codes are being checked. He said the designer should create a plan that can be brought to the city and accepted.
Slavec said he does see ADUs becoming a growing trend. Iverson agreed, adding that his architect is now working on another ADU in the Longfellow neighborhood.
Johnson cited the increasing costs for rentals and home purchases will make a remodel or ADUs look more and more reasonable.