By JAN WILLMS
As the 35th annual Minneapolis-St. Paul International Film Festival (MSPIFF) approaches, cinephiles throughout the area are preparing for over two weeks of intense film-watching. The festival runs Apr. 7-23 at St. Anthony Main Theater, 115 SE Main, with over 200 films from more than 60 countries scheduled. This year, films will also be shown at Metro State, McNally Smith, Rochester Gallery 14, the Cathedral of St. Paul, the Basilica of St. Mary, and the Uptown Theater, offering a variety of venues for movie-goers. A part of the festival includes the Minnesota Made competition, feature-length and short films from Minnesota-based and Minnesota-native filmmakers. Here are the stories of three of them.
Paul Irmiter
Longfellow resident Paul Irmiter (photo left by Jan Willms) spends his days working in advertising. A professional photographer, he also makes TV commercials, but mostly creates Internet ads. Now he can add documentary filmmaker to his resume.
His film "Closer Than You Think: The Cuban Artist Project" began as an idea two years ago.
"It was a very quick thing," Irmiter recalled. "It started with someone I worked with in the advertising world. We had done a bunch of projects together, and she had founded the US Cuba Artist Exchange Program. She worked with all these artists and was going down to Cuba and wondered if I wanted to make a video."
After talking about the project, they decided to expand the video into a documentary. Irmiter interviewed a young traditional guitar musician, a photographer, a painter and sculptor, another painter and a rapper.
"I was in Cuba two times for ten days," Irmiter said. "Some of the artists were also able to travel up to the US. We painted a mural on the side of my building." Irmiter has a studio on 36th Ave. S. in the Longfellow neighborhood.
Irmiter was able to get into Cuba on an artistic visa through the US Cuba Artists Exchange. He worked with an interpreter for the interviews. "I don't speak the language, but it's amazing what you can understand through body language and gestures," he noted. He said the translator was a wonderful tour guide as well as an interpreter. "I think it helped that I had a native Cuban along with me. I felt I got very good realism," he added.
Irmiter said that this project fell from the sky for him, but if it had involved Cuban baseball players or how to make cigars, he would probably have passed on it. "That might be interesting, but I'm not passionate about it," he said. "But talking with artists who are figuring out how to be an artist and do that for a living and fit it in with family and life, that's really interesting."
Irmiter reflected that his conversations with the Cuban artists resembled conversations he has had all his life with American artists. "It's like this weird language that crosses borders," he said. "It doesn't matter what sex or color you are, it's amazing because their ambitions are the same as the friends I grew up with here. People are so much more similar than not."
Irmiter said he felt very much at home in Cuba, even when out in the middle of nowhere, in places he was sure no tourist ever frequented. He said the respect for artists in Cuba is high. "Being an artist is like being a doctor," he noted.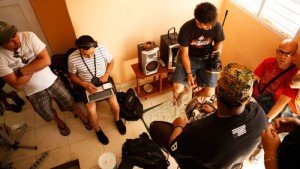 Thinking back on his experience, Irmiter said he tells people. "One thing you don't want to do is direct your first film in a language you don't understand in a country that is very, very difficult to get into, with almost no resources. It's nothing short of a minor miracle that we pulled it off."
He said the extreme kindness of the Cubans greatly helped, however. As did his working in the advertising field. "Working in advertising is basically constant rejection. People are criticizing you and rejecting you and saying an idea is terrible. You have to have a thick skin and backbone to handle it."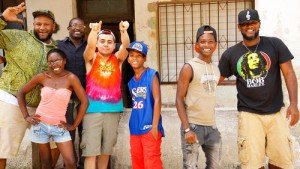 That has helped prepare him for the rigors of filmmaking. It has also helped that he has spent a lot of time interviewing people for commercials, getting them to relax and laugh.
Irmiter said the learning curve in making his first film has been incredible, and it has been massive. "We documented a bunch of things not knowing exactly what we were getting, and a lot of footage was left out because it just didn't fit," he said. "It was like stitching their stories together in an interesting way and getting to know these guys."
Although Irmiter has not been that active in the Twin Cities film community, he said he has gotten lots of support from his Documentary Club. And he sees his career going in a new direction.
"I've always been very fearful of being an artist," Irmiter admitted. "But after watching these friends who say they have to paint, and if their paints are taken away, they would find a way, even paint with dirt if needed, I feel like I am inching a little bit closer to that. It is certainly scary, but for the first time in my life, I feel I could spend the majority of my time in artistic pursuit."
Brandon Crowson
Brandon Crowson (Photo left by Jan Willms) was born and raised in south Minneapolis and currently resides in the Nokomis neighborhood. He attended Minneapolis Community Technical College and earned a degree in screenwriting. Then he decided to make movies.
"I just took it upon myself to learn a lot about editing, visual effects, and that kind of stuff, and just ran with it, instead of racking up a lot of student loan debt with a bachelor's degree," he said. "We're living in an information age and a lot of that you can find on tutorials."
Crowson said his bread and butter for the past five years has mostly come from doing web ads for places like the Bed Bug Guys and Rivers and Trade Co. He shot an award-winning short comedy called "April 13" and did a couple short skits for Funnyordie.com. But his entry in the film festival, "The World has no Eyedea," is his first feature-length film.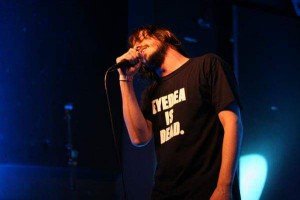 It is a documentary based on the short-lived but prolific career of Micheal "Eyedea" Larsen, a Minnesota musician, break dancer, published poet and philosopher who died in 2010 at the age of 28.
"I didn't know him personally, but I once went to a show of his in Flagstaff, AZ," Crowson said. "I'm the kind of fan who knows most of his catalog verbatim and have been buying and listening to everything he put out since I was 17 or 18."
Crowson said he felt like everyone knew that a story about Larsen would be the right topic for a movie, and several people mentioned it to Larsen's mother, Kathy. But she was adamantly against anyone doing a movie on her son.
"She and I developed a friendship after he passed," Crowson said. "She was collecting some of his concerts and wanted me to transfer some footage and asked me how much it would cost. I told her I would do it for free, since Eyedea was my all-time favorite rapper. I transferred the footage and told her that if she just gave me the green light to interview a few people we could make this into an actual documentary that could go to a few festivals and make an impact."
Crowson said Larsen's mother told him she wouldn't know how to do that. "But I do," he told her. "So she gave me a chance and it took off from there."
This was late in 2014, and in January 2015 plans started to come together. In late February Crowson started to raise funds through Indiegogo. "We hoped to raise $6,000 because I thought that would be the amount I would need so I wouldn't go broke from this," he said. "We raised that much in 48 hours, and we ended up with $21,000."
"I don't come from a lot of money and have had to work hard for everything I have," Crowson continued. "During that time we were pulling in $100 an hour, an insane testament to how talented Micheal was and how much demand there was for a film."
The project took a year to finish. Crowson directed the film, edited it, and did all but one interview and the audio.
"I felt like I was going to take some interview footage and some concert footage and splice that all together, and I was telling everyone I would be finished by the fall, easily. But as you learn more about the story, you try to figure the best way to present certain aspects of it. And you get really nitpicky. I would be pretty close to being finished, and I would look at it and think that it had to be better."
Crowson admitted he had a great deal of hero worship for his subject. "There were moments when I would hear a story about him, and I wished I had known him."
"My business partner on this project is Kathy, his mother, who is awesome," continued Crowson. "I am hopeful it has been a cathartic process for her. My friend is a grieving mother. I'm making a documentary about my favorite rapper, but at the same time I feel like I'm trying to comfort a grieving friend."
Crowson said he felt lucky to have formed a friendship with Larsen's mother and gotten an opportunity to do a project he feels so passionate about. He said he has had other chances. "But editing a documentary about a businessman, for example? I'll do it because I want to make movies, but I'm not passionate about that person's life. So I can't spend hours feeling really happy about that. This documentary has been the biggest opportunity that I have actually felt that way about. And you do your best work when you're inspired."
It is not that easy to discover film opportunities in Minnesota, according to Crowson. "We have a good film community if you want to have a day job and do a little movie for the 48-hour festival or polish up your resume and then move. But as far as making a living from film, it is difficult."
He said he literally has all sorts of different projects set up and ready to go. "What I don't have is network and funding."
He has written a script and has people on the east coast and west coast trying to pitch the film.
"But I'm just a guy from Minnesota trying to tell stories. They're not giving out film careers. So you have to have a lot of things going on at once. And it's okay to try a bunch of different things and fail at them because you're going to get one right. And that's all you have to do—get one right every year or so."
"I'm excited about the premier. MSPIFF is the biggest film festival in Minnesota, so it's kind of a big deal. I just want to make a movie every year. I feel like that's my best destiny."
Eric Tretbar
Eric Tretbar (Photo left by Jan Willms), originally from Kansas, said that Minneapolis is his adopted city. He moved here to attend college and stayed for the college band scene. For the past 15 years, he has lived between Los Angeles and Minneapolis, returning here to teach film at Carlton College and MCAD. He now lives in Longfellow, near Minnehaha.
He is the assistant director for the feature narrative, "A Stray," directed by Musa Syeed. The film is about a young Muslim refugee in Minneapolis who crosses paths with a stray dog. Tretbar said his home served as one of the locations.
"The first rule of film is never shoot in your own location," he said, "but, of course, this is the first rule you have to break."
Tretbar has worked on seven films and directed four. He said the director and assistant director (AD) have a very professional relationship. "For people who have not been on a film set before, they might mistake the assistant director for the director," he acknowledged. "The AD is the one who says 'Quiet on the set' and 'Places' and 'Quiet, please' and 'Roll sound' or "Roll camera.'"
"The AD's first job is to run the set, take care of all the scheduling of shooting days and maintain safety on the set," said Tretbar. "He or she also needs to keep track of time."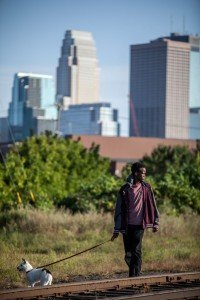 (Photo right) "The Stray," directed by Musa Syeed, was filmed in various Minneapolis locations, with Barkhad Abdirahman in the lead role. Longfellow resident Eric Tretbar was the assistant director. (Photo by Yoni Brook)
Tretbar explained that every minute on the clock for actors is money to the producer. He said the AD has to look out for the needs of the producer with the budget but also has to meet the artistic needs and vision of the director. "The AD protects the director from the day to day details and creates a bubble around him or her, so the director can be creative instead of talking to the cop who says, 'you have to get off the sidewalk. Where's your permit?'"
An AD is always checking his or her watch, whispering in the director's ear that there are only ten more minutes at a certain location. The director would like to shoot all day at the same location and must be reminded to move on," he said.
For "A Stray," Tretbar said he was the local guy who knew all the locations.
"Musa did a lot of research and was here for a number of months and roamed around the city, finding places he wanted to shoot. But I could suggest additional places; I knew someone who had an alley or backyard or coffee shop we could shoot in."
He said the nice thing about shooting in Minneapolis is the people are pretty friendly and interested in the production; in LA or New York, there are so many movies being shot, people are sick of them. "Here it's kind of a novelty," Tretbar said.
For this film, Barkhad Abdirahman was selected as the lead. He and some of his friends had roles in the movie "Captain Phillips."
"That was a Tom Hanks movie, about as big as a movie can get, with a crew of 300 people," Tretbar said. "Any actor on a film that size is living in the Magic Kingdom. Our crew is more like a rock and roll band traveling around in a van getting in each other's hair all the time."
He said "A Stray" had two vans, one for the camera equipment and the other for people. But the fewer vehicles, the faster the crew could move, according to Tretbar.
The film was shot in about two weeks. The crew worked on its days off finding new locations or picking up any shots that weren't completed the first time around.
Tretbar said a big change in the film industry has come about because of the Internet and the kind of cameras used to make a movie. "When I began, there was only one business in Minneapolis where you could get a film camera, and you had to have a crew working with you that knew how to use this camera," he stated. "Today, you go to Amazon.com, and you buy a camera for one or two thousand dollars, and you make a movie."
"The dream of true democratization of cinema is here," Tretbar continued. "That was the battle cry of 1968. Now it is in the hands of everybody." However, Tretbar said there is a downside to this.
"Festivals like South by Southwest or Sundance used to have 600 or 700 films submitted for 150 spots. Now they have 20,000 films submitted every year for 150 spots."
Tretbar said his friends who work at the festivals had hoped that as the total number of films increases, so too would the number of good or better films. "But in fact, the total number of good films has remained fairly consistent," he said.
Because of so many films being made today, Tretbar said it is a buyer's market, and distribution is challenging. Actually making the film is easier.
"I still have the romantic hope that we can make Minneapolis a cinema center, a thriving and creative place," Tretbar said. He acknowledged that Austin, TX, is the strongest rival right now that has succeeded in some of the things Minneapolis is trying to do.
"We are told that what we need is a hit, and we would like that, too. I'm optimistic because there are a lot of fine people working here, and it's a great place to live."
NOTE: For a schedule of films at the MSPIFF festival, go to www.mspfilm.org.