By MARGIE O'LOUGHLIN
Two Bettys Green Cleaning Service is an eco-friendly company that uses only non-toxic cleaning products: no bleach, no ammonia, and no petroleum-based irritants. Headquartered at 3258 Minnehaha Ave., the company currently employs 120 people, and serves upwards of 1,100 clients in the Twin Cities and first-tier suburbs.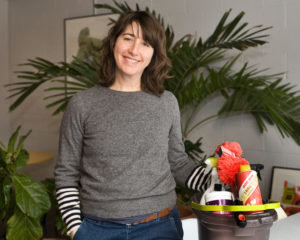 Two Bettys started small a little more than a decade ago. Company co-founders Anna Tsantir (photo right by Margie O'Loughlin) and Sam Meyers (who passed away in 2014) were both artists struggling to find time to practice their art. They were too busy working their day jobs and thought there had to be a better way. They quit their jobs and started cleaning houses. Both Bettys found that the work was peaceful, the income decent, and the scheduling more flexible than the 9-5 routine.
Over time, Tsantir and Meyers hired contractors to help with increasing demand for their services. There were a lot of people looking for jobs for whom flexible scheduling was a priority: artists, activists, students, and single parents. As their business grew, it became clear that their business model needed to change too. Tsantir said, "We scrapped the idea of hiring cleaners as independent contractors a couple of years ago, and brought them on fully as company employees."
Tsantir believes this has strengthened the company in many ways. "We're currently hiring," Tsantir said, "and our starting wage is $15 per hour. Cleaners' wages rise to $19 per hour after the first year. We've been testifying at Minneapolis City Hall for a livable wage for years, along with other progressive small business owners. We offer a 50% health insurance cost share for employees working at least 30 hours per week. If an employee has been with us for a year or more and is injured, either on or off the job, they'll receive disability payments for up to three months. We pay for drive time between jobs, and all cleaning supplies and products. We can do much more for our cleaners now that they're actual employees and not contract staff."
Two Bettys welcomes new clients, as well as new employees. To schedule a free, in-home or in-office estimate for cleaning services, call 612-720-8768 or visit www.twobettysclean.com.
"Many of our clients are busy with long hours at work or in care of others," Tsantir said. "We believe that a cleaning service can open up more time to engage with community, family, and friends. Our services are tailored to meet our clients' needs. For that first estimate, we'll send a member of our sales/client service staff to you, to learn which aspects of your home or office frustrate you the most from the standpoint of cleaning."
One of the company's 2018 initiatives is developing another Longfellow property at 4010 E. Lake St., just west of the Hi-Lo Diner. Tsantir explained,"We're building out a refill station where our employees will go to get their cleaning supplies. Almost all of what you buy in a bottle of cleaning product is water, which results in a tremendous amount of packaging waste and inefficiency in transportation/use of fuel. We'll be purchasing 1,000 lb. barrels of super concentrated cleaning solutions, which our employees will refill into reusable bottles. We look forward to partnering with Climate Generation and local artists to create a 'Wall of Hope' mural on the alley side of the property, with a message of the many successes that climate activists have had in recent years. Contrary to what we hear in the news, some good things are definitely happening."
Two Bettys Green Cleaning Service received a huge accolade last year when they were awarded the 2017 Minnesota Women-Owned Small Business of the Year by the U.S. Small Business Administration.
Tsantir said, "There are virtually no trade regulations about labeling cleaning products. Truly, anyone can put 'green' on their product line. As a consumer, it can be hard to stay up to date." An online search confirms that a common cleaning product, Comet Disinfectant Powder, contained 146 different chemicals, including some thought to cause cancer, asthma, and reproductive disorders. The most toxic chemicals identified were formaldehyde, benzene, and chloroform; they were not listed on the label.
Tsantir recommends using an online resource called the Environmental Work Group to check the ratings of more than 2,000 household products. The non-profit research group gives each product a grade from A-F, based on how hazardous it is to health and the environment, and how much ingredient information is on the label.