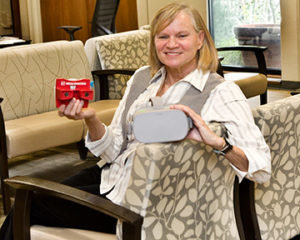 Chris Mangold said, "Remember the old View Master, where you could see the world at the push of a button? This program is similar, but uses new technology." (Photo by Margie O'Loughlin)[/caption]
By MARGIE O'LOUGHLIN
Longfellow resident Christine Mangold is a seasoned traveler. Some of her favorite destinations have been Paris, London, Rome, and Venice. When she worked as the Lifelong Learning Director at the Minneapolis Ebenezer Senior Living Campus, she started thinking about virtual reality travel as an option for people living in that community. A virtual travel club could be a way to give them the joy of travelling to new places easily and at no cost.
Because of successful results from a pilot study at the Minneapolis Campus, Mangold started the Virtual Passport Programs (VPP) in 2019, and now brings her Virtual Travel Club to half a dozen senior living communities in the Twin Cities each month. The one-hour sessions are a chance for people who are unable to travel (for a variety of reasons) to view 360 degree videos from far-away places. Participants are issued a passport, provided with a tour guide, and off they go.
Participants fill out a travel profile when they join VPP. They answer questions about what they would like to see in the U.S., Mexico, South America, Canada, Europe, Asia, Africa, or Antarctica. Mangold said, "The focus of VPP is educational, but it also brings out memories of past travels – as well as longings to see places that were not fulfilled. In each session we offer five destinations to choose from, and they are destinations the group has expressed interest in seeing."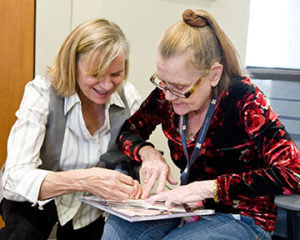 Virtual Passport Programs Creator and CEO Chris Mangold (left) helped an Ebenezer resident put travel stamps in her virtual travel passport. Mangold encourages people considering senior living options to look at those with enthusiasm for new technologies, as well as traditional activities. (Photo by Margie O'Loughlin)[/caption]
She continued, "Remember watching the Seven Wonders of the World on a View Master? When you pushed the lever and the circle of tiny slides advanced? This is similar, but with new, advanced technology. Now people can experience an African safari, the Northern lights in Minnesota, or the Castle of Versailles. By turning in their seats or wheelchairs, they can change the view of what they're seeing."
Mangold's goal is to bring the world to people who are living within four walls because of financial limitations, mobility or cognitive issues.
She said, "My sweet spot is that I've worked with seniors, and I'm able to follow the thread of their interests. I choose videos from the internet that won't cause dizziness, and that are audience appropriate. Some have narration, and some don't. In the middle of winter, it can be nice just to look at and listen to what's happening on a Mediterranean beach."
After viewing the video content through headsets, participants discuss what they've seen and compare travel notes. Mangold brings along a stack of maps and books about the pre-chosen destinations. Acting as tour guide, she uses her resources to stimulate conversation and to help people connect.
She said, "I arrived as creator/owner of VPP after walking many paths. Over the years, I've been a daughter to a mom who was in a care center for stroke-induced aphasia; a volunteer to children, women, and seniors; an art director for an ad agency focused on health and wellness; and a lifelong learning program director for a senior community. These experiences sparked the idea of using virtual reality technology to enrich seniors' lives. I believe that anything is possible if you're open to new paths."
For more information, visit www.virtualpassportprograms.com.
"I've been fortunate to travel to faraway places. But I am just as awed by the beauty of the BWCA or the Lake Harriet Rose Garden, the simplicity of a Minnesota farm scene or a sunset. These are the sensory experiences of life that we all yearn for and we all deserve. Virtual Passport Programs brings these experiences to people who are unable to see them in person because of accessibility issues. They can be traveling, seeing, or doing anything that they dream of." ~ Chris Mangold, Virtual Passport Programs owner