Ward 12 Council Member Johnson praised for commitment to constituents and ability to work with everyone
By TESHA M. CHRISTENSEN
Ward 12's City Council member Andrew Johnson is a self-described ideas person.
"How can we be innovative and get better outcomes?" he asks.
As he begins his third year in office, Johnson continues to put constituent service first.
"Andrew's greatest strengths are that he is incredibly smart, focused and accessible. He cares deeply for the community and does not shy away from any issue," said Longfellow Community Council (LCC) Executive Director Melanie Majors.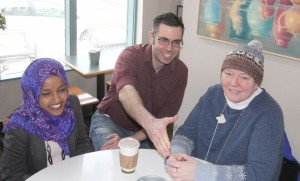 Photo right: Ward 12 Council Members Andrew Johnson chats with former staff member Ilhan Omar (left) and Longfellow resident Jeanne Burns during a visit to Fireroast Café. Johnson holds regular open office hours and attends most neighborhood association and community meetings. (Photo by Tesha M. Christensen)
She pointed out that he is a huge proponent of development, transportation (including bike lanes, light rail, bus rapid transit), public safety, business support and development and community engagement.
"He does not believe in the status quo and seems to be able to find a solution or a compromise to everything," said Majors.
"He truly walks the walk and is committed to his constituents. I've never met anyone who has complained about him, and he can work with anyone."
A proactive life
The son of a single mother, Johnson grew up working hard. As a 10-year-old, he mowed lawns to pay for his clothes. As he got older, he bagged groceries at the Lund's on 50th and France, working eighthour long shifts starting at 7am. Interested in IT, he used the money to buy his first computer and ordered Comcast high-speed internet at age 14. Johnson's interest in computers landed him a job in the IT department at Target corporate, and he ran his own business on the side.
He earned his associates degree in communications from Normandale Community College and then headed to the University of Minnesota to study political science. Johnson didn't envision being elected to public office himself but instead thought he'd be working behind the scenes somewhere.
In 2010, he purchased a home in Longfellow. By happenstance, he attended a Longfellow Community Council annual meeting. When Johnson walked out the doors after the pie social, he was a brand new board member. After his first term, he was elected the LCC Board president.
On the LCC board, he stressed transparency, helped redo the neighborhood organization's website and worked on marketing. Johnson found he enjoyed helping navigate through the various conflicts that arose between board members, and he appreciated community engagement.
Johnson began actively working to fill the vacancies on Lake St., networking with people and inviting potential business owners to come out to look at the vacant buildings and get to know the spaces. He was excited to see spots filled, first by the Longfellow Market, and then Sonora Grill, Pepper and Fries and more.
He also connected LCC with the Minnesota Beer Activists, which resulted in the first Community Hops Garden in Minnesota, located at 3116 38th St.
Johnson is driven by this question: "How do we make our community a better place—and proactively do that, not just sit and wait until someone comes along?"
After battling glaucoma, Johnson realized that life is not guaranteed, and you should make the most of every minute. He finds more fulfillment in public service than in private sector work.
So, he decided to enter the political arena and run against Sandy Colvin Roy. He was elected to the Ward 12 seat at age 29, the first Millennial to sit on the Minneapolis City Council.
"I really look at Ward 2 Minneapolis City Council member Cam Gordon as a role model," stated Johnson, pointing to Gordon's accessibility and his habit of showing up at community meetings.
Johnson works most days until 8 or 9pm, but tries to take Sundays off. He confesses sometimes he ponders a problem in the middle of the night, and ends up Googling possible solutions. That's how he discovered that Honeywell is making new sensors that, if installed on the gates at the light rail street crossings, would help prevent the lights cycling to a direction that is empty. He is hopeful the city will install these sensors in 2016 and re-time the lights to speed up traffic along Hiawatha.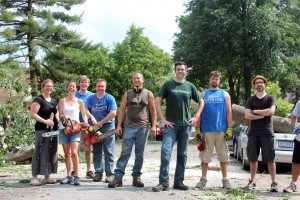 Photo left: After the 2013 storm, this group spent over 5 hours in terrible heat clearing trees for homeowners, with a focus on low-income and seniors. Council member Andrew Johnson is third from the right. (Photo submitted)
Johnson recognizes that some politicians are driven by ego, but says his reward is accomplishing things that make the community better.
That might be looking into problem properties, figuring out ways to make pedestrians safer, or addressing alley noise complaints. Or it is co-hosting a meeting to listen to residents about the type of development they want to see on their block.
"A thousand little changes in sum add up," he pointed out, "and go so far in improving the quality of neighborhoods."
Majors pointed out that because Johnson always attends LCC Board meetings, community meetings, committee meetings and events, he is always aware of community priorities and has never been in conflict with the desires of the community.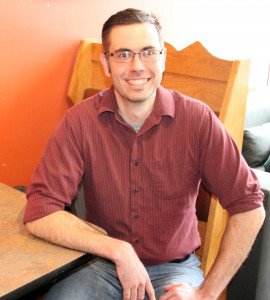 Photo right: After battling glaucoma, Johnson realized that life has no guarantees, and you should make the most of every minute. He quit his job in the private sector because he finds more fulfillment in public service. (Photo by Tesha M. Christensen)
"There is no development project in the community where Andrew has not been involved,  which includes co-sponsoring community meetings, advocating and collaborating with other public entities (specifically for bike lanes on Minnehaha Ave. pre-construction) and creating requests for proposals to seek out potential developers," said Majors. "He does all of this in concert with the LCC."
Nokomis East Neighborhood Association Executive Director Becky Timm pointed out that council member Johnson and NENA have hosted community input sessions on key neighborhood issues, such as the affordable housing project at 54th St. and Riverview Rd.; and inviting Cap's Grille to present plans for the upcoming brewpub project.
"Council Member Johnson shares NENA's excitement about the Nokomis East neighborhoods and how to make this an even better place to live and shop," said Timm.
What he's done in 2 years
As he looks back on the past two years in office, Johnson said that fighting for the funding for Nokomis Healthy Seniors was a paramount issue for him. He remembers meeting one senior woman, who fell off a ladder while trying to change a light bulb herself because she didn't want to bother her son. She spent two weeks in the hospital.
"The smallest thing, like changing a light bulb, can help seniors stay in their houses," Johnson pointed out. "It's the least we can do."
At the end of last year, $25,000 in funding was restored to the Nokomis Healthy Seniors.
Another local organization, the Seward Longfellow Restorative Justice Program, has left its mark on Johnson, and he strongly believes that "it's easier to build a strong child than to fix a broken man." As such, he is leading the restorative justice expansion, including working with the mayor to triple funding in the 2016 budget and hosting a city-wide forum. He also co-authored a 2016 budget amendment to fast-track implicit bias and procedural justice training for police officers. He co-hosted a forum in the aftermath of Ferguson to examine community/police relationships, and called for an independent federal investigation into the death of Jamar Clark.
On the environmental side, Johnson is working get trash grids installed at Lake Hiawatha to reduce the litter entering the lake from the stormwater system.
With a background in IT, Johnson focused on the city's IT contract with Unisys during his first year in office. He pushed to break up the city's largest contract, and fellow council members agreed to do so in 2015. Over $3 million a year was saved, and 33 non-union jobs added in-house.
"It's cheaper and ultimately provides a higher quality service for the city," said Johnson.
When his aide Suzanne Murphy became pregnant, Johnson learned that the city didn't offer paid parental leave to its 4,000 employees, but instead required parents to either use vacation or sick time when their children were born or adopted. He helped lead the effort to change that and pointed out that the Governor has proposed that the state follow suit. Johnson said he enjoys being part of a city that leads the way on important issues. He has now focused his sights on ensuring paid sick leave for all employees.
Transparency in government remains a priority for Johnson. He led the effort to pass an open data policy and authored staff directives to post neighborhood association budgets, performance reports, and bylaws online. He also worked to get city council meetings posted on YouTube.
Johnson also helped repeal over three dozen antiquated laws, lower some license fees, and simplify processes and regulations under the Business Made Simple initiative.
The Business Made Simple initiative empowers small businesses as they're able to access information, while fundamentally changing the city/business relationship dynamic, pointed out Johnson.
"It's really a partnership now," he observed.
Johnson loves bringing together different people and ideas, and he was able to do that on the Minnehaha Ave. street project. While meeting with someone about an affordable housing project, the idea for a billboard promoting the Minnehaha Mile was spontaneously born, a sign that helps pull some of the 23,000 cars a day along Hiawatha to shop along Minnehaha.
He seeks to leverage information that he picked up door-knocking with city projects, and recently worked to prevent 4,000 dump trucks traveling down a street where 30 kids live.
"Since the basics are clearly important, it's worth noting that Ward 12 will be seeing the most street improvements of any ward this year. The two budgets I have been a part of have lowered property taxes for the majority of homeowners. Besides helping get the number of firefighters up, I helped get more resources for Minneapolis Police Department investigations, and worked with MPD to address neighborhood crime and hot spots," said Johnson.
What's next?
Looking ahead, Johnson is working hard to promote transit-oriented development at 46th and 38th, as well as Nokomis-East's "downtown" area.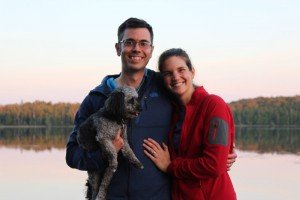 "You're going to see the seeds I've been planting grow over the next several years," he promised.
On a personal note, he's excited to be wedding Sara Vine this June.
Photo right: Council member Andrew Johnson will wed Sara Vine this summer. (Photo submitted)