Global Shapers Community is a network of young people working together to address local, regional, and global challenges. Locally, they are collaborating to support the East Phillips Indoor Urban Farm proposed for the city-owned Roof Depot site. (See related article by clicking here.) A community meeting and design challenge was held on Saturday, Sept. 19. 2020.
"While the East Phillips Urban Farm project touches almost every single one of the 17 United Nations' 2030 Sustainable Development Goals, we focused our design challenge on some of the overarching themes that seek to repair the root cause of these injustices in East Phillips: Goal #13 Climate Action, Goal #10 Reduced Inequalities, and Goal #16 Peace, Justice and Strong Institutions," pointed out member Sara Chars.
Joe Vital, an East Phillips community member committed to fighting back, said during the brainstorming, "This IS the Green New Deal." Learn more by reading answers to questions asked by the Messenger. Unless otherwise noted, answers were emailed by Chars.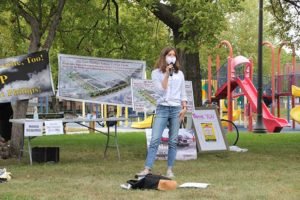 What is Global Shapers?
Global Shapers Community is a network of young people working together to address local, regional, and global challenges. Globally, there are over 8,500 members in 400 city-based hubs in over 150 countries. Global Shapers Minneapolis-St. Paul Hub has about 30 members right now.
In each city, teams of Shapers self-organize to create projects that address the needs of their community. Projects are wide-ranging including responding to disasters, combating poverty, and fighting climate change. Shapers are diverse in expertise, education, income, and race, but are united by their desire to catalyze change. Shapers believe in a world where young people are central to solution building, policy-making and systems change.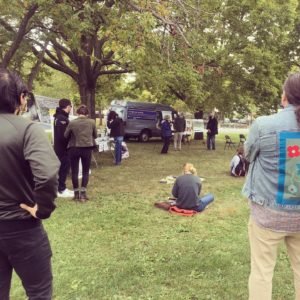 What city do you live in and why are you involved in Global Shapers?
Sara Chars, St. Paul - I am a design strategist with particular interest in the intersection of capacity-building, human-centered design, and reimagining sustainable futures through systems thinking and social innovation. As a Global Shaper, I enjoy collaborating with a diverse group of people, locally and globally, that are also passionate about community engagement, climate action, and social change.
David Ly, Minneapolis - I joined Global Shapers to be involved in projects like the Global Goals Jam. While I surely don't share the same views as every institution I work with, being a shaper allows me to play a small part in connecting my community to global institutions that share our goals. So many institutions around the world are working toward Climate Justice, which requires collaboration on every regional scale, from global institutions to local communities.
Nina Domingo, Minneapolis - I am a PhD student that conducts research at the intersection of food, the environment, and human health. I joined Shapers to build connections with peers from diverse backgrounds interested in engaging with and acting on social and environmental justice. As a PhD student, I know that the academic research I do relating to environmental injustice pales in comparison to the lived experiences of people who are affected by these issues. Therefore, I believe it is important to be intentional in how I engage with the community to ensure that I'm doing my work in a way that supports truly equitable and inclusive outcomes.
Bruce Ferguson, Minneapolis - I am an Industrial Organization Consultant, having studied economics at the University of Minnesota. I joined the global shapers to focus on empowering informal networks of residents as well as small and medium enterprise to drive economic transformation in the neighborhoods. Environmental and racial justice is critical to the sustainability of any such transformation.
Kelsey King, Minneapolis – My professional experience is focused on sustainable food and agriculture value chains. I feel fueled by continual learning, local and global community engagement, and meeting other people committed to making a positive impact in our world. I'm fairy new to the Twin Cities and Global Shapers has connected me and empowered me to dive into the issues that matter most, including environmental and racial justice.
Why was the organization drawn to the East Phillips Urban Indoor Farm project?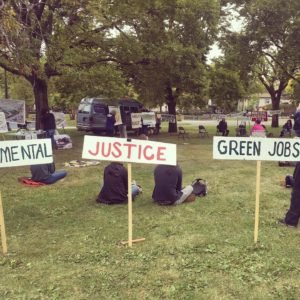 Social and environmental injustice does not happen by accident. Throughout history, at every level of government, we see a persistent pattern of 1) racist policies such as redlining and racial covenants locking BIPOC out of home ownership and wealth accumulation, and 2) the industrialization of BIPOC majority neighborhoods so that they are exposed to high levels of waste and pollution.
In Minneapolis, nearly 64% of neighborhoods designated as "hazardous" are neighborhoods where the majority of residents are people of color.
With the urgent struggle that the East Phillips Neighborhood Institute faces with the City of Minneapolis, Global Shapers selected this environmental justice issue in our community as a local case study for the 2020 Global Goals Jam. The jam was a hybrid event, held virtually September 18 & 20 with immersion in the East Phillips community at Cedar Field Park on Saturday, September 19.
The 3-day design sprint helped us learn more about the history and struggles of communities experiencing environmental injustice in the Twin Cities. Through our collective design thinking skills, we hope to create solutions that result in actionable systems change to address these challenges.
What's next after the Saturday event?
Several workgroups came out of our Sunday workshop where teams presented prototype ideas to address the design challenge for environmental justice. These workgroups include education in schools, civil disobedience training, streamlined tech communications to EP residents, media outreach, and a collective ownership model with small business partners that intend to rent space in the Urban Farm plan (many of which were impacted or destroyed during the Minneapolis uprisings).
We had over 20 cross-sector participants for our Action Team, many of which have since joined a workgroup or intend to build alliances between their network and EPNI.
There will also be a rallied bike ride at this Saturday's Greenway Glow and plans to speak out about the continued injustice in the East Phillips community (including the urban farm plan and battle with the City) at the George Floyd Square.
How can someone get involved with the Minneapolis chapter?
We're recruiting! Application - https://forms.gle/L2J4e6hjy9bqpzQ37.
Any other comments?
As Shapers, we state that we are a bridge between those whose voices are powerful and those whose voices are under-represented.