As COVID-19 forces educational changes, some parents are considering whether online schooling through their district or homeschooling on their own will work better for their families.
To help families decide, Midway-Hamline resident Kathy Oaks has co-edited a new book with Brynn Steimle titled, "Why I Love Homeschooling." In it are essays written by 24 people on how homeschooling works for them, including an essay by Standish resident Theresa Redfern-Hall. The book is currently available on Amazon.
"For everyone, those homeschooling and those not, I'd like to reiterate that what most people did this spring isn't homeschooling,'" stated Oaks, who has been homeschooling her three boys ages 8 through 16 since the beginning of their education. "For the majority, it was way harder, for the students, the parents, and the teachers. Our hearts went out to you, watching the struggle. Whatever your choice in the fall, we all wish you an easier time, and joyous learning."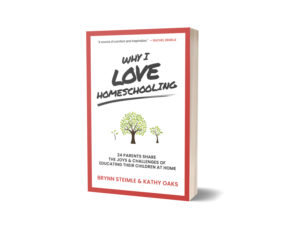 The Messenger spoke with Oaks and contributor Theresa Redfern-Hall, whose children are current 24, 23 and 20. She and her partner homeschooled from the birth of their first child in 1995.
"The book can be useful for those people who are considering homeschooling and for those homeschooling. There are reflections from 24 different people, all different backgrounds, lifestyles, and types of homeschooling," said Redfern-Hall. "The essays show that there is no one correct way to homeschool and that even seasoned homeschoolers have questions and bad days. It also shows that homeschooling is a wonderful opportunity to watch, learn and grow with your children."
What makes homeschooling different from crisis schooling?
Oaks: Crisis schooling is just that, throwing together a way to keep regular school going during a crisis. It's not meant to be long-term, nor is it an ideal way to learn. School teachers did not go into education to do online school, and have been scrambling to make things fit into a different format and many are ill prepared and certainly underpaid for this extra work.
Homeschooling, on the other hand, is intentional. The best part of homeschooling is that it isn't one size fits all. Families get to find ways that work best for them, instead of trying to squeeze into a more rigid system. Some kids love online learning, but it would work better for the family if it wasn't at a set time. Other kids do poorly with online learning, and would benefit from having more hands-on instruction. And sometimes those kids are in the same family! With homeschooling, everyone can be accommodated.
There are plenty of places that are already set up to do online learning, and do it well, for any income level, and home-schoolers have been taking advantage of them for years.
Redfern-Hall: I'd have to say that homeschooling is a lifestyle choice. The parent is the one making the choices on how learning will proceed and what type of materials or programs their students will follow. Crisis schooling is just trying to keep things as much like a normal school day as possible – still following along with the school-mandated lessons or materials. Making sure that the kids will keep up with all the classes and subjects in school so they don't fall behind.
What questions have you heard from people who are thinking about switching to homeschooling and what are the reasons driving this discussion?
Oaks: I have seen all kinds of reasons for switching to home-schooling. For some, the stress of dealing with online public school was just too much, and they hope to see happier kids (and parents) through home-schooling. Others are worried that their kids won't be safe and are intending only to home-school until the pandemic eases. Still others have said they were already considering homeschooling and are taking this opportunity to jump in.
Many of the questions I've seen have centered around finding the "right" curriculum. Honestly, there is no "right" curriculum. Sure, there are all-in-one box sets you can buy, for quite a lot of money. But what if your family ends up hating it? Many homeschoolers draw from a variety of resources rather than using one set curriculum.
What is your advice for those who would like to transition from homeschooling to crisis schooling?
Oaks: The best advice I know of is first, to deschool. That is, take time off. Fortunately, the summer is helpful for that! But also spend some time thinking about what you and your family like and don't like about school. The people most likely to give up on homeschooling are those who try to faithfully reproduce school at home instead of fitting homeschooling to their unique needs. Start slowly with one subject – ideally your favorite or your child's favorite subject – and add in another as you get your footing. Adjust as you go along. Most people are surprised at how little actual instruction is needed; much of the public school day is taken up with things like moving from classroom to classroom, waiting for students to all be ready, and busywork to make sure the slowest students have enough practice.
Redfern-Hall: My first suggestion would be to let go of what you think you should do to teach your children. Don't plan to re-create a school environment. Let you kid do some unschooling. (There are lots of books and info on unschooling.) Unschooling is particularly useful for students who have suffered from bad situations in school – anxiety, bullying, depression and so on. Just let them be for a period of time. You don't have to have everything figured out all at once. I know homeschoolers who change curriculum more than once a year because it's just not working for them or their kids.
Don't feel tied down to a certain way of doing things. Reach out to the online homeschooler community. There are so many folks out there now who are homeschooling. When COVID-19 was not an on-going issue, the opportunities to meet other homeschoolers at events and get-togethers was amazing. Often, we laughed about the socialization issue. We wanted less socialization. There was so much to do. Hopefully, this will be available again in the near future.
Does homeschooling have to be all or nothing? What are some other options for people?
Oaks: Anyone with more than one child has noticed they're not the same. I know a number of homeschoolers who send one child to school and work with another at home. In Minnesota, depending on the school district, homeschoolers can participate in classes and sports through their local schools, as well. There are also local homeschool co-ops, including secular ones, that meet weekly to cover academic needs. We participate in Planet Homeschool, which is online for the fall semester. Through our co-op the kids have taken math, creative writing, history, language, fencing, ballroom dance, and theater classes, which are just a small sample of the options that have been offered over the years.
Redfern-Hall: No home-schooling does not have to be all or nothing. I have known some families who have utilized some online learning programs that were perfectly okay with students having outside learning activities. Some kids have taken classes at co-ops while attending the online schools. My kids attended a project-based high school, Avalon, and still took classes outside of the classes there. They received credit for those classes and projects. Even while not homeschooling, I tended to put an educational element into most of the things we did as a family. We enjoyed and learned.
Highlights from book contributors:
"Our goal with 'Why I Love Homeschooling' is to show parents the various ways that people from all walks of life homeschool," stated co-editor Kathy Oaks. "We hope it will give confidence to those who are ready to give it a try, and those who feel it's the best option for them right now, even if they don't feel ready yet. We reached out to 24 authors to get their perspectives on the joys and challenges of homeschooling and why they love educating their kids at home. Lots of people only talk about how great homeschooling is, without addressing the challenges, and leave parents unprepared. There are always challenges, but managing them can in fact become part of the learning process, adding emotional intelligence to education."
Some quotes from the book:
Carrie Pomeroy ("The Art of Knowing When to Push," Home School Life Magazine) – "Above all, homeschooling requires the patience to trust that even when my kids spend most of their time on pursuits that aren't conventionally academic, there is often important learning, development, or rest and gestation happening, even if I don't see it right away."
Mary Jo Tate (Flourish: Balance for Homeschool Moms)—"There will never be a perfect time or place for homeschooling. Life will always present challenges, whether big or small. Instead of being disappointed and paralyzed by what you can't do, focus on what you can do and how you and your family can best use each day's opportunities."
Melissa Calapp (Homeschool Adventures: Learning Through the Power of Field Trips) –"Homeschooling can be examined and designed to fit your particular child and family. It can include all the things that you thought were missing and all the pieces you think they will need. There can be room to pursue individual passions. And for parents who are new to homeschooling, you can start slow."
Michelle Huddleston (Just for Today's Homeschooling Mom) – "Being an ex-school teacher, I had many hurdles of my own to jump. Not only did I have a teacher mindset, but I also had a public school system mindset. It was embedded in me that school looked like waking up at a certain time every morning, starting school work by a certain time every day, and having subjects taught separately according to what was in the lesson plans…. Now our homeschool doesn't look much like school at all. When it comes to home-schooling, the possibilities truly are endless."
Faye Badenhop (Help Me Homeschool!)— "Lest you think you do not have it in you to give and give with nothing in return, let me remind you that you get to pick what you teach! Have you ever wanted to learn to decorate fancy cupcakes, do yoga, excel in a certain art or craft, or start an herb garden? Add it as a subject and you get to learn it too!"