Developers eyeing city-identified 'town square retail site' near 46th and Hiawatha for grocery store and apartments
By TESHA A. CHRISTENSEN
Are you going out of the neighborhood to grocery shop? You're not alone.
"Third-party grocery consultants estimate that 85% of the available food dollars leave the Longfellow neighborhood—resulting in more traffic and road miles traveled," according to Drew Johnson of Oppidan Investment Company.
In fact, parts of south Minneapolis are classified as a food desert by the United State Department of Agriculture (USDA) because of low access to grocery stores.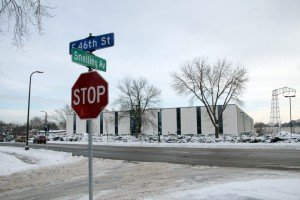 Photo left: A grocery store and 140 to 160 apartments may be constructed at Snelling and E. 46th in 2017. The investment in phase one will be $38-$44 million. (Photo by Tesha M. Christensen)
Oppidan hopes to change that by building a new grocery store near the 46th and Hiawatha intersection.
Construction may begin soon.
"Despite grocery options along Lake St., across the river, or further west of Highway 55, a market analysis reveals the area as a 'food desert,' so having a grocery store there would serve the community well," said Ward 12 Council Member Andrew Johnson. "What will be important, though, is which particular grocer moves in. For it to be most beneficial to the community, I believe it has to offer something differentiated from what we already have nearby."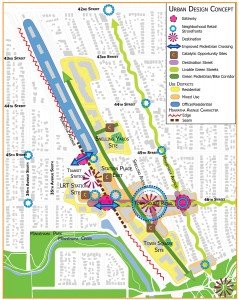 5.7-acre site
Oppidan owns the 5.7-acre site with a 75,000-square-foot warehouse that Creative Kidstuff leases for its corporate office at 3939 E. 46th St. A landscaping company uses the southern portion of the site near the Dairy Queen and Nawadaha Blvd. The long, triangular-shaped parcel abuts a railroad track that is no longer used.
Illustration right: Oppidan's plan for the site fits with the city's transit-oriented development strategy for the area, which places a town square retail site at Snelling and 46th Ave. E.
Oppidan has been working on plans for a mixed-use project in the northern part of the site, with the grocery store fronting 46th St. Snelling Ave. will be extended south into the development and likely curve over to the area between Burger King and the mall.
"This store will bring grocery goods and services not currently offered in the trade area, and what consumers have come to expect in a grocery store: hot food bar with seating areas, grab and go options, large fresh bakery and large deli, floral, and organic offerings, as well as standard 'center isle' items," said D. Johnson.
Early phase one concept plans show between 140 to 160 apartments, and around 50,000 square feet of retail, the majority for the grocery store. The investment in phase one will be $38-$44 million.
D. Johnson pointed out that the plan for the site fits with the city's transit-oriented development strategy for the area, which places a town square retail site there.
Development challenges include barriers to development such as the high-voltage lattice towers, the cost of new public streets, and managing traffic on 46th and Hiawatha. Additionally, there will be environmental clean-up from some of the former uses at the site, including a coal/fuel company, a lumberyard, a gas station, and diesel storage.
Oppidan was drawn to the parcel because of its large size and location with great transit connections.
"Done right, this project will offer positive features to both new and existing residents/neighbors: additional housing options in a market that has an extremely low vacancy rate, multi-modal access to grocery, cleaning-up impacted soils from historical uses, treating stormwater before it leaves the site, and public trails and plaza areas connecting to other redevelopments in the area," said D. Johnson.
"Despite being located across the street from Minnehaha Falls, a block from the 46th St. light rail station, and on a bus-rapid-transit line, the property today is mostly a giant asphalt lot… they even pile wood chips out back!" said council member Johnson. "I believe there are much better uses for such an excellent location."
The sheer size of the property may be its biggest challenge. "This makes a strong vision and good urban design essential, as it is all too easy for most developers to pursue the biggest, easiest, and cheapest project possible to maximize profit and move on. I have seen firsthand Oppidan's willingness thus far to focus on the details and make the redevelopment of this property a good fit for the neighborhood," said A. Johnson. "They are also planning ahead for the future so that this site could be combined with others nearby to make a little village for shopping, living, and entertainment that's integrated with green space and paths to the park and transit."
When A. Johnson first saw the plan, he suggested some revisions to activate the public realm on 46th St. with commercial spaces and pedestrian-friendly features.
"They broke up the long and bulky building into two separate buildings, and they made some other tweaks to fit better with the site and neighborhood," observed A. Johnson.
"Moving forward, the city will play a pretty big role in helping make any development of this site a success, as there are some public infrastructure changes to consider, such as extending Snelling Ave. and converting the abandoned railroad tracks into a connection with Minnehaha Park," added council member Johnson.
Min Hi Line: a linear park
The Min Hi Line Coalition envisions a linear park traversing the space now unused by railroad tracks, of which the area within the grocery store development is the southernmost link to Minnehaha Park.
Since 2001, the city's master planning guiding documents have also promoted the old rail right-of-way being turned into a linear park. A bike/walk trail in this area would create a protected connection between the Midtown Greenway and Minnehaha Pkwy, and complete the Longfellow Grand Rounds, as noted in the Minneapolis Bicycle Master Plan.
The Min Hi Line Coalition (www.minhiline.org) aims to incorporate park space with public art, trails, streets, historical markers and storm water management. Successful precedents from across the country, such as the Atlanta Beltline, New York High Line, and Minneapolis Midtown Greenway serve as models and guide the work.
Share your comments
The developer's next step is to engage with community stakeholders.
Learn more on Tues., Jan. 3 at the Longfellow Community Council's Neighborhood Development and Transportation Committee meeting at the Longfellow Recreation Center (3435 36th Ave. S.), at 7:30 p.m.