(Photo above) Standish-Ericsson residents Sean Connaughty speaks to the Minneapolis Parks and Recreation Board on Mar. 16, in favor banning Roundup. He was one of 40 people who attended the meeting in support of organic gardening. "I will maintain vigilance on behalf of Lake Hiawatha and continue to work to get an effective mitigation system for our storm sewers to stop the incredible trash problem," said Connaughty, "and will observe behaviors on the land that affect the water and wildlife. I am reaching out to the Governor to see if the lake can be helped in our states efforts to clean up our waters." (Photo submitted)
Russ Henry, Sean Connaughty, Ryan Seibold among those who support an organic park system in Minneapolis
By TESHA M. CHRISTENSEN
Local residents are pushing the Minneapolis Parks and Recreation Board to ban pesticide use on park land.
The group gained a small victory on Mar. 16 when the Park Board Operations Committee agreed to discontinue the use of herbicide treatments in neighborhood parks where glyphosate (or Roundup) is the active ingredient.
The full park board is expected to vote on the issue during their Apr. 6 regular board meeting.
Over 1,500 people have signed a petition calling for a pesticide ban, 800 plus via a Move-On online petition, and 700 in person at last year's Monarch Festival.
More than 40 people attended the park board meeting in support of the ban, and 19 spoke for a transition to organic parks.
Park Board uses 150 chemicals
Leading the charge against pesticides is Longfellow resident and business owner Russ Henry.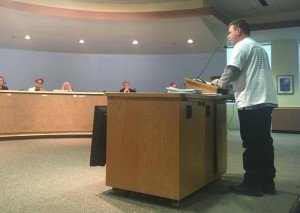 (Photo left) Longfellow resident Russ Henry of Giving Tree Gardens spoke in favor of a ban on pesticides during the Minneapolis Parks and Recreation Board meeting on Mar. 16. After the meeting, he stated, "I feel encouraged and inspired by the more than 40 neighbors who turned out to ask the Minneapolis Park Board Commissioners to transition to organic parks. Folks spoke from their hearts and made thoughtful, well reasoned, science based arguments for why it's time to transition away from pesticides." (Photo submitted)
Henry owns a full-service organic gardening company named Giving Tree Gardens and is the chair of the Homegrown Minneapolis Food Council.
"Longfellow and Nokomis neighborhoods are filled with parks where the Minneapolis Park Board currently allows and encourages pesticide use," said Henry. "Folks are often surprised to learn that the Park Board is using Roundup and a list of more than 150 dangerous chemical herbicides, fungicides, and insecticides."
Henry is pushing for a complete pesticide ban and believes it would go a long way to improving water quality in Minneapolis parks.
"Invertebrates like bees and butterflies, amphibians, fish, and small mammals all live at the water's edge in our parks. In bodies of water near intense uses of pesticides, such as at Lake Hiawatha, no more frogs are singing in the spring, and the beach is closed much more then it's open due to water quality concerns.
"If we were to switch to organic management of spaces it would go a long way toward healing damaged bodies of water and encouraging wildlife to thrive."
Standish-Ericsson resident Sean Connaughty spoke for the lake during the Mar. 16 meeting. He talked about the struggles Lake Hiawatha is facing and symptoms of sickness he has observed, including the high phosphorous levels, toxic algae blooms, and disappearance of amphibians. Connaughty believes that one of the reasons driving this problem is that the land around the lake is occupied by a golf course that uses a whole array of chemicals, including Roundup, "to treat the turf surrounding this delicate and threatened ecosystem."
Connaughty added, "The parks can lead the way to more sustainable land use practices that can serve as a model for the community and help restore the balance to our natural systems which need our help, and which we need to survive as a species."
He is disappointed that this new ban is limited to neighborhood parks, and will not affect chemical use at golf courses, ball fields, or regional parks.
Friends of Lake Hiawatha founder Ryan Seibold also supports the switch to organic parks. "Parks should be safe and healthy for us all," said the father of two young children.
"The soils beneath our feet should be increasing in ecological services," Seibold said, "instead of degrading due to micro-organism die-off from broad spectrum pesticides. The frogs and ducks deserve cleaner water and land without chemicals. And, our children should be able to play and run in landscapes where there isn't a posted sign that says 'keep off' because it's too poisonous."
What's the harm in using Roundup?
Over the past seven years, there have been more than 2,400 uses of pesticides in the parks.
However, Henry pointed that the Park's Pesticide Fertilizer manager report does not include all of the chemicals applied to golf courses, as the tracking is still being done by paper there and is not digital.
Glyphosate is the most widely used herbicide in the world today. The U.S. is the largest consumer, using approximately 20% of the world's Roundup, Monsanto's flagship product. The latest reliable figures from the U.S. Geological Survey record 280 million pounds of Roundup were used in 2012, nearly a pound for every American.
Henry referred to a Global Research article showing that over the years a large body of independent research provides a sound scientific rationale to confirm that glyphosate is toxic and poses more serious health risks to animals and humans. Among the many diseases and disorders, non-industry studies identified Alzheimer's, Parkinson's, autism,  infertility, miscarriages, and neural tube and birth defects. It is a causal agent for a variety of cancers: brain, breast, prostate, lung and non-Hodgkin lymphoma. Other disorders include chronic kidney and liver diseases, diabetes, heart disease, hypothyroidism, chronic respiratory illness, and leaky gut syndrome.
Last year, the World Health Organization (WHO) declared that Roundup is a probable human carcinogen. Increasingly, world-wide national health ministries are taking a hard second look at glyphosate's health and environmental dangers, and efforts are underway to ban the herbicide. The Netherlands, Bermuda, and Sri Lanka have either banned or imposed strict limits on Roundup. France has banned its use in gardens. Brazil, Germany, and Argentina are considering legislative bans.
A review of existing data sponsored by Moms Across America found that out of 21 drinking water samples analyzed, 13 had glyphosate levels between 0.08 and 0.3 ug/L, well below the EPA's limit, but significantly above the European Union's limit of 0.1 ug/L.
"A few extremely powerful agricultural chemical companies have poured millions of dollars into research at major universities to convince policy makers that their products should be pronounced mostly safe, should be left relatively unregulated, and should be adopted as standard practice," observed Henry.
"This has led to people adopting ecologically damaging aesthetic preferences at home such as the use of pesticides to enforce a mono-cropped grass lawn.
"This poisons the homeowner, kills the forage for bees and butterflies, and damages the soil making it easier for weeds to grow back."
The Park Board is not convinced
Henry is proposing that the Park Board do its landscaping the old-fashioned way, by hand. "We're already paying staff to be out there spraying; we might as well just have them mechanically removing the weeds with tools or by hand," he said.
"To transition to organic," Henry said," we need to replace chemical fertilizers that encourage weeds with liquid compost extract that can be sprayed on to help encourage microbes in the soil which feed plants naturally.  A transition to organic throughout the parks system shouldn't happen overnight, but it should begin immediately."
District 5 Commissioner Steffanie Musich expects the board to discuss other aspects of the Minneapolis Parks Herbicide Use Report 2016 as part of its budget planning process this year. She is concerned about the "significant costs associated with the recommended changes to staffing levels to further reduce our use of pesticides that cannot be accommodated in this year's budget."
The board will also be exploring the use of goats to control invasive species at two sites within the regional park system.
"Along with my colleagues, I support the MPRB's work to continue reducing the amount of pesticide used within the system by directing staff to follow our Integrated Pest Management Policy," said Musich. "I am also happy to support our naturalists and friends groups working throughout the city in educating park visitors about ways they can reduce the use of chemicals on their properties, too."
However, Henry is concerned that the current park board commissioners do not support organic parks, with the exception of Commissioners John Erwin and Brad Bourn, and points to the comments made at the March meeting.
"The more commissioners spoke, the more it was apparent that a transition to organic parks won't happen unless we elect new commissioners," said Henry.
"Commissioners Annie Young, Steffanie Musich, Anita Tabb, and Jon Olson all stated that they believe pesticides will always need to be used in Minneapolis Parks. Vice president of the park board Scott Vreeland went a step further to let folks know that he thinks the Minneapolis Park Board should never transition to organic management."
Henry encourages people to contact commissioners to share their opinions.
"I will continue to engage with neighbors to bring the message of transition to the Minneapolis Park Board," said Henry. "Many residents feel that it's time to move away from pesticides in our entire park system, and I will work to lift up their voices till they ring in the commissioners ears."