By MARGIE O'LOUGHLIN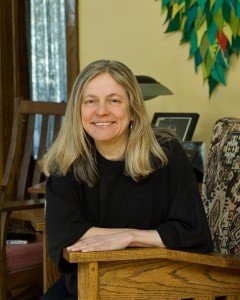 Michelle Hensley is a Longfellow resident and founder/artistic director of the theater group Ten Thousand Things (TTT). She's also a newly published author and her book, "All the Lights on: Reimagining Theater with Ten Thousand Things," is a terrific read for anyone interested in the power of human connection.
According to Hensley, Ten Thousand Things "refers to the overabundance of material things in the world."
"When I was in my early twenties," she said, "I knew I loved theater and thought it might be what I wanted to do with my life, but something about it made me uncomfortable. Looking around at the well-dressed audience before the lights went down, I saw mostly upper-middle class, white people. So many others were being left out. Our American theater experience is impoverished because our audience is so narrow."
Hensley, an Iowa native, grew up in a family where justice and politics were conversation topics at the dinner table. Educated at Princeton University and the UCLA School of Directing, her guiding principle since starting TTT more than 20 years ago has been that theater is essential to all our lives.
TTT performs three plays annually, doing 15 or so performances of each play in non-traditional venues, and the same number in traditional ones. Non-traditional venues include homeless shelters, correctional facilities, low-income housing, nursing homes and community centers. Traditional venues for the troupe include The Open Book, Bedlam Theater and Plymouth Congregational Church.
TTT actors never perform on a stage. They use the floor, putting performers and audience members on the same level. A circle of chairs no more than three rows deep provides the seating. All the lights are left on, so everybody can see everybody else. The music, created and played by music director Peter Vitale, is live and original. Sets, props and costumes are kept to a minimum, and what remains is pure theater.
This way of working is not the norm, but Hensley believes it goes a long way toward breaking down barriers. "Traditional audiences have just as many barriers to overcome as non-traditional audiences—they're just different barriers," she noted. "While a non-traditional audience may think, this is going to be so boring or, theater is just for rich people, traditional audiences tend to view a play from a critical, aesthetic distance because they've seen so much theater."
Hensley is passionate about finding audiences that really care about the plays, and are impacted in significant ways by the timeless power of great stories.
Hensley said TTT audiences respond to "stories with revenge, greed, lust and love. They are easy to connect with because they're universal challenges. Anything that takes the viewer to another place outside their own world is worth considering. Fairy tales, for instance, engage the imagination without hitting too close to home. In a fairy tale, anyone can be anything. I also like plays that have a big cast of characters, with people from all walks of life."
TTT's repertory has lots of Shakespeare in it. To his credit, the Bard figured out 500 years ago how to write for all people. "Groundlings" were viewers who paid a penny for their tickets, and stood on the ground directly in front of the stage. They were known for shouting their responses to the actors, providing a lively interaction similar to what drives TTT's performances on the best days.
"We have learned so many things from having everyone in the audience," Hensley said.
TTT attracts some of the Twin Cities' finest actors to their productions, and Hensley cares deeply about paying them well. Toward that end, each cast member is likely to be double or triple cast in a production. To paraphrase a famous line from Shakespeare's play As You Like It, "All the world's a stage, and all the people merely players. They have their exits and their entrances and each, in their own time, will play many roles." Audience members across the board seem to resonate with this idea, acknowledging that all of us in the course of our lives will play many roles - and some are certainly more flattering than
others.
Several theaters around the country have expressed interest in the TTT model of inclusiveness. Hensley recently worked with the Public Theater of New York to prepare a tour of Shakespeare plays in non-traditional venues. The California Shakespeare Theater in Berkeley and the Old Globe Theater in San Diego are getting ready to do the same.
Hensley's hope for "All The Lights On" is that it will provoke and inspire other theater artists and readers. The book, like the plays Hensley directs, doesn't preach easy answers to life's difficulties. Through theater, there are lessons to be learned about who we are, and ways to move beyond the perceptions of race, class, education and life experience that often divide us. In this way," Hensley writes, "each of us becomes a little bigger."
Copies of "All The Lights On" can be purchased at www.tenthousandthings.org/lightson.