How can citizens contribute to a healthier Mississippi River?
Story and photo by MARGIE O'LOUGHLIN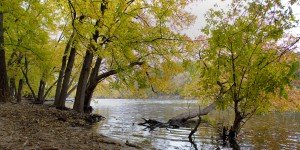 Forty-four years since the passage of the Clean Water Act, a new report on the health of the Mississippi River shows that while progress has been made, new solutions must be explored to enhance the health of the river.
The State of the River Report, just released by Friends of the Mississippi River and the National Park Service Mississippi National River and Recreation Area, examines 14 key indicators of the river's health including bacteria, phosphorus, nitrate and sediment levels, and the river's viability for recreation and wildlife.
"The Mississippi River is a complex natural system, with many factors affecting its overall health and vitality," said Whitney Clark, executive director of the Friends of the Mississippi River. "'State of the River' serves as a report card, helping us see how the river is doing compared to the past, and which efforts have been effective at improving its health. This report shows that there has been a great deal of progress, but we must maintain our vigilance and push for new solutions—particularly regarding agricultural pollution—to adequately conserve and protect the river for future generations."
On the plus side, bald eagle, mussel, and fish populations are growing. However, there are disturbing trends in lead levels of eaglets, and fish consumption advisories are in place throughout the River due to elevated contaminants like PFOS (fluorinated organic chemicals used in industrial processes) and mercury.
Water quality is being increasingly degraded by excess sediments and phosphorus, and some portions of the river are impaired with excess bacteria. Much of this can be attributed to upstream agricultural sources, in the form of fertilizer and pesticide run-off.
Additionally, the Mississippi's watershed (the rivers and streams that flow into it) are being depleted by increased irrigation demands for farming.
Several indicators show causes for serious concern moving forward, according to the scientific advisors who helped compile this report:
• The Mississippi's flow has increased by 24% since 1976. This leads to destabilization and also flushes large amounts of pollution into the river.
• Nitrate concentrations have increased by 44% during that same period, potentially expanding the Dead Zone in the Gulf of Mexico.
• Invasive Asian carp continue to move upstream, posing a threat to aquatic life and recreation throughout much of the state.
• Several additional contaminants, such as triclosan, pharmaceuticals and microplastics —tiny pieces of plastic shed from everything from car tires to synthetic clothing—present risks to the river that, while not yet fully understood, are cause for concern due to their potential impact on aquatic and human health.
A summary of the companion Stewardship Guide:
1. Use salt wisely. Excess chloride (salt) can be toxic to aquatic life. Use sidewalk and driveway de-icing products sparingly, and sweep up extra material for future use. Traditional rock salt is not effective in temperatures below 15 degrees Fahrenheit. Sand can be used for traction when salts won't melt ice.
2. Don't flush prescription or over-the-counter drugs down the drain. What goes down the drain goes into the river – it's that simple. The Hennepin County Public Safety Facility (401 Fourth Ave. S.) is the central drug take-back site for Hennepin County. Many neighborhood pharmacies will take back expired or unwanted meds as well.
3. Avoid products that contain microplastic fibers. Microplastics are tiny plastic fibers that end up in the river when products made of plastic break down. Examples are plastic bags, car tires, and fabrics made of polar fleece, polyester and nylon.
4. Keep your yard clean. Leaves, grass, and lawn chemicals wash into storm sewers and pollute local rivers, lakes, and streams throughout Minnesota.
5. Work to keep the rain where it falls. Excess runoff contributes to higher flows and carries pollutants into waterways. Direct downspouts onto gardens and other areas that can absorb water—not onto driveways, streets or sidewalks. Capture and store run-off in rain gardens or barrels.
6. Maintain a river-friendly yard. Healthy yards help reduce runoff. Set your lawnmower on a "high" setting (3+"), leave grass clippings on the lawn, and avoid excess watering. If you must use lawn chemicals and fertilizers, use them cautiously and always keep them on the lawn—don't overspray to sidewalks, streets, and driveways.
7. Adopt your storm drain. Storm sewers discharge directly into waterways. Take responsibility for keeping nearby storm drains free of leaves and trash.
8. Pick up after your pet. Pet waste washes into storm sewers and contributes to bacteria and phosphorus pollution.
9. Use lead-free shot and tackle. Lead is in most fishing jigs, sinkers, and ammunition. Hunters and anglers can help reduce lead in the environment by using non-toxic ammunition and fishing tackle.
10. Lend a hand. Get involved in making the Mississippi River healthier! Become an active member of Friends of the Mississippi River or Mississippi Park Connection. Both groups are doing important river protection work every day.
Seventy-two miles of the Mississippi River were included in the State of the River Report: the metro corridor stretches from the confluence with the Crow River to the north to the confluence with the St. Croix River to the south.
Trevor Russell, Water Program Director for FMR and Longfellow resident, said, "Our goal with this report was to create a readable, accessible document to help people deepen their relationship with the river." He continued, "There's an extra incentive for Longfellow residents because the river is by far the greatest natural feature in our neighborhood."
Russell concluded, "Most of us in the neighborhood drink tap water filtered from the Mississippi. Because our bodies are largely made up of water, if you've lived in the neighborhood for a while—you're literally made up of Mississippi River water."
To read the full report, the stewardship guide, or the accompanying teacher's guide, go to www.stateoftheriver.com.